Qatar Airways serves 46 European airports in August, but flights remain down by 20%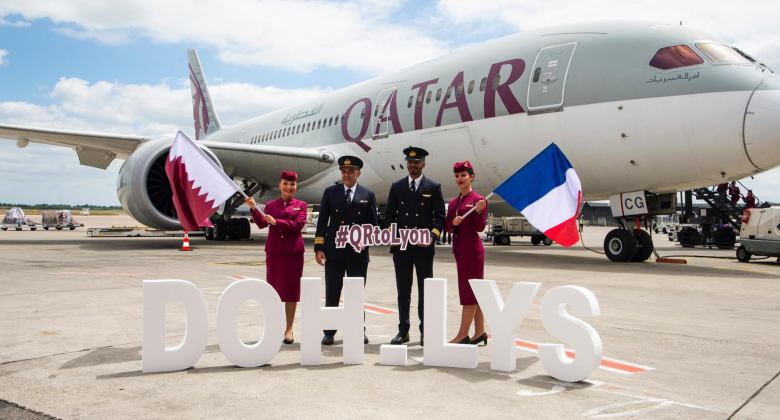 Qatar Airways has 1,880 departing passenger flights each week from its Doha hub in August, based on Cirium schedules information. Some 522 are to Europe, making it the airline's second-largest region behind Asia-Pacific.
Europe accounts for just over one in four flights (27.8%), down by almost nine percentage points versus August 2019. Europe remains by far Qatar Airways' least-recovered region, with flights a fifth lower than they were. In contrast, intra-Middle East services are up by nearly half from the end of the so-called Qatar blockade, and North America has grown very strongly too.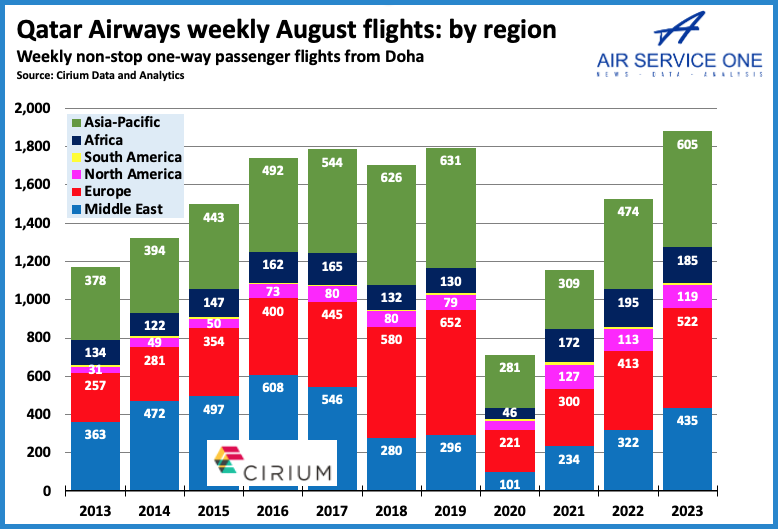 46 Europe destinations in August; London LHR number one
Cirium data tells that Qatar Airways serves more airports in Europe in August (46) than in Africa (29), the Middle East (24), North America (13) and South America (one). Only Asia-Pacific has a more extensive network (53). This is based on the airline's own services and not those operated by another carrier on its behalf, such as Helsinki.
Three-quarters of European services are by Qatar Airways' twin-aisle equipment, especially the Boeing 787-8 (108 weekly in August). However, the leading most-used type is in fact the single-aisle Airbus A320 (133 weekly). It operates to 19 European airports, as far as away Prague, covering 4,220 kilometres.
Qatar Airways' European destinations are served an average of 11 weekly, with 20 having 2-daily flights or more. With 47-weekly – 14 by the A380 – London LHR is Qatar Airways' leading Europe route. In fact, it is the carrier's most-served route across its whole network.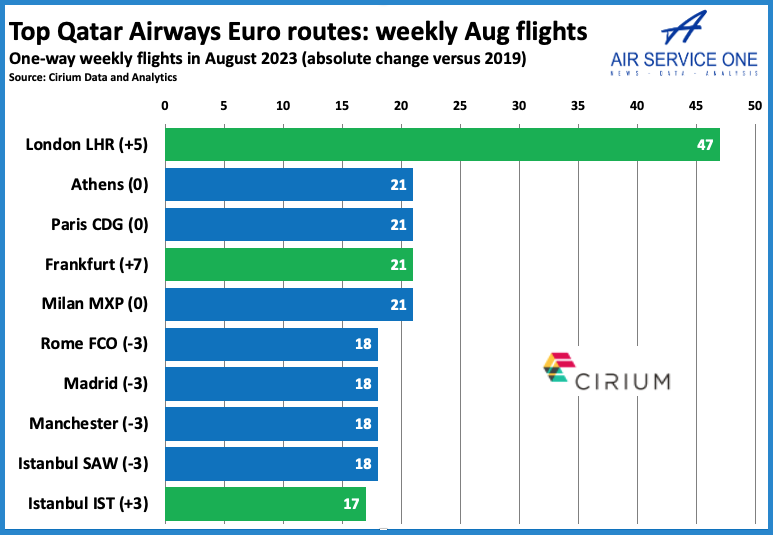 UK is the leading country by flights, Türkiye by destinations
Qatar Airways' 46 European destinations are in 25 countries. With 100 weekly flights, the UK is number one. Five airports are served: London LHR, London LGW, Manchester, Edinburgh and Birmingham. While Cardiff welcomed the airline from May 2018 to March 2020, heavily influenced by considerable financial incentives, it is unclear if it will return. In contrast, Birmingham resumed on 6 July 2023 (daily).
Notice the strong growth of Germany, which climbed two places versus 2019 from flights rising by 60% from 35 weekly to 56. It is from introducing Düsseldorf on 15 November 2022 (daily) and adding an additional daily service to both Berlin – a destination keenly sought by Emirates – and Frankfurt.
With seven airports, Qatar Airways serves more destinations in Türkiye than any other European nation: Adana, Antalya, Ankara, Bodrum, Istanbul IST, Istanbul SAW and Trabzon (see below). Türkiye has risen to become the airline's second most-served nation on the continent. It has replaced Italy, whose cuts – and growth by others – means it has dropped to fourth.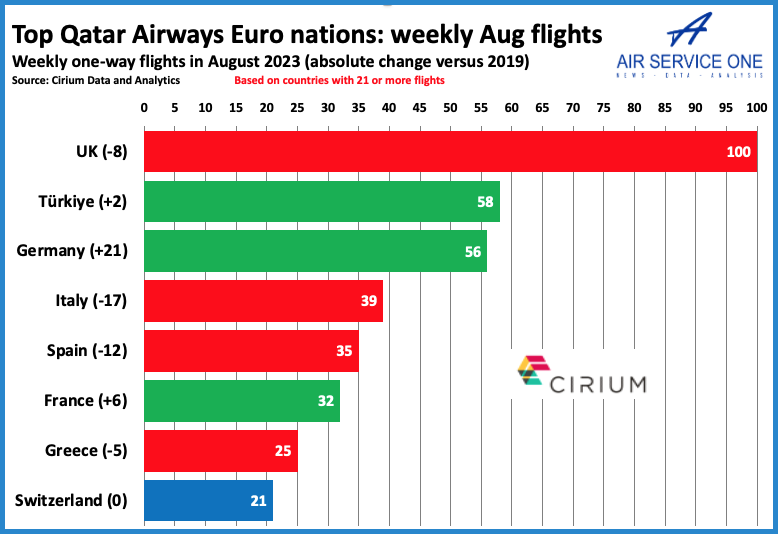 Three new Europe routes this year
Qatar Airways launched Trabzon (3-weekly) on 16 June using the A320. The Turkish city has seen much growth from the Middle East recently. It is the second airline on the 1,280-kilometre route, joining Pegasus (began in June 2022; 2-weekly).
Lyon started on 3 July (4-weekly), the first time to date that the airline has served three French airports. And a fourth – Toulouse – begins on 18 July (3-weekly). When added to Paris CDG (3-daily) and Nice (4-weekly), Qatar Airways has 32-weekly flights to France – the carrier's sixth most-served European country.