Raleigh-Durham welcomes Avelo and Icelandair as new carriers in 2022; over 3m pax in 2022 Q2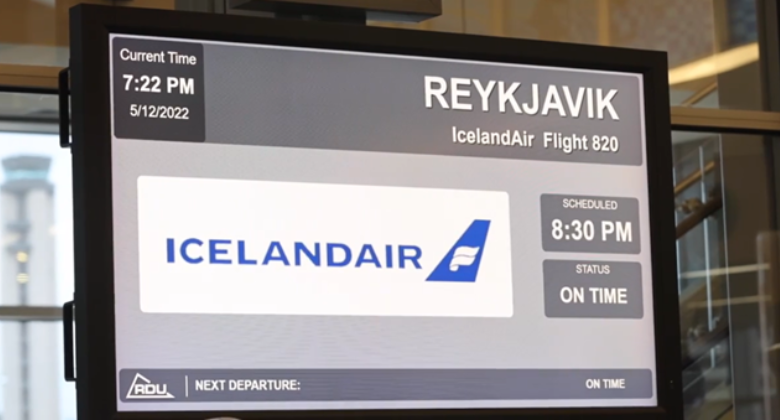 Raleigh-Durham International Airport (IATA code RDU) in North Carolina welcomed over 14.2 million passengers in 2019, making it the 37th busiest airport in the US. Back in 2013 the airport had welcomed 9.2 million passengers and had barely grown in the previous four years. However, between 2013 and 2019 traffic grew by an impressive 55%.
Analysis of Cirium schedule data reveals that RDU's departing seat capacity increased by 2.8 million departing seats between 2013 and 2019. American added 950,000 seats (though most of those were thanks to acquiring US Airways), Delta added 950,000 seats, Frontier 590,000, United 430,000, Southwest 380,000, Spirit 270,000, Alaska Airlines 110,000, JetBlue 85,000, Allegiant 55,000 and Air Canada almost 30,000. Alaska Airlines, Allegiant and Spirit were new. However, thanks to the increase in average aircraft size, the 47% increase in seats was generated with only 17% more flights.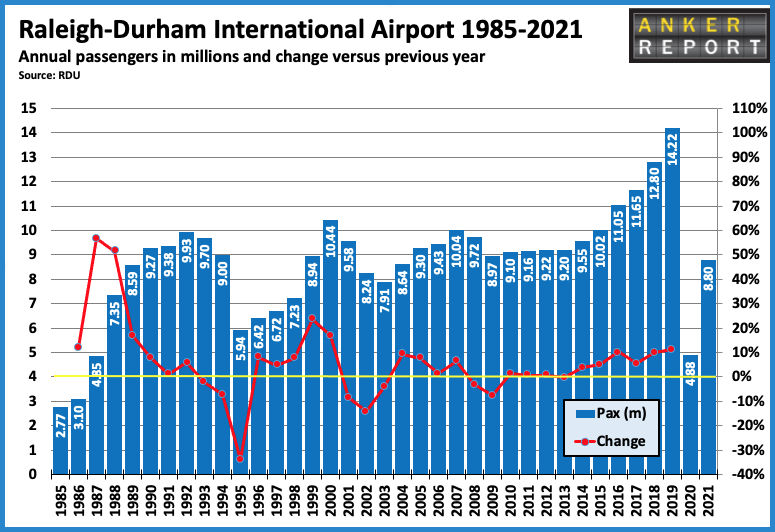 RDU is at 83% of 2019 demand in June, not as good as in March and April
The latest passenger figures for RDU show that the airport welcomed just over 1.1 million passengers in June, an increase of 24% over June 2021. However, compared with June 2019, demand is still down 17%. In March and April, traffic had been down by around 12%. Pre-pandemic, June was the airport's busiest month.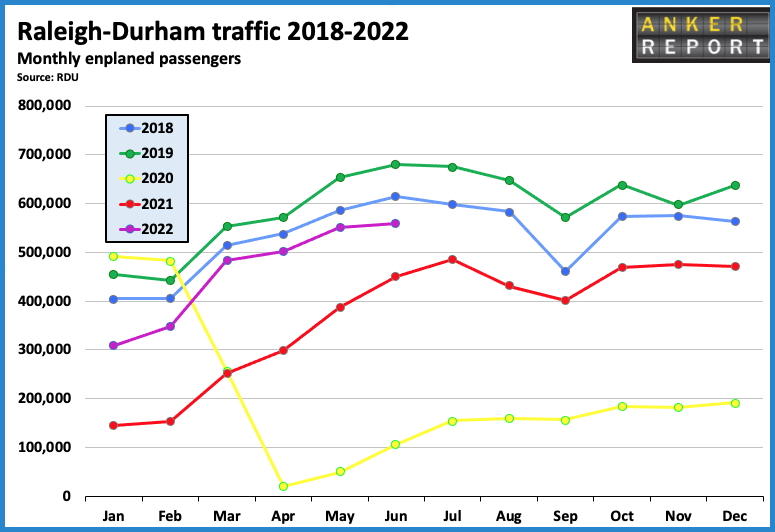 Avelo and Icelandair new in 2022
According to the airport's own figures, the leading airlines are Delta (with 30.5% of passengers so far this year), just ahead of American (30.4%), followed by Southwest (13.7%), United (11.1%), Frontier (5.9%), JetBlue (4.9%), Spirit (1.2%) and Alaska Airlines (1.1%). The airport has welcomed two new airlines so far this year; Avelo from Tweed New Haven and Icelandair from Reykjavik.
Since the beginning of 2021, Air Service One has identified the following new airline services (weekly frequency when launched in brackets):
11 February 2021: JetBlue to Austin (2, ended June 2021), Jacksonville (2, ended May 2021), New York EWR (7, ended April 2022, resuming February 2023), Orlando MCO (7, ended October 2021), Tampa (5, ended June 2021)
18 March 2021: JetBlue to Las Vegas (4, ended October 2021)
7 May 2021: JetBlue to San Francisco (2, ended June 2021)
14 May 2021: Sun Country to Minneapolis/St. Paul (2)
3 June 2021: American to Nashville (12)
5 June 2021: American to Orlando (1)
5 June 2021: American to Destin/Fort Walton Beach (1)
2 July 2021: American to Austin (6)
2 November 2021: American to Tampa (14)
17 November 2021: Spirit to Miami (7)
12 May 2022: Icelandair to Reykjavik KEF (4)
26 May 2022: Avelo to Tweed New Haven (4)
26 May 2022: Frontier to Indianapolis (2), New York SWF (2)
RDU has maintained the vast majority of the non-stop destinations it flew before the pandemic. It also still has a number of international services. Apart from the new route to Iceland, American resumed service to London LHR in June, while Air Canada serves RDU from both Montreal and Toronto. Cancún in Mexico has been served this year by American, Frontier and JetBlue. Finally, Delta is set to resume service to Paris CDG from the beginning of August, offering a 4-weekly non-stop connection to the French capital.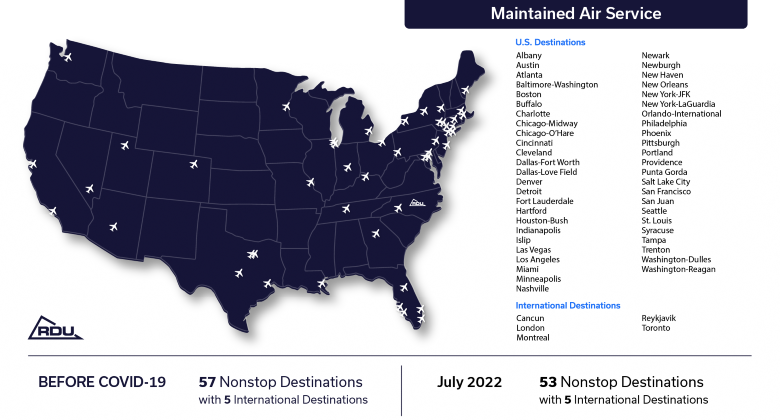 Atlanta is #1 route
In terms of total seat capacity in 2022, Cirium data shows Atlanta as by far the busiest route (but with capacity down 14% versus 2019), well ahead of Charlotte (+15%), New York JFK (+64%), New York LGA (+13%) and Miami (+94%). Charlotte is just 210 kilometres away from RDU. Miami, JFK and Austin have seen the biggest increase in annual seats.
Among larger routes, the biggest percentage declines have been to Baltimore/Washington and San Francisco (both down 55%), Chicago ORD (down 44%) and Fort Lauderdale (down 42%).
Planning for the future: Vision 2040
Located half-way between Raleigh (population 470,000) and Durham (population 280,000) the airport opened in May 1943 with flights operated by Eastern Airlines. Looking ahead, the airport has a Vision 2040 plan, which will see it move its northern runway 500 metres further away from the main terminal allowing the terminal to expand, with the old runway becoming the main taxiway.