Recovery in Baltic/Nordic region capacity being driven by Ryanair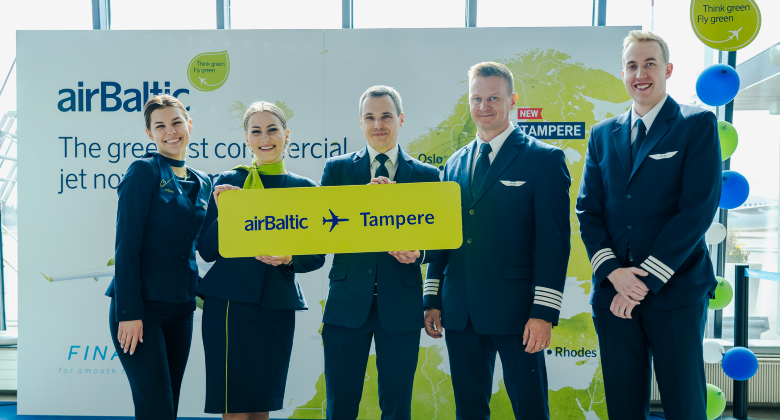 The second half of 2021 saw the countries comprising the Baltic and Nordic region of Europe all show a significant recovery in passenger demand. By December the airports in the eight countries included in our analysis (Denmark, Estonia, Finland, Iceland, Latvia, Lithuania, Norway and Sweden) were all reporting passenger numbers between 50% and 70% of the numbers reported in December 2019.
However, the emergence of the Omicron variant of COVID meant that more travel restrictions were once again put in place and demand faltered in January, before picking up again in February. However, it has taken until March for the recovery rate in most of these nations to get back to the levels seen in December. Airports in Norway and Estonia (Tallinn) reported traffic down just 25% in March.
Early indications are that April will see a significant improvement over March. With war continuing to rage in Ukraine, rising fuel prices, staffing issues, and the ever present threat of new mutations of the virus, it is hard to predict with certainty how the rest of the summer might pan out. But right now, the signs are reasonably positive, as health-related travel restrictions have been eased across much of the Baltic/Nordic region.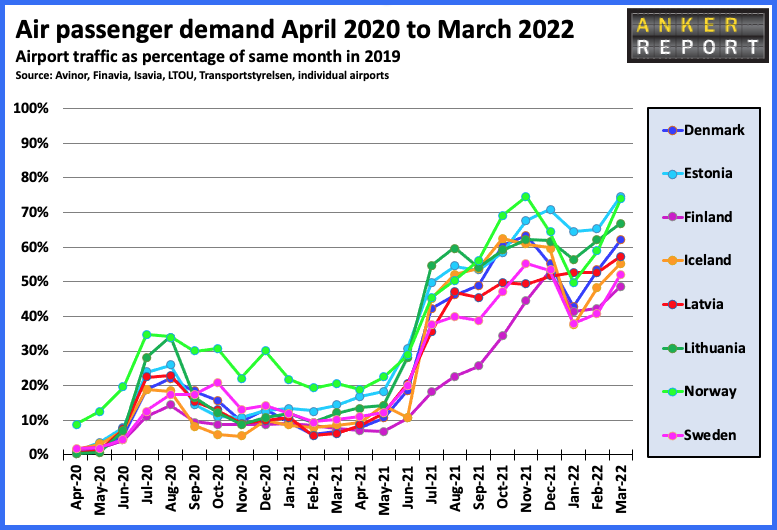 SAS, Norwegian and Finnair summer capacity down 20% to 30%
Analysis of planned airline seat capacity for this summer (April to October 2022) is, as always, subject to potential changes for any number of reasons. However, compared with S19 (April to October 2019), the three leading airlines headquartered in the region (SAS, Norwegian and Finnair) are all expecting to see capacity reductions of between 20% and 30%. Overall, capacity is currently set to be down around 13% across all carriers.
Conversely, Ryanair's capacity in the region is up over 50% compared with three summers ago. Seat capacity is up by almost two million seats across the seven summer months. The shift from Stockholm Skavsta to Stockholm Arlanda has seen the addition of almost 300,000 seats. However, there have been bigger increases elsewhere. The airline's new base at Riga has seen capacity grow by almost 340,000 seats, while Billund capacity is up by over 325,000 seats and Helsinki capacity has gone from 0 to almost 220,000 seats. Gothenburg (an extra 185,000 seats), Tallinn (115,000), Vilnius (85,000) and Kaunas (80,000) have also all seen significant capacity growth by Ryanair in the last three years. As a result, Stockholm Arlanda is now Ryanair's leading airport in the region having overtaken Copenhagen, where capacity is expected to be down almost 5% this summer compared with 2019. The Danish airport still sees plenty of Ryanair services, but it stopped being a base some years ago.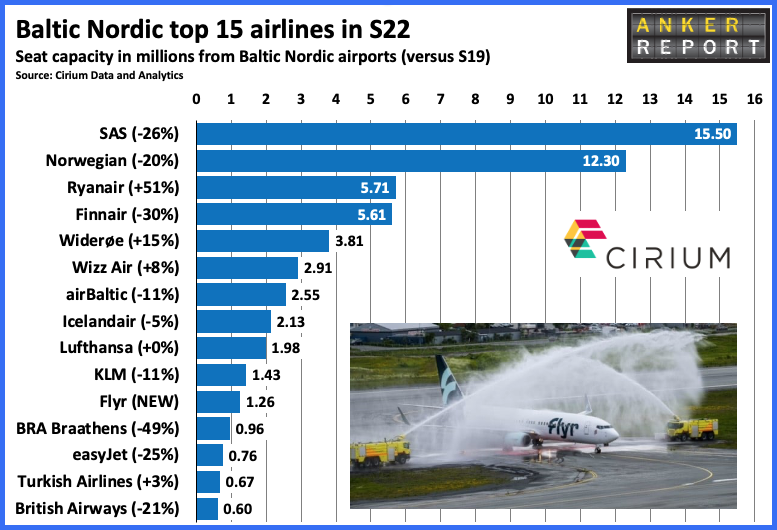 Apart from Ryanair and Flyr (which only launched last June), other airlines in the top 15 that have seen growth include Wizz Air (+8%) and Norwegian regional carrier Widerøe (+15%). Seventh ranked airBaltic recently added a third base to its network when it stationed an aircraft at Tampere in Finland. This has enabled the all Airbus A220-300 operator (it now has over 30 of the type) to begin seven new routes from the airport, to supplement its pre-existing service from its main base at Riga.