Reno has most passengers in 15 years; Southwest top carrier; Las Vegas the leading destination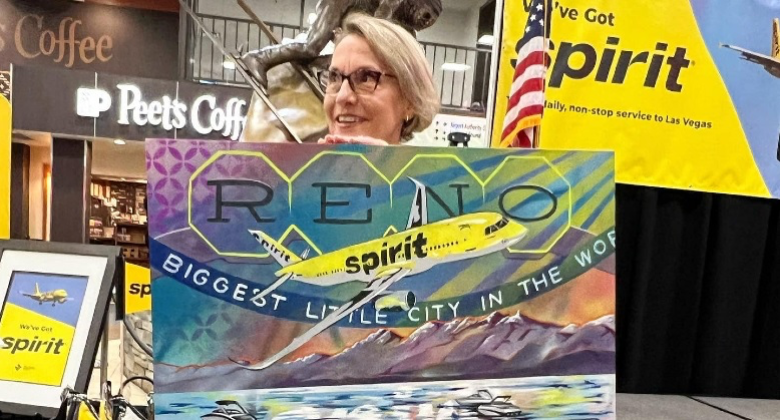 The "Biggest Little City In The World", Reno welcomed 2.18 million passengers in the first half of 2023 – its highest number in 15 years. It was particularly driven by the arrival of Spirit and Sun Country and good growth by incumbent Southwest.
The Nevada city is located near popular attractions including Lake Tahoe and Incline Village, providing lots of options for winter and summer. Located near the California border, Reno hosts many well-known annual events, including the National Championship Air Races, The Great Reno Balloon Race, Burning Man, and the Reno Rodeo.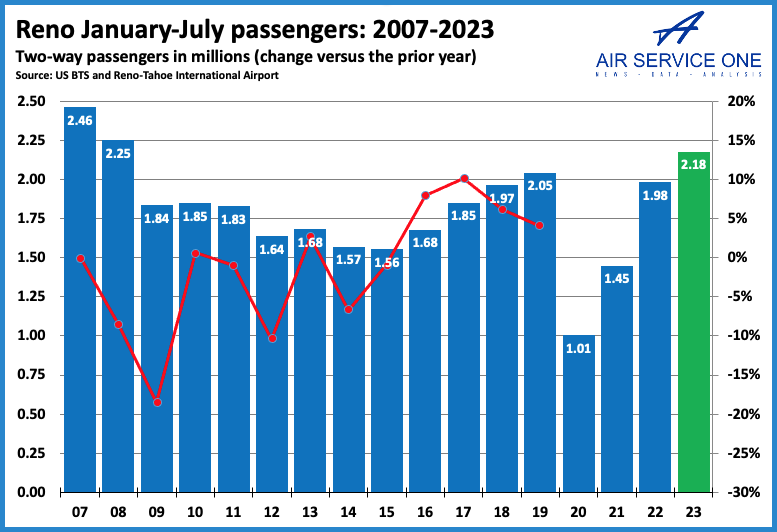 Southwest leads; New Pacific is coming
Some 12 passenger airlines will serve Reno between October and December (Q4), based on Cirium schedules information data. They include New Pacific (formerly known as Northern Pacific), which will launch flights from Ontario on 16 November (3-weekly). It will be the first time the 635-kilometre market has been served since defunct Aha! ended it last year.
The arrival of New Pacific builds on Spirit, now Reno's sixth-largest carrier, which arrived in August 2022. The ULCC continues to have one route: Las Vegas. Sun Country launched the following month and has a route from its primary airport: Minneapolis.
With virtually half of Reno's seats, Southwest is by far the airport's leading operator. Helped by strong growth since the pandemic, it has three and a half times more capacity than number two, United. Southwest has 11 routes in Q4 – six to California – with its network spread as far as Chicago MDW. Dallas DAL returns on 21 November (4-weekly).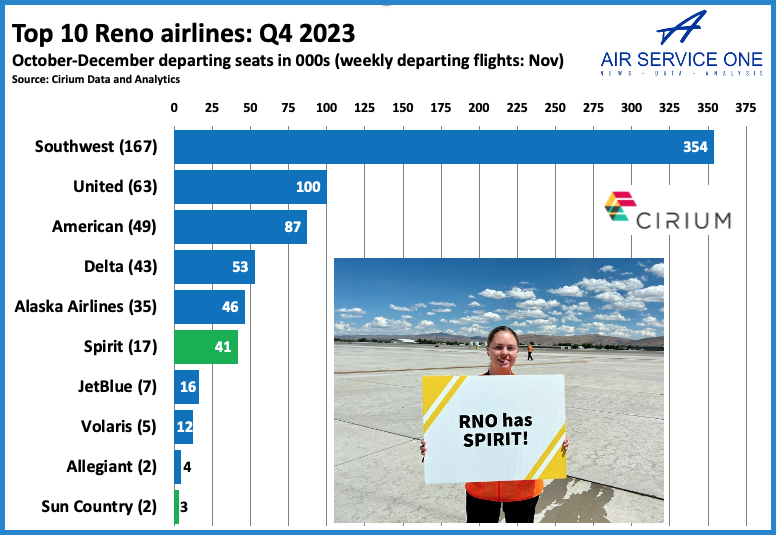 Las Vegas has more than a quarter of seats
Cirium tells that Reno has 24 scheduled passenger routes in Q4, all but one being domestic. Service is to 11 US states, with California number one with nearly a third of capacity. Its sole international route is Volaris to Guadalajara (5-weekly in November), which has existed for nearly a decade. It is actively targeting the return of Canada flights, with non-stops until 2002. Vancouver is perhaps the most obvious market.
At the airport level, the intra-Nevada link to Las Vegas remains Reno's most-served destination. The 555-kilometre market accounts for about 28% of the airport's capacity. There are 91-weekly flights in November by Southwest (72), Spirit (17) and Allegiant (2). It also had Frontier until February 2023.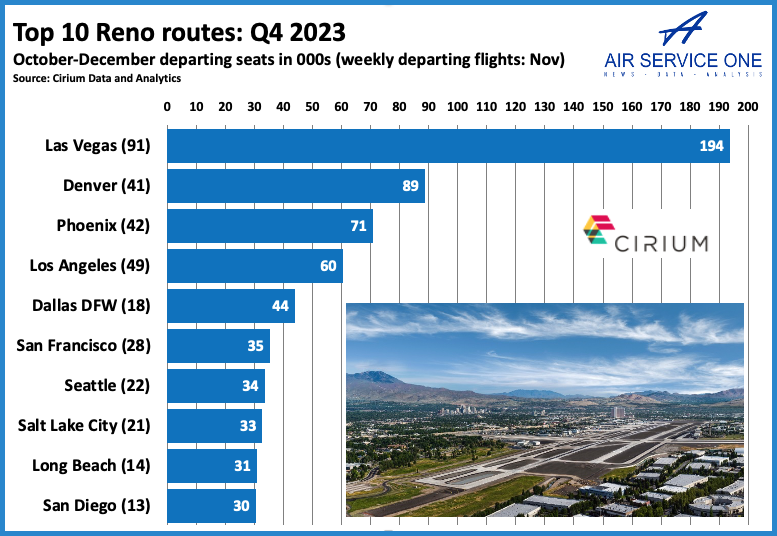 Atlanta returns in 2024
Delta will resume Reno-Atlanta on 7 July with a daily Boeing 757 service. It last served the 3,210-kilometre route in early January 2022. When it returns, it will be Reno's second-longest non-stop service after New York JFK. The airport hopes to regain a Charlotte link, last served by American in 2021 (daily).