Reno-Tahoe International Airport – Where less is More!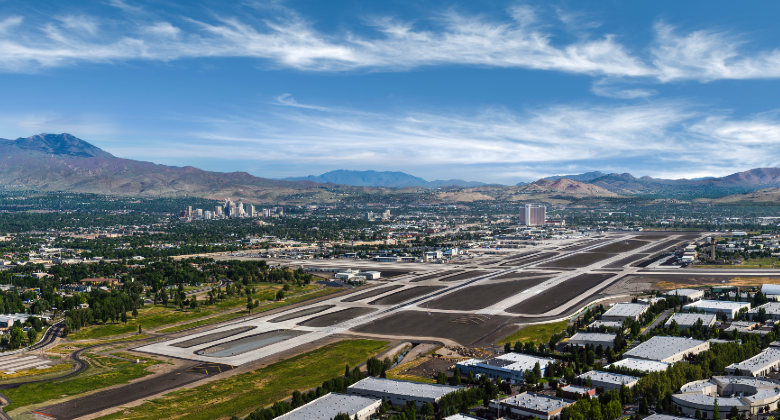 In the Reno-Tahoe region, less is more. We have less limitations as we continue to see more growth and change. More technology, manufacturing and logistics are moving in quickly, making the region a major hub for innovation. There continues to become less we don't offer here, as we get more companies like Tesla, Switch, Apple, Amazon and Panasonic, which have some of the most crucial business functions in northern Nevada.
While we saw less people at the Reno-Tahoe International Airport (RNO) during the pandemic, as was seen across the globe, we are now seeing more people and businesses who have moved to the region, resulting in more prospective air travellers.
This, along with the less congestion you'll experience in our area due to more open spaces, amazing desert landscapes, snow-capped mountains, nightlife, gaming, and beautiful Lake Tahoe, mean that Reno-Tahoe is an attractive, year-round destination.
There are less places you can't fly to from RNO, as we continue to garner more airlines and non-stop destinations. This year, more airlines began service at RNO, with Spirit Airlines and Sun Country now serving the region.
RNO is currently served by 12 airlines with more than 20 nonstop destinations. There is not less work ahead of us, however, as we put more focus on our primary objective to retain the flights that we have.  In partnership with community stakeholders, we are always looking for more opportunities to grow, whether this means the expansion of seasonal service to year-round, up-gauging equipment, or bringing in a new route or new air carrier. Domestically, we are targeting the return of nonstop flights to Atlanta and Charlotte, as well as new, nonstop flights to Boston, Honolulu, Nashville, and Washington D.C.  However, there is also the potential for more international offerings to include Canada, especially Vancouver.
There are more opportunities in the aviation industry and at RNO than ever. The future of RNO is more as we will be hard at work in the coming years to keep up with the pace of a growing region, implementing new technology and more modern facilities that will give the traveling public what they have come to expect from our airport: less stress, more convenience.