Revealed: Europe's airports with the lowest passenger recovery rates in June 2022 v June 2019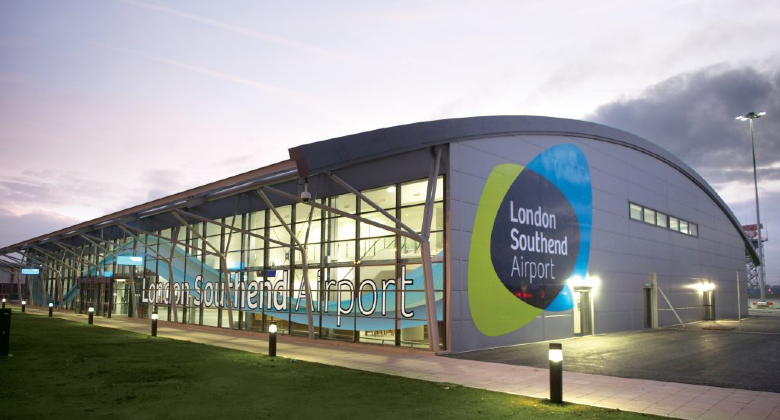 According to analysis of June 2022 passenger data for over 350 airports in Europe, well over 200 of them had seen demand recover to at least 80% of the level seen in pre-pandemic June 2019. However, 15 airports (with at least 10,000 passengers in June 2022) were still below 50% in their recovery rate. These airports and their recovery rates are shown in the graph below.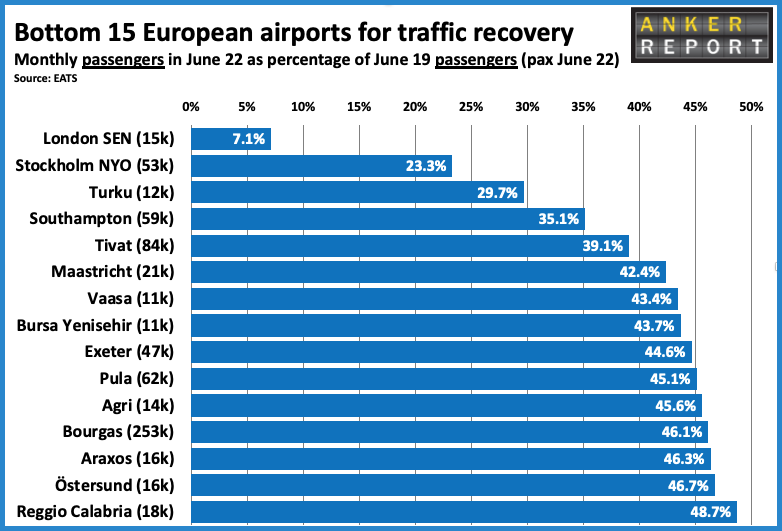 Analysis of Cirium schedule data reveals some of the reasons why these airports have performed well below the European average:
London Southend: As London's sixth airport (after Heathrow, Gatwick, Stansted, Luton and London City), Southend had been growing quickly and handled just over two million passengers in 2019. It was a base for easyJet, Flybe and Ryanair, and also welcomed flights in June of that year from Air Malta and Loganair. However, Flybe collapsed while easyJet and Ryanair closed their bases to focus on operations at other London airports. It was only in May of this year that easyJet returned with regular scheduled services to Faro, Malaga and Palma de Mallorca.
Stockholm Skavsta: Located around 100 kilometres south-west of Stockholm, the airport has suffered from Ryanair's decision to close its base there and transfer all flights to the main airport serving Sweden's capital at Arlanda. Ryanair accounted for around 70% of Skavsta's capacity in June 2019. Wizz Air remains at the airport and has increased capacity by 8% compared with June 2019, mainly through the use of larger aircraft rather than more flights.
Turku: Finland's fourth busiest airport in 2019 (with 453k passengers), Turku lies in south-west Finland around 150 kilometres west of Helsinki. Since 2019, Finnair has cut capacity on the key Helsinki route by 70% (and dropped its service to Mariehamn), SAS has dropped its Stockholm service, while Wizz Air has dropped routes to Kaunas and Krakow. However, NyxAir has taken on the Mariehamn route and Wizz Air has added service to Skopje.
Southampton: Back in June 2019, Flybe accounted for 98% of seats at Southampton Airport on the UK's south coast. When it ceased all operations in early 2020, the airport faced a major challenge. Since then, it has attracted BA CityFlyer, Blue Islands, Eastern Airways, KLM and Loganair. The new Flybe returned to the airport at the end of July with flights to Avignon, Belfast BHD and Toulon and will add further new domestic routes starting next March. Aer Lingus Regional also began flights to Belfast BHD in July.
Tivat: Montenegro's busiest airport in 2019 with 1.37m passengers (ahead of Podgorica with 1.30m), has seen the demise of Montenegro Airlines in June 2021, to be replaced by a currently significantly smaller Air Montenegro. An even bigger factor has been the disappearance of all Russian carriers, including Aeroflot, Pobeda, S7 Airlines and Ural Airlines. However, Air Serbia, which still operates flights to Russia, has doubled its flights to Belgrade, easyJet has increased capacity by 70% and Turkish Airlines (which also still serves destinations in Russia) began serving Tivat with 3-weekly flights from Istanbul IST on 11 June.
Maastricht: This Dutch airport welcomed 430k passengers in 2019. The decline in passengers in June 2022 can be attributed to the absence of flights operated by Corendon Airlines, which had been the airport's biggest carrier in June 2019. Corendon resumed flights from Maastricht in July and is now, once again, the airport's biggest carrier ahead of Ryanair. The Irish ULCC was offering five routes from Maastricht this June; Alicante, Barcelona, Bari, London STN and Zadar.
Vaasa: Finland's sixth busiest airport in 2019 (with 304k passengers), Vaasa lies in west central Finland. In June 2019 the airport only had two services; with Finnair to Helsinki and with SAS to Stockholm ARN. SAS has not yet resumed its service while Finnair had reduced capacity on the Helsinki route by 46%.
Bursa Yenisehir: This airport in north-west Turkey lies just 75 kilometres from Istanbul SAW and 100 kilometres from Istanbul IST. In 2019 it handled 270,000 passengers. By June 2022, AnadoluJet had dropped three of the six domestic routes it was operating in June 2019, including Ankara and Gaziantep. However, on a positive note, international flights to Muscat in Oman with SalamAir began in June 2022.
Exeter: Like Southampton, Exeter Airport in the UK's south-west was heavily reliant on Flybe for services in June 2019. However, TUI Airways also had a significant presence with holiday flights to Cyprus, Greece, Portugal and Spain, and Ryanair offered three routes. Following the collapse of Flybe, the airport has managed to attract Aer Lingus Regional (from Belfast BHD and Dublin), Aurigny (from Guernsey), Blue Islands (from Jersey) and Loganair (on four domestic routes previously operated by Flybe). As yet there is no sign of the 'new' Flybe returning to the airport.
Pula: Croatia's fifth busiest airport in 2019 (handling 769k passengers), lies in the north-west of the country and is famous for its Roman buildings. Several airlines that served the airport in June 2019 did not do so in June 2022. These included Aer Lingus, Jet2.com, Lauda, Volotea and several Russian carriers. In addition, Croatia Airlines and TUI Airways cut capacity significantly.
Agri: This airport in the far east of Turkey, not far from the border with Armenia, welcomed 322k pax in 2019. It only had four domestic routes to Ankara, Istanbul IST, Istanbul SAW and Izmir. By June 2022, Pegasus had dropped its route to Izmir and Turkish Airlines had cut capacity on the Ankara route by 60%.
Bourgas: In 2019, Bourgas was Bulgaria's busiest airport in July and August. A popular tourist destination on the Black Sea, the airport has suffered from the loss of all services to Russia as part of the EU's sanctions against that country for its invasion of Ukraine. However, the airport has been able to welcome a big increase in flights and destinations served by Ryanair and Wizz Air. Last year also saw easyJet start serving the airport from Berlin and London LGW.
Araxos: This Greek airport handled 168k passengers in 2019, but 35k of those were in June. It serves the third largest Greek city of Patras and is primarily a military airport for the Hellenic Air Force. It lies around 220 kilometres west of Athens. Between 2019 and June 2022 the airport lost all service from Ellinair and TUI fly Belgium and saw significant capacity cuts from SmartWings Slovakia and TUIfly Deutschland.
Östersund: This northern Swedish airport is busiest in winter when it serves as a gateway to a number of popular ski resorts. In 2019, it welcomed 474k passengers, of which 34k were in June. In summer the airport is dominated by flights to Stockholm; to Arlanda with SAS and Bromma with Braathens Regional Airlines. Both of these routes have seen significant capacity cuts this June.
Reggio Calabria: Located in the 'toe' of southern Italy, the airport welcomed 364k pax in 2019 including 38k in June of that year. The airport has suffered from the suspension of all Blue Panorama Airlines flights. The airline had used its Blu-express brand to operate domestic flights to Bologna, Milan LIN and Rome FCO in June 2019. ITA Airways has replaced Alitalia in serving Rome FCO and Milan LIN. However, in June 2019 there were five daily flights to the Italian capital. This summer there was just a single daily flight.