Revealed: US airports with the lowest capacity recovery rates in August 2022 v August 2019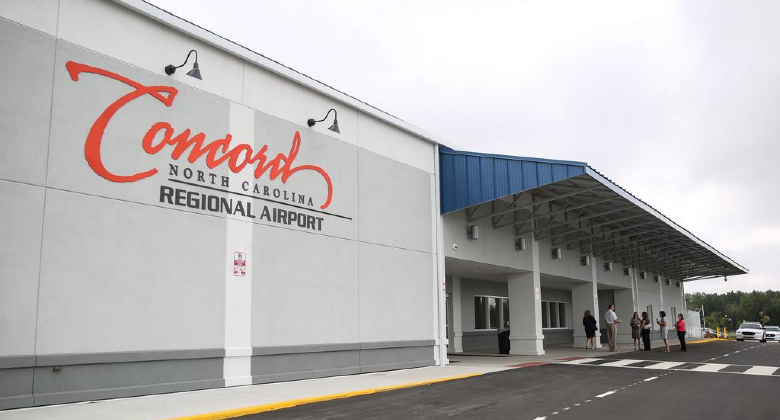 After revealing which airports in Europe were seeing the slowest recovery in traffic (using passenger data for June 2022 and June 2019), this week we conduct a similar analysis on airports in the US. However, this time airline capacity data provided by Cirium is used for August 2022 and August 2019. As airlines are still actively tweaking schedules for the coming months it was decided to use August data as that should be accurate.
Our first graph looks at the 230 airports that had at least 10,000 departing seats in August. Among these, only three airports have not (yet) reached the 50% recovery level for seat capacity. These are Concord-Padgett Regional Airport in North Carolina (IATA code USA), Duluth International Airport in Minnesota (IATA code DLH) and University Park Airport (State College) in Pennsylvania (IATA code SCE).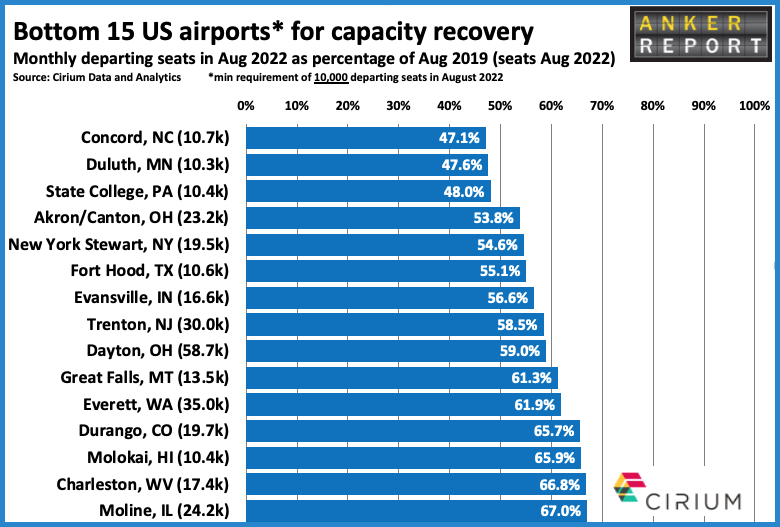 The bottom 15 airports are spread across 14 different US states, with only Ohio represented by more than one airport. The busiest of these airports is Dayton International Airport in Ohio, which offered just under 60,000 departing seats in August. This ranked it 130th among US airports in August.
Portland has slowest recovery among top 100 airports
If we change the criteria to a minimum of 100,000 departing seats, this reduces the number of airports to be considered in August to exactly 100. The bottom 15 airports have recovery rates ranging from just under 70% (Portland PDX in Oregon) to almost 83% (Raleigh/Durham in North Carolina).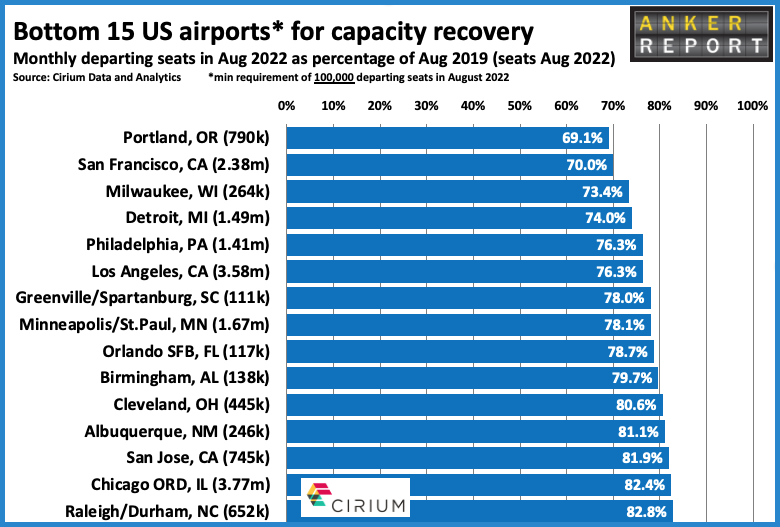 The bottom 15 airports are now spread across 13 different US states. California manages to get three of its airports into the rankings; Los Angeles, San Francisco and San Jose.
Sarasota/Bradenton has highest recovery rate
Among the top 100 airports, 35 are showing an increase in capacity in August 2022 compared with August 2019. Of these 17 are showing double-digit growth. The top five are Sarasota/Bradenton (+82%), Bozeman (+48%), Myrtle Beach (+37%), Colorado Springs (+33%) and Austin (+29%). Among airports with at least one million departing seats each month, the top five are Austin (+29%), Nashville (+15%), Miami (+14%), Chicago MDW (+14%) and Las Vegas (+10%).