Rome FCO is Italy's top long-haul airport; Aeromexico, Qantas, Norse Atlantic new; ITA smaller than Alitalia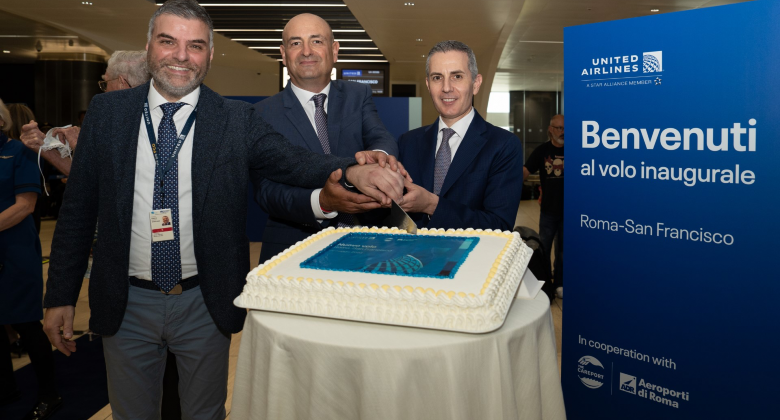 Rome FCO is by far Italy's busiest long-haul airport this July-September (Q3), where long-haul is taken to mean flights 5,000km+. According to Cirium schedules data, it has a total of 4,215 non-stop departures and 332 weekly in August. As the hub of ITA Airways, an important SkyTeam airport, a crucial tourism destination, and Italy's largest city, Rome provides 62% of the country's total. It has more than twice as many long-haul flights as Milan MXP. It has especially benefited recently from strong growth by North American operators and various new carriers.
Rome FCO: 24 long-haul airlines in Q3
Based on a minimum of 5,000km, Rome has long-haul flights by 24 operators this quarter. They include Aeromexico, which launched Mexico City on 26 March (now daily), and Qantas, which commenced Sydney-Perth-Rome on 18 June (3-weekly).
Norse Atlantic joins FCO's portfolio on 19 June, when it lifts off to New York JFK (daily); predecessor Norwegian previously served FCO. They build on other developments, such as China Southern relaunching Guangzhou on 17 June (3-weekly), and WestJet, which started Calgary (3-weekly) in May 2022. 
With about a quarter of services, ITA is, of course, FCO's primary airline. Replacing Alitalia, its first long-haul service – to JFK – took off in November 2021. Two and a half years later, ITA's domination is far lower than the main hub airline at Europe's six busier long-haul airports. Only British Airways at London LHR is close (32.2%). When all SkyTeam carriers are included, the alliance has about half of Rome's departures.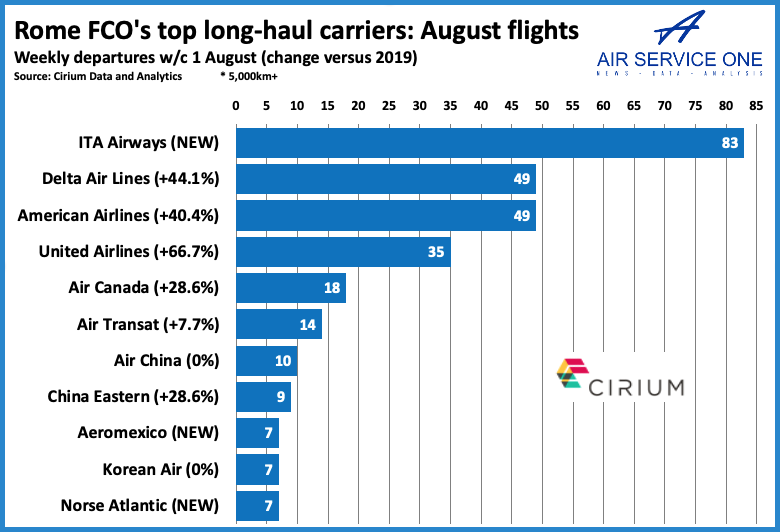 ITA Airways has a third fewer long-haul flights than Alitalia
Using Cirium to examine ITA's long-haul operation from FCO in the first week of August shows that it has 83 departing flights. This is more than a third lower than Alitalia in 2019 (-34.2%).
ITA has 10 FCO routes. Based on August, they are JFK (3-daily), Sao Paulo GRU (11-weekly), Boston (daily), Buenos Aires (daily), Los Angeles (daily), Miami (daily), Washington IAD (daily), Tokyo HND (6-weekly), Delhi (5-weekly), and San Francisco (5-weekly). The latter begins on 1 July, just over a month after United Airlines launched it. It was not previously served by Alitalia, at least not in the last 30+ years.
Comparing ITA's network with Alitalia tells that eight destinations are no longer served: Chicago ORD, Johannesburg, Mexico City (now by fellow SkyTeam member Aeromexico), Rio de Janeiro GIG, Santiago, Seoul ICN, Tokyo NRT (substituted by HND) and Toronto. However, ITA launches GIG on 29 October (daily).
JFK is the most served route and has grown quickly
According to Cirium, FCO has 41 long-haul destinations in Q3, both non-stop and one-stop. JFK is overwhelmingly the most served and has expanded rapidly. With 63 weekly August departures, four airlines operate: ITA (3-daily), Delta (3-daily), American (2-daily) and Norse Atlantic (daily). When added to Newark's 14 departures, served by United Airlines, Greater NYC has 77 weekly services, 40% more than in 2019.
Nine airports are now served that were not in Q3 2019: Calgary, Chengdu TFU (replaced CTU), La Romana, Perth, San Francisco, Sydney, Tokyo HND (replacing NRT), Wenzhou and Zanzibar.
However, 15 have lost flights: Bangkok, Caracas, Chengdu CTU, Cayo Largo, Rio GIG, Haikou, Hong Kong, Johannesburg, Nairobi, Tokyo NRT, Oakland (by Norwegian), Santiago (Chile), Santiago (Cuba), Wuhan and Xian.