Rome to host 149th IATA Slot Conference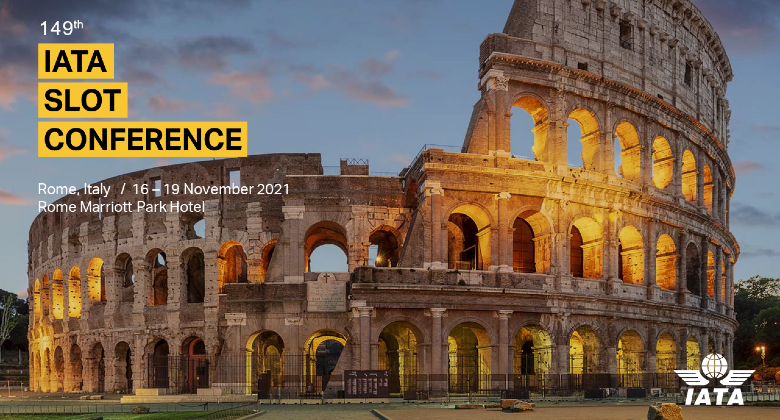 The third virtual IATA Slot Conference is nearing an end. Over the past week, more than 790 attendees from all around the world have enjoyed coming together to virtually network, catch up with colleagues, hold meetings and follow exciting and relevant presentations.
However, we have been listening carefully to feedback from many of you this week: nothing beats face to face when discussing business. We know just how important that networking in person really is and so we are working hard to bring you the first in person Slot Conference since 2019! Be sure to note the date 16 – 19 November 2021.
The Slot Conference will take place in Rome, Italy where the Marriott Park Hotel has been exclusively reserved. The location is only 15 minutes from the airport and downtown Rome. We understand budgets are a critical consideration in your attendance and so there will be no delegate registration fee and we have negotiated a low hotel room rate starting at 135 USD (inc. breakfast and wi-fi).
Your health and safety are the number one priority as we plan this conference, whilst we work to create a productive working environment for you. Airline to coordinator meetings will be held in a new socially distanced coordinator room, but the airline room in its previous format with shared tables will be unfeasible in the current circumstances. Rest assured though; we will provide alternative ways to support working at the event. As the last 18 months have shown us, we will need to continue to adapt, completing the same work in a different way.
As we approach November, more information will be shared of the working arrangements and health and safety measures that will be in place to reassure attendees. These will include, but will not be limited to
Reducing contact and touch points across the event;
One-way systems to help keep everyone at a safe distance;
Managing capacity and increasing the spacing between seating in line with government guidelines and rules; and
Giving clear guidelines regarding delegates individual responsibility when attending the event e.g. wearing masks, hand sanitizing etc
Travel, quarantine and event restrictions will inevitably continue to evolve, we will keep monitoring the situation. We will of course inform you in good time if we are unable to hold this event in person due to these restrictions.
In the meantime, we will continue planning for this event and we look forward to meeting again face to face very soon!