Rovaniemi traffic peaks in December; dominated by Helsinki route and Santa Claus Christmas flights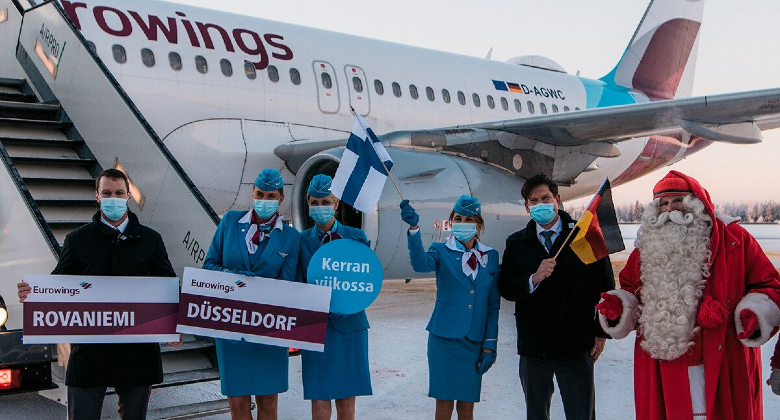 Rovaniemi is the administrative capital and commercial centre of Finland's northernmost province, Lapland. The airport serving the city is located 10 kilometres to the north and has a 3,000-metre runway which straddles the Arctic Circle. In 2019, the airport handled a record 661,000 passengers, making it Finland's third busiest airport after Helsinki (21.86 million) and Oulu (1.06 million). After dropping to just over 300,000 passengers in 2009 and 2010, passenger numbers have more than doubled in the last decade, with domestic growth (+120% between 2019 and 2019) outstripping international growth (+90%).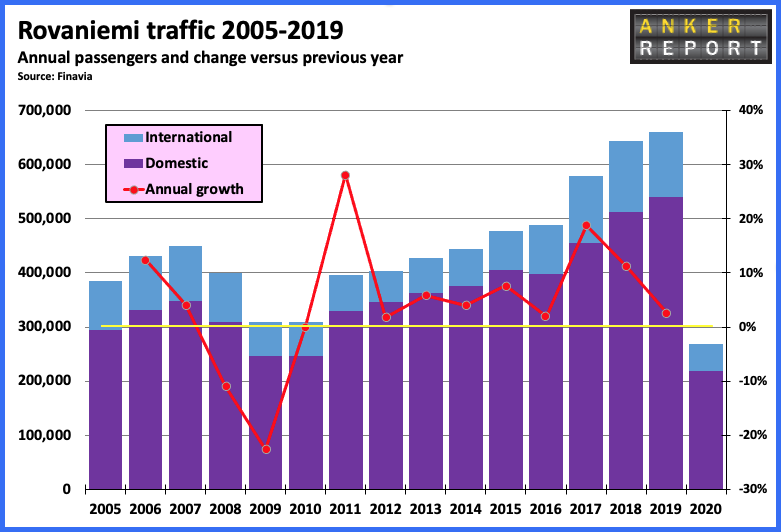 As the gateway to Lapland (and Santa Claus) the airport has an unusual seasonality profile with December being almost twice as busy as any other month (141,000 passengers in 2019), followed by January, February and March. July is the airport's quietest month with just 31,000 passengers in 2019.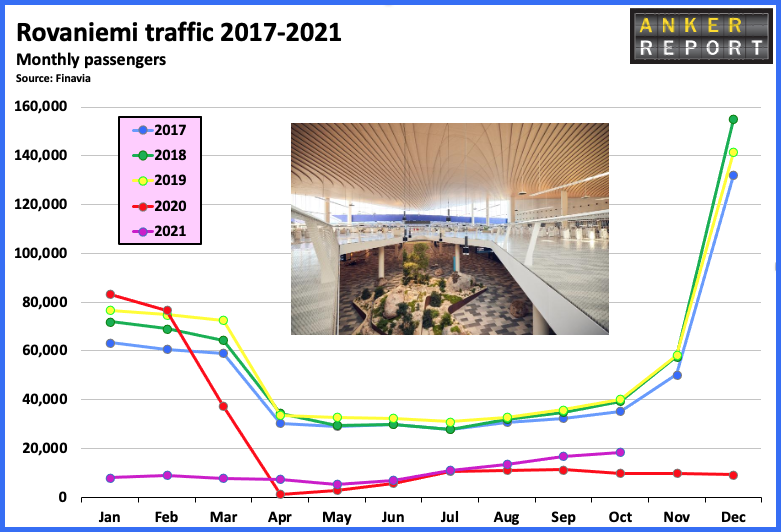 In 2019, 70% of scheduled capacity at the airport was operated by Finnair on a single route to Helsinki, with Norwegian accounting for a further 20% of capacity on the same route. The next most popular route was London LGW, with easyJet, Norwegian and TUI Airways all offering seasonal flights. Birmingham, Glasgow and Manchester all had winter connections. Outside of Finland and the UK, the leading route was Istanbul. Turkish Airlines offered 12 flights in December 2019.
New routes this winter from Air France, easyJet and Eurowings
This winter has seen Eurowings launch seasonal service to Rovaniemi from Düsseldorf (on 5 December), while Air France has introduced service from Paris CDG (on 4 December). Just before Christmas, on 19 December, easyJet will add service from Milan MXP. According to the airline's on-line booking tool, this route is set to operate 2-weekly until 9 January, making just seven flights in all. easyJet already serves Rovaniemi from London LGW, a route it started on 31 October 2018. Manchester flights operated briefly at the end of 2019.