Royal Air Maroc serves over 40 countries on four continents with fleet of almost 50 aircraft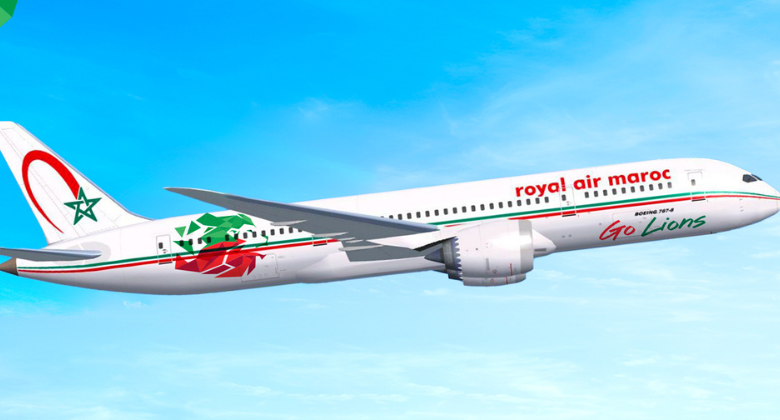 Morocco's flag-carrier, Royal Air Maroc, can trace its history back to the 1950s. Based in Casablanca, the airline currently has a fleet of almost 50 active aircraft, comprising eight 787-8/9s, 29 737-800/MAXs, three E190s and six ATR 72s. It has been a member of the oneworld alliance since April 2020.
Between 2004 and 2019 annual scheduled seat capacity almost doubled from 5.6 million seats to 10.8 million. According to analysis of Cirium data, the airline's total seat capacity is still down 10% in 2023 Q1 compared with the same period in 2019. Flights are down 13% but ASKs are down just 2%. Looking ahead more speculatively to Q2, flights are down 12%, seats are down 11% and ASKs down 3%. It seems it may be another year or two before the airline gets back to pre-pandemic levels for flights.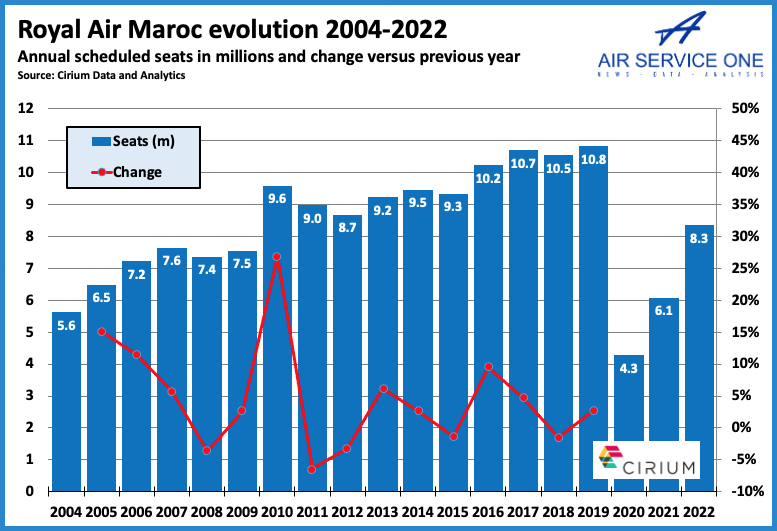 Flights to over 40 countries
This February, Royal Air Maroc is offering non-stop flights from Morocco to over 40 countries on four continents (Africa, Europe, Middle East and North America). Since 2019, it has added Israel (Tel Aviv) and the UAE (Dubai) to its network. There are around 470 flights to destinations in France in February. The next biggest country markets are Spain (172 flights) and Italy (122 flights). Belgium, Portugal, Tunisia, the UK and the US all feature among the top 10 international country markets.
If we measure the airline's biggest routes by ASKs (Available Seat Kilometres), which takes into account aircraft size, sector length and frequency, then four routes stand well ahead of all others. Royal Air Maroc's daily, long-haul services to Doha, Montreal and New York JFK compete with the higher frequency (but shorter) Paris ORY service. Only two of the airline's top 15 routes by this metric are in western Europe, with four in North America and five in Africa.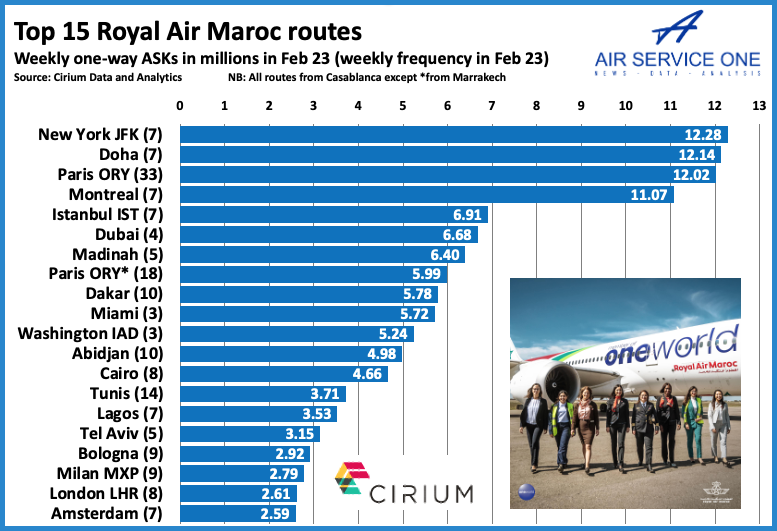 In addition to Dubai and Tel Aviv, Royal Air Maroc has also added two new Spanish destinations since 2019; Seville and Tenerife Sur. The Canary Island airport was briefly served in the summer of 2020 and resumed this winter. The twice-weekly, 475-kilometre Seville route started on 30 December 2022 and is served with the airline's ATR 72-600s.
Dominant carrier in the domestic market
In the domestic market, Royal Air Maroc operates 15 routes and accounts for 87% of flights and 79% of seats in the first quarter of 2023. Air Arabia Maroc is the only competitor. Casablanca to Marrakech (31-weekly), Casablanca to Agadir (24-weekly) and Casablanca to Oujda (14-weekly) are all served at least twice daily. The lower frequency routes are operated by the airline's ATR 72s.