Royal Jordanian adds Lyon and Milan to its network; 21 airports served in Europe and North America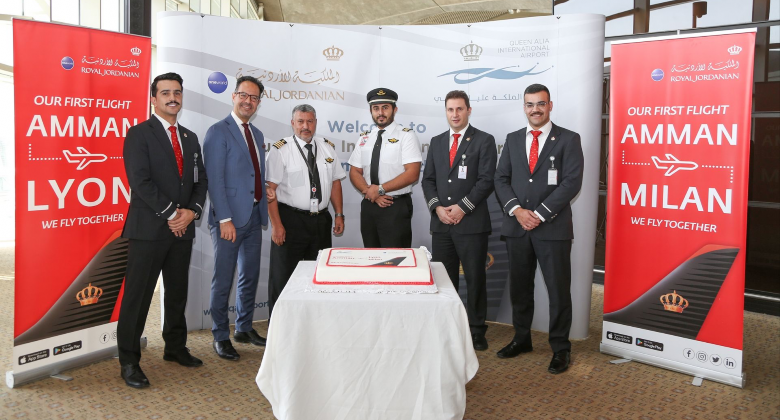 Royal Jordanian can trace its origins back to 1963, which means that it will celebrate its 60th anniversary next year. Based in Amman, the capital of Jordan, the airline currently has a fleet of 24 active passenger aircraft according to planespotters.net. This comprises seven 787s, 13 A320-series aircraft and four Embraer E-jets (two ERJ-170s and two ERJ-190s). It became a member of the oneworld alliance in 2007.
Europe and US routes account for 70% of ASKs
Analysis of Cirium data for October 2022 and pre-pandemic October 2019, reveals that the share of the airline's ASKs (Available Seat Kilometres) dedicated to European routes has climbed from 31% to 33%, while North American ASKs have increased from 31% of the total of 37%. The European growth has been helped by the launch earlier this week (on 1 October) of two new routes, to Lyon in France and Milan MXP in Italy. Lyon will be served 2-weekly, Milan 3-weekly.
16 destinations in Europe and five in North America
The addition of Lyon and Milan brings the number of destinations served in Europe non-stop from Amman to 15 in mid-October. In addition, Geneva is currently served via Zurich, though will return to being a non-stop service from the end of October. Four airports are served non-stop in North America (Chicago, Detroit, Montreal and New York JFK) with Toronto served via Montreal.
If ranked by ASKs, not surprisingly the North American routes (shown in red) are the biggest with the daily service to Chicago dominating. The leading European route is the daily service to London LHR which is operated by a mix of the airline's A321s and 787s. Since October 2019, flights to Moscow DME, Munich and Vienna have been suspended.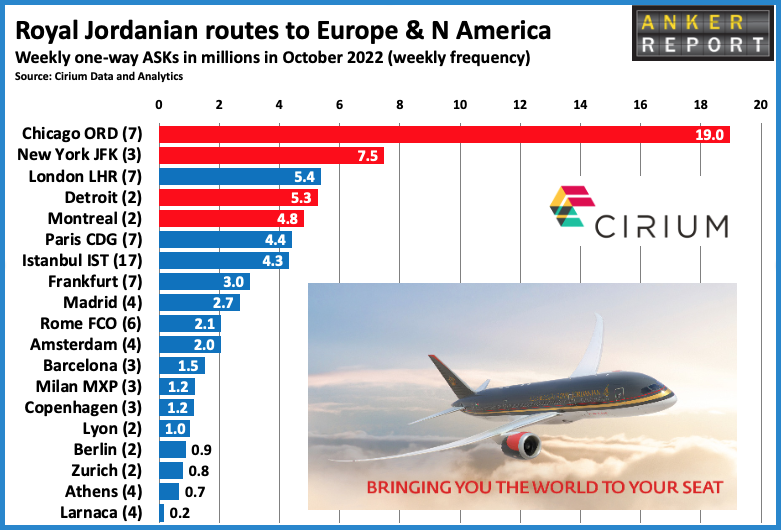 Flights peaked in August; Antalya replaced Berlin
After ramping up European and North American operations since the start of the year, the number of monthly flights from Amman to these two continents peaked in July at 511 according to Cirium data. This fell to 488 in August, 377 in September and 383 in October. Back in August, Chicago was served 10-weekly, New York JFK daily, Detroit 4-weekly and Istanbul IST 4-daily.
One destination served then but not in October was Antalya. The popular Turkish holiday destination was served 5-weekly from Amman, but only operated between 16 June and 24 September. During that same period there were no flights to Berlin, with the German capital seeing service resumption earlier this week on 4 October.