Russia and Turkey lead the way in Q1 thanks to massive domestic markets
While Western Europe continues to see the slower than hoped for rollout of the assorted COVID vaccines, the leading aviation travel markets in Europe are currently in the east of the continent. As previously highlighted, Russia and Turkey, thanks in part to their massive domestic markets, are coping with COVID travel restrictions better than anywhere else in Europe.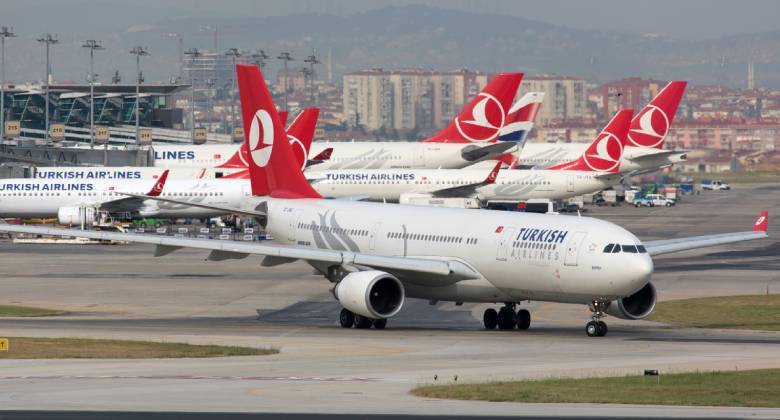 This is highlighted by the fact that, according to The ANKER Report's European Airport Traffic Statistics (EATS) database of over 400 airports, in January, six of the top seven busiest airports for passengers were in either Russia or Turkey. This comprised all three major Moscow airports, both Istanbul airports and Pulkovo Airport serving St. Petersburg. In terms of the busiest cities in Europe for air travel, Moscow leads the way, ahead of Istanbul, Paris, London and Frankfurt.
In addition to the three Moscow hubs, the airport serving the Black Sea resort of Sochi (home of the 2014 Winter Olympics and the venue for the Russian Grand Prix) ranked 13th, reporting passenger growth (yes, growth) of 45% compared with January 2019. Just ahead of it in the rankings was London LHR, for many years Europe's busiest airport. Times have indeed changed.
Although only Istanbul's two main airports made the top 15, other Turkish airports with significant passenger activity in January were; Izmir (318k, down 64%), Ankara (311k, down 70%) and Antalya (293k, down 69%). Overall, Turkey's airports handled 5.2 million passengers in January (down 63%). Russia's top five airports alone handled 5.4 million, with the top 15 airports in European Russia processing in excess of seven million passengers, confirming Russia as Europe's leading air travel market right now.
For comparison, Spain's airports welcomed 2.8m passengers (down 83%) in January, Germany's airports around 1.8m (down 89%), Italy's airports 1.6m (down 87%) and UK airports just 1.3million (down 93%).
Aeroflot Group leads the way
With Russia's airports welcoming so many passengers, it may come as no surprise that the Aeroflot Group has been doing relatively well. It carried 2.36 million passengers in January (down 43%), but this was spread over three carriers. Aeroflot carried 1.04m passengers (down 60%) at a load factor of 70%, Pobeda carried 928k passengers (up 0.5%) at a load factor of 90.3%, and Rossiya transported 390,000 mostly domestic passengers (down 31%) at a load factor of 78%.
In the graph below we have tracked Aeroflot Group's progress since last January by passenger numbers and load factor. Domestic traffic recovered amazingly quickly thanks to Russians forsaking their international summer vacations in favour of staying closer to home, with airports on the Black Sea and the Caspian Sea benefitting significantly along with Kaliningrad.
In August and September domestic traffic had virtually returned to 2020 levels though October and November saw relatively modest declines. December 2020 and January 2021 have seen the domestic market pick up once again.
International demand picked up to around 15% of the previous year's level in September and has stayed at around that level ever since as a result of the travel restrictions imposed by Russia and other countries.
In most months, the domestic load factor has also been better than the international load factor, with around 80% of seats being filled on domestic flights since July.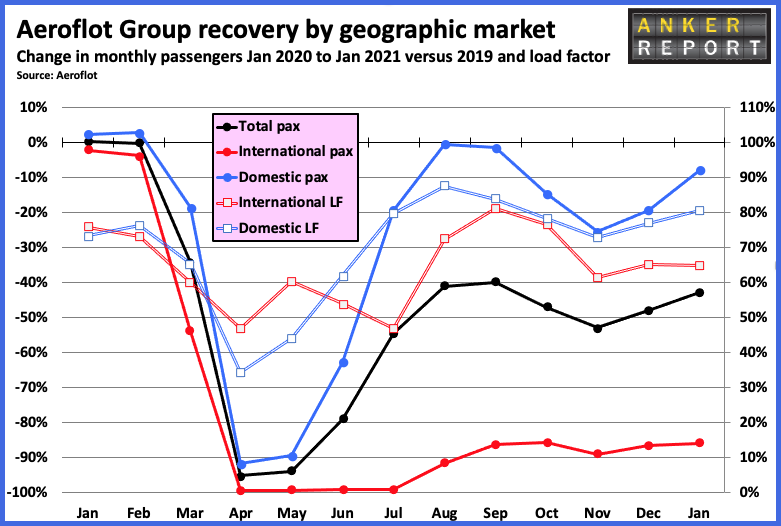 Turkish Airlines operating most flights in Europe
Flight data in European airspace, tracked by Eurocontrol, has consistently shown in recent weeks that Turkish Airlines is operating more flights than any other carrier. In addition, in percentage terms, it is now operating around 50% of flights compared with the same period in 2019. This is a figure beaten by only a handful of other carriers in Europe; fellow Turkish carrier Pegasus Airlines (based at Istanbul SAW), Qatar Airways and Norwegian regional carrier Widerøe.
According to the airline's passenger statistics for January, it carried 1.97 million passengers (down 65% compared with January 2019) at a load factor of just over 60%. This makes it Europe's busiest airline, as Aeroflot Group's figures were spread over three carriers.
Since Turkish Airlines is kind enough to provide monthly operational data by geographic region, we can track how much and how quickly each of the regions have recovered. Not surprisingly, the domestic market was the first to recover, reaching 50% of the previous year's figure in August, September and October. Since then the domestic market seems to have shown signs of decline, falling to just 35% of the 2019 figure in January 2021.
The European market recovered to around 30% of its previous level by August, and has since stabilised that level. The African market has been recovering gradually but consistently every month, passing 40% of the 2019 figure in January. The North American market has also seen a steady recovery. The Central and South America region may be Turkish Airlines's smallest geographic market, but it has finally recovered quite quickly in recent months after being completely non-existent from April through to September. In January, Turkish Airlines carried a modest 23,811 passengers on routes to/from Central & South America but this was down 'only' 37.7% compared with January 2019. According to Cirium Data and Analytics, Turkish Airlines was serving Bogota (3-weekly), Caracas (2-weekly) and Sao Paulo GRU (3-weekly) non-stop from Istanbul IST in January.