Ryanair accounts for 30% of Europe-Morocco capacity; market sees 16 new routes this winter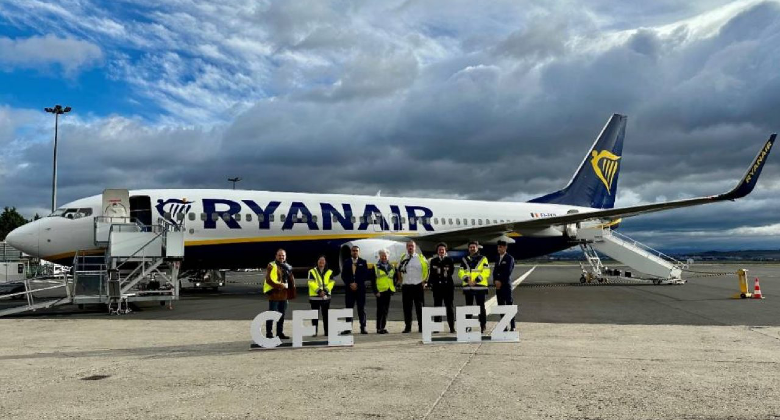 Morocco has more European seats than any other African nation, heavily influenced by open skies with the EU, (U)LCC growth, the geographic proximity, Moroccan diaspora and growing tourism. If all country-to-continent markets are analysed, Morocco-Europe ranks 54th this winter, based on Cirium schedules information data. It has nearly as many winter seats as the UK to North America.
Ryanair has 30% of Europe-Morocco capacity
With 1.4 million of the 4.7 million departing seats, Ryanair is the largest airline between Europe and Morocco. It has 30% of the capacity and 63% more than the country's flag carrier, Royal Air Maroc. Ryanair's Morocco seats have grown by a third since W19, helped by its new Agadir base, launched in 2021, that supplements bases at Fez and Marrakech (both opened in S13). Overall seat capacity between Europe and Morocco is up 13% this winter compared with W19.
The leading European airports for flights to Morocco this winter are Paris ORY, Paris CDG, Madrid, Barcelona, Marseille and London LGW. European airports that now have links with Morocco (compared with W19) include Alicante, Bilbao, Clermont-Ferrand, Edinburgh, Glasgow, Krakow, Riga, Tenerife TFS and Zaragoza. However, several European airports that had scheduled service to Morocco in W19 do not have service this winter. They include Belfast BFS, Hamburg, Helsinki, Liverpool, Malta, Prague, Stuttgart and Zurich.
Fifteen airports in Morocco (including two in disputed Western Sahara) have European flights this winter. The country's largest city, Casablanca, is not the busiest airport – tourist mecca Marrakech is. It is good for winter sunshine. Despite 15 airports, Marrakech and Casablanca have 58% of all European capacity.
16 new routes this winter
Morocco has 16 routes starting this winter that have not operated in the past decade or at all. Figures in bracket denote weekly frequency.
France: Ryanair has Fez to Clermont-Ferrand (2) and Toulouse-Rabat (2); Transavia France has Marseille-Casablanca (2) and Marrakech (2); Volotea has Lille-Marrakech (1); Vueling has Paris ORY-Marrakech (2)
Italy: Ryanair has Agadir-Rome Ciampino (3) and Tangier-Rome Ciampino (2)
Latvia: airBaltic has Riga-Marrakech (2)
Netherlands: easyJet has Amsterdam-Marrakech (2)
Portugal: easyJet has Lisbon-Marrakech (2)
Spain: Royal Air Maroc has Tangier-Seville (2); Ryanair has Fez-Alicante (2)
UK: easyJet has Glasgow-Agadir (2); Wizz Air UK has London LGW-Agadir (3) and Marrakech (6)
Plus 45+ in the summer
The 16 new winter routes builds on the 45+ Morocco-Europe routes that launched in S22. They involved 25 European airports and 11 in Morocco. Analysis of Cirium data signifies that Nador, in Morocco's northeast, had the most route additions (10), with Marrakech right behind (nine). Corendon launched nine routes, Ryanair eight, Iberia five and Air Arabia Maroc five. But the most exotic was perhaps Binter Canarias from Gran Canaria to Guelmim, the so-called Gateway to the Desert.