Ryanair added 123 routes from UK airports between August 2019 and August 2022 but dropped 120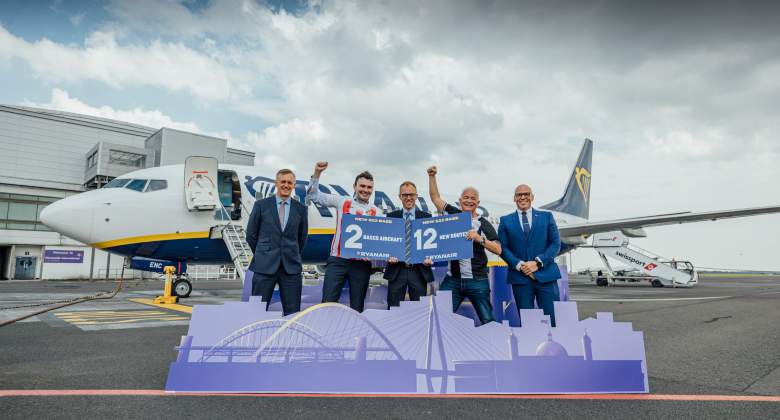 Earlier this week Ryanair held a press conference in London at which it revealed it would be operating its biggest ever programme from UK airports this winter. Contributing to this would be 21 new international routes including six from Birmingham and five from London STN. Of course, there was no mention of any routes that might have been dropped.
Over 500 routes from UK airports this summer
As shown in our analysis earlier this year, the UK is only Ryanair's third biggest country market after Italy and Spain. Analysis of Cirium schedule data for August 2022 and August 2019 indicates that Ryanair was offering 2,952 weekly flights from UK airports this year, compared with 2,992 three years ago. That represents a reduction of just 1.3%. The number of routes offered has increased marginally from 538 to 541, a net gain of just three. However, this apparent relative stability is misleading.
Between August 2019 and August 2022, Ryanair has launched 123 new routes from UK airports, which is great news for consumers. However, 120 routes that were offered three years ago are no longer being flown. Some may well be reinstated in the future. In other words, almost 23% of the UK routes flown by the airline this summer were not flown in 2019.
Stansted still #1 for Ryanair in the UK
A look at how many routes Ryanair has been operating from each UK airport this summer reveals that London STN offers by far the airline's biggest range of routes, with 150 destinations flown this summer. That is almost twice as many as from Manchester (79) and Edinburgh (65), the UK airports with the next highest number of Ryanair routes.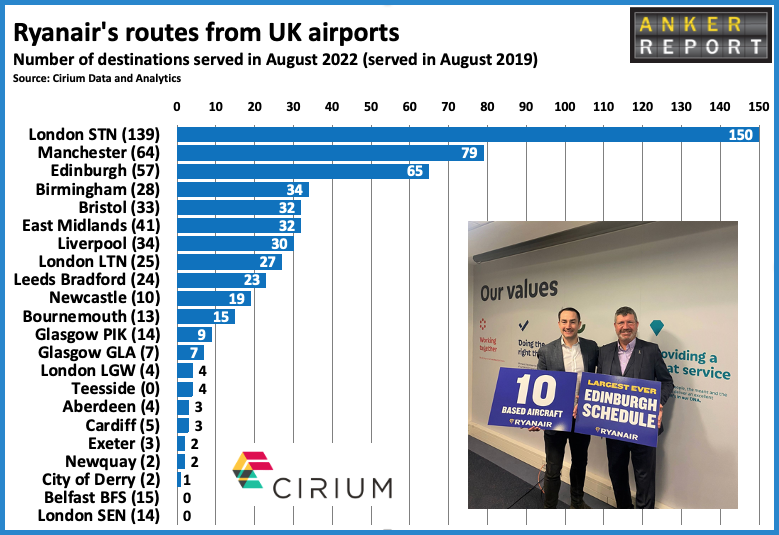 This summer Ryanair is flying from 20 UK airports down from 21 in August 2019. There are currently no flights from Belfast BFS or London SEN, though service will resume from Belfast BFS next summer with the decision to operate 12 routes. However, Ryanair resumed flights from Teesside in June 2021, having last served the airport in October 2010. An airport that does not appear on the chart is Belfast BHD. Ryanair served the downtown airport in Northern Ireland from October 2007 to October 2010 and then offered flights to nine destinations between June 2021 and September 2021.
Liverpool has seen most routes dropped among active airports
More detailed analysis reveals which UK airports have seen the highest rate of route churn. The closure of operations at Belfast BFS and London SEN resulted in the loss of 15 and 14 routes respectively. However, Liverpool also lost 15 routes (while gaining 11), East Midlands lost 12 (while gaining three) and London STN lost 11 (while gaining 22).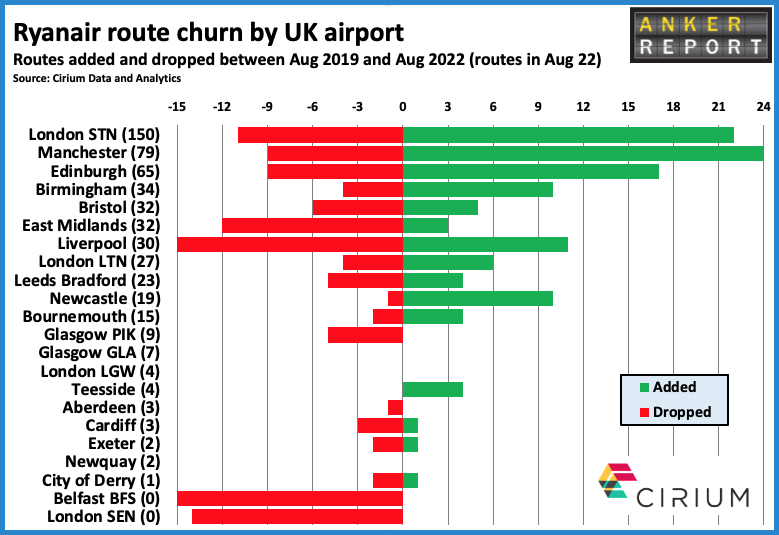 Many new destinations now offered from the UK
New Ryanair destination offered from the UK in August 2022 that were not available in August 2019 include Bourgas, Catania, Dresden, Funchal, Helsinki, Lublin, Maastricht, Orebro, Oradea, Paris BVA, Santorini, Sibiu, Stockholm ARN, Tampere, Trapani, Vaxjö, Vienna, Zagreb and Zakynthos. Conversely, consumers looking for non-stop flights with Ryanair from the UK to Bilbao, Brest, Clermont-Ferrand, Dinard and Strasbourg would have been disappointed at the airline's decision to not currently serve these destinations.