Ryanair and Wizz Air have 56% of Poland's capacity; Ryanair is #1 in five of Poland's top 12 countries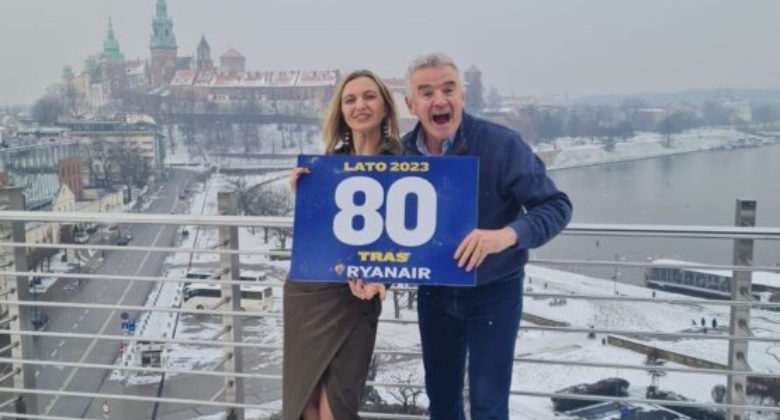 Central Europe's biggest air travel market and a renowned battleground for (U)LCCs, Poland is dominated by Ryanair and Wizz Air. The pair have 56% of the country's seats in April-September (Q2/Q3), according to Cirium schedules information data. When combined, they're about twice the size of LOT Polish Airlines. Their fast growth has helped: Ryanair has 43% more seats than April-September 2019 and Wizz Air 10%. They have also benefited from the sluggish recovery of others, especially LOT, which remain down by a quarter.
Ryanair and Wizz Air have over half the Polish market
With five million one-way seats, Ryanair is Poland's largest airline. The country is its most important in Central and Eastern Europe (CEE): it has four times as much capacity as its next biggest CEE country, Hungary. It is tantalisingly close to overtaking Germany to become Ryanair's sixth most-served market. Ryanair's Poland network involves 301 routes from 13 airports. These include Warsaw WAW, to which it will fly from 26 March having last done so in January 2019.
Wizz Air has 3.4 million Polish seats and nearly a quarter of the total. It serves 11 airports (Bydgoszcz was added in December, but Rzeszow ends in March) and has 178 routes. In the pre-pandemic period April-September 2019, Poland was Wizz Air's biggest country, but now it is fourth, behind Italy, Romania and the UK. It isn't that Poland has shrunk: Wizz Air has grown, as mentioned earlier. It is just that the other nations – particularly Italy – have grown much more.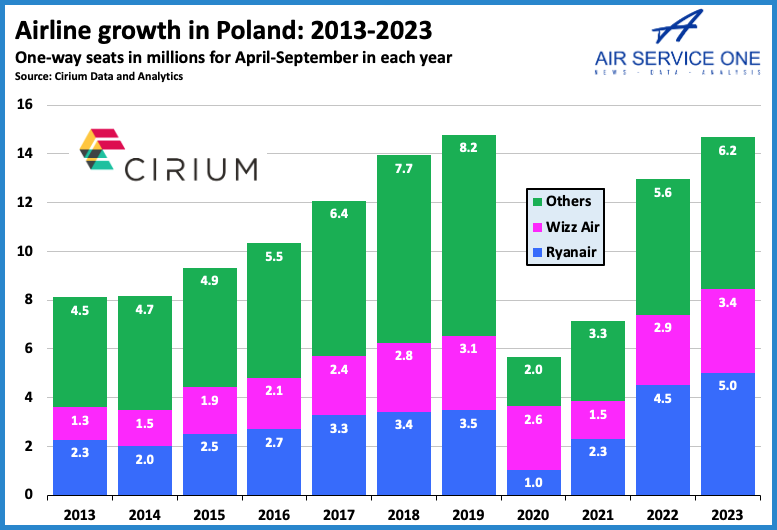 The pair have 70%+ of capacity at nine Polish airports
The following figure shows Poland's busiest 12 airports (busiest from left to right). Ryanair serves all 12, while Wizz Air has flights to 11 (no Warsaw WMI). Other carriers are present at 11; the exception is Lodz, the location of Routes Europe 2023.
Examining the 12 airports indicates the relative capacity shares of these operators. At airports they both serve, Ryanair is larger than Wizz Air at seven, including Krakow, Poland's second busiest airport and Ryanair's most served in the CEE. This summer, Ryanair has nine aircraft and 80 routes at Krakow. In comparison, Wizz Air is bigger at three, including Katowice, the airport from which its first flight departed on 19 May 2004.
If the two ULCCs are combined, they have 70% or more capacity at nine airports: Szczecin (73%), Poznan (77%), Wroclaw (78%), Gdansk (82%), Bydgoszcz (87%), Katowice (89%), Lublin (92%), Warsaw WMI (99%) and Lodz (100%). Unusual in Poland for having strong inbound demand, Krakow fell just short (68%). Krakow is one of six airports served by Wizz Air at which 'other carriers' are bigger.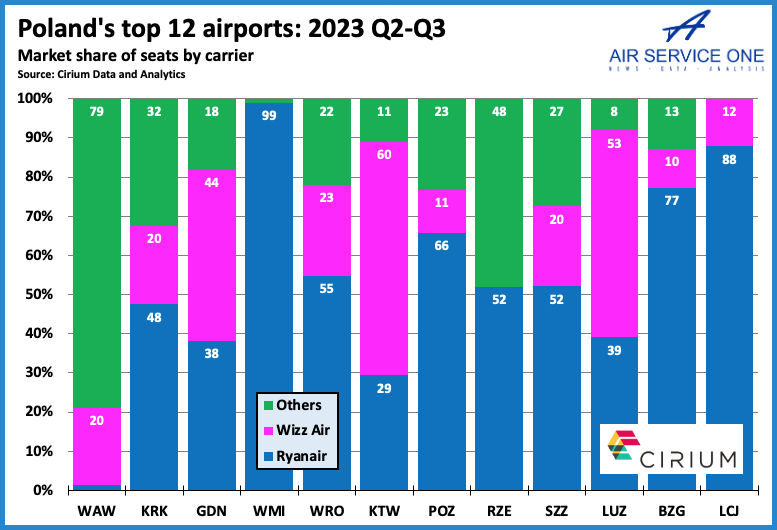 Ryanair is #1 in five of Poland's top 12 countries
The following figure shows Poland's top 12 most served countries (biggest from left to right). With 2.3 million one-way seats, the UK is firmly first. It is two thirds larger than number two, domestic Poland. While Wizz Air serves 10 of the 12 (no domestic or Ireland), Ryanair has flights to all 12. Since LOT ended Dublin in January 2022, 'other carriers' serve only 11 of the top 12 nations.
Aside from Ireland, Ryanair is especially prevalent to Italy, Greece, Spain, and the UK. It has 71% more UK seats than Wizz Air and over twice as many routes: 62 against 25. In contrast, Wizz Air leads to Norway – it is stronger to the Nordics as a whole than Ryanair – and has more capacity than its ULCC counterpart to Germany and particularly the Netherlands.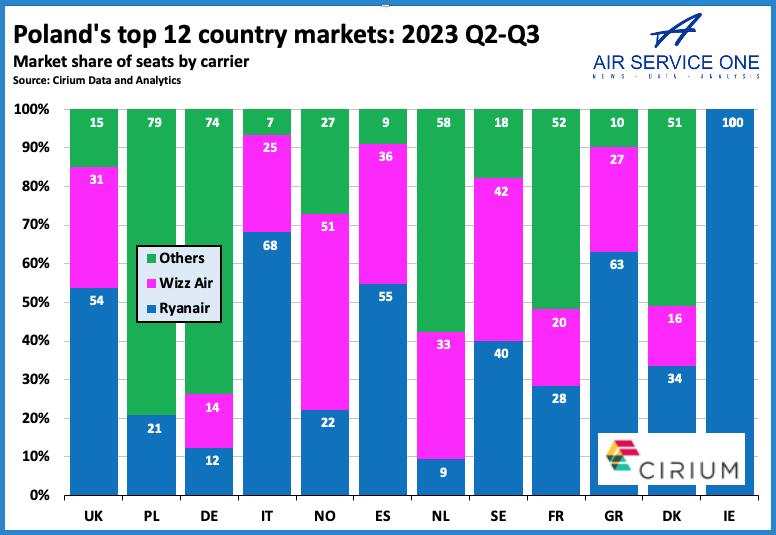 They have two-thirds of capacity across the top 12 countries
Wizz Air and Ryanair provide 67% of the seats to Poland's 12 biggest countries. Other than Ireland, they have nearly all capacity (93%) to Italy and are also very strong to Spain (91%), Greece (90%) and the UK (85%). In contrast, they're relatively weak domestically – even though it is now Ryanair's fourth biggest Polish market – and to Germany. Ryanair's new Krakow-Memmingen route (starting 28 March, 2-weekly) won't help much in closing the gap.