Ryanair and Wizz Air now competing head-to-head on almost 150 routes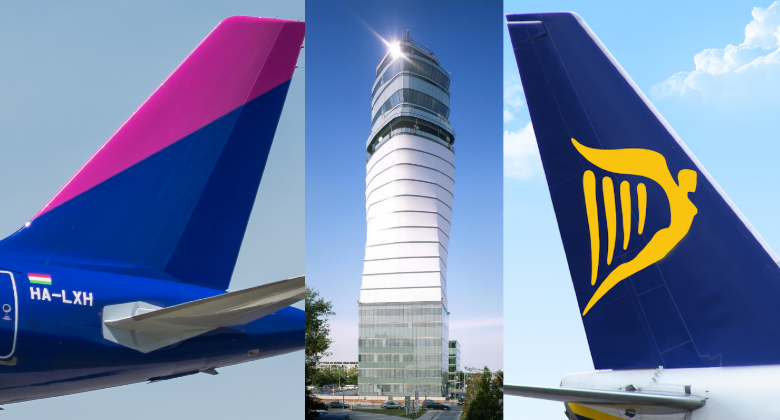 Back in the summer of 2019, Ryanair and Wizz Air only competed head-to-head on 41 routes. Those 41 routes involved 35 different airports, with Budapest leading the way as the airport with the most competition. The Hungarian capital saw the two ULCCs competing directly on 12 airport-pairs. Other airports where the two carriers went up against each other on several routes included Sofia (seven routes), Bucharest (six routes) and Milan BGY (five routes). Given that Ryanair was operating some 1,850 routes that summer and Wizz Air over 600, the level of competition between the two carriers might be considered to be pretty minimal.
Competition increasing
However, things are changing quite rapidly. This July, based on analysis of Cirium Data and Analytics schedule information provided by the airlines, the two airlines are now competing head-to-head on 147 routes, an increase of over 250%. Now, 73 airports are seeing direct competition between Ryanair and Wizz Air on at least one route. Vienna is now the leading battleground with the two ULCCs competing for passengers on 36 routes, followed by Budapest (with 22 overlapping routes) and Milan MXP and Sofia, each with 13 overlapping routes. As of the end of July, Ryanair is still operating around 1,850 routes, while Wizz Air's network has expanded to cover over 800 routes. That means that Wizz Air is now competing head-to-head with Ryanair on around one-sixth of its routes.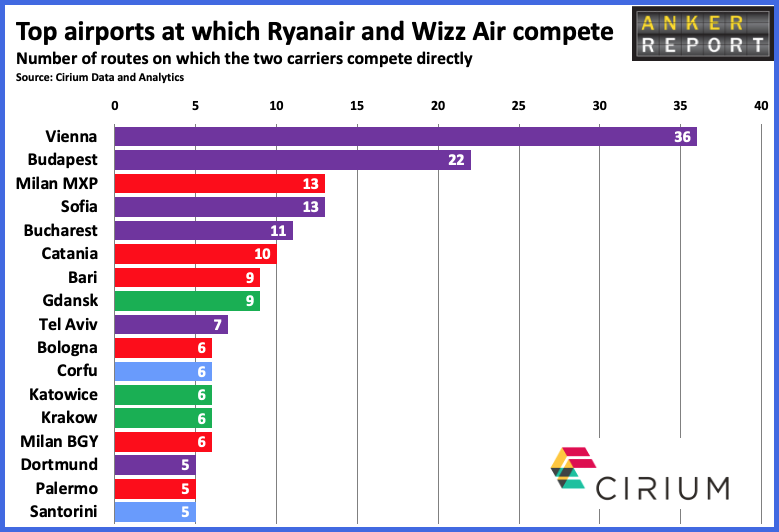 There are 17 airports across Europe where the carriers compete directly on at least five routes. Six of these are in Italy (shown in red), three are in Poland (shown in green) and two are in Greece (shown in pale blue). The other six airports are all in different countries. Clearly, with the future of Alitalia (or whatever its successor is going to be called) still in some doubt, both carriers see Italy as a potentially lucrative market.
Significant indirect competition is also taking place in Warsaw. After the second airport for the Polish capital opened at Modlin in 2012, Ryanair and Wizz Air competed head-to-head on many routes. Eventually, Wizz Air relocated their Warsaw flights to Warsaw WAW, the main (but more expensive) airport. July data shows that 24 destinations are now being served by both Ryanair (from Warsaw WMI) and Wizz Air (from Warsaw WAW).
Taking turns to serve markets
Interestingly, The ANKER Report has recently identified where routes have been dropped by one of the two carriers, and then been taken over by the other. The route between Memmingen in southern Germany and Lviv in Ukraine is one where Wizz Air has taken over a service that was previously operated by Ryanair. However, the reverse also happens. Wizz Air connected Poznan in Poland with Birmingham in the UK between December 2015 and the start of the pandemic (with a gap of eight months during 2019). It has not resumed service between the two airports. However, two days ago, on 17 July Ryanair began 2-weekly service on the route.