Ryanair celebrates 10 years at Nuremberg; it is by far the airport's biggest carrier and has 30 summer routes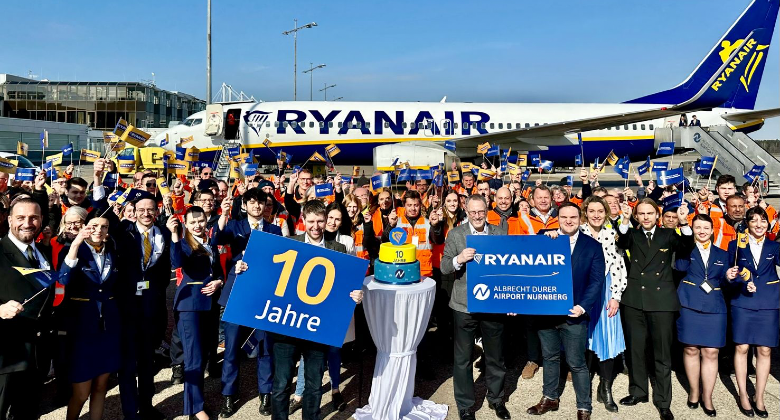 Ryanair has celebrated 10 years of serving Nuremberg. It is one of 14 German airports in its network in S23, of which eight are bases. With two stationed aircraft, the airport is Ryanair's 74th most-served network-wide this summer, according to Cirium schedules information data. Nuremberg is unusual for the ULCC: it is one of only a tiny number of bases that closed but later reopened.
Ryanair at Nuremberg
The ULCC first served the airport in March 2013 with six sun and city routes: Alicante, Cagliari, London STN, Malaga, Pisa and Porto. Curiously, despite capacity falling significantly in the next three years from its network halving, it opened as a base in November 2016. Thereafter, available one-way seats grew strongly, peaking – during the pre-pandemic period – at 364,400 in S19, as shown in the following figure. That year, it had nearly a quarter (23.1%) of the airport's capacity.
Ryanair's base closed in 2020. At the time, it was reported that it was due to delays in the delivery of its Boeing 737 MAX 8-200 aircraft, with the carrier saying that it hoped to return. After serving the airport with an inevitably considerably reduced schedule using non-stationed aircraft, the base returned in S22. But the second time around, it had two rather than the previous one based aircraft and 39% more seats than in S19. No doubt Nuremberg's revised charges helped to get it back.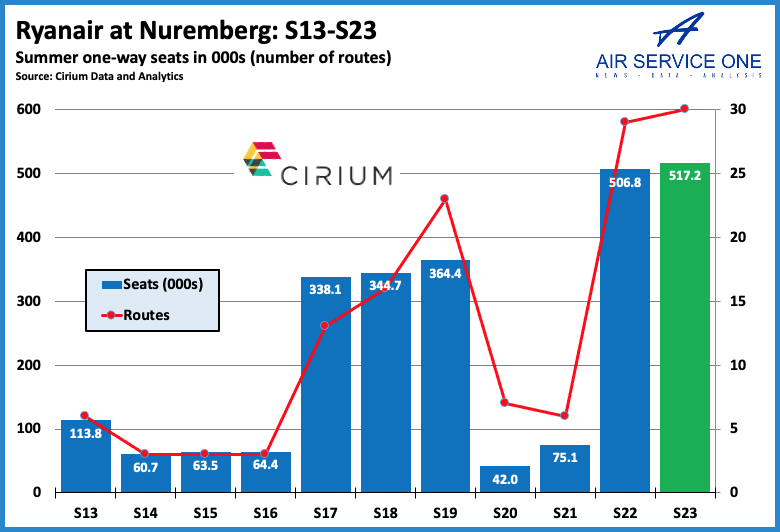 Biggest summer schedule with 30 routes
Analysis using Cirium information tells that Ryanair has 517,200 one-way seats from Nuremberg in S23 and 30.9% of the total. It has about 2.7 times as much capacity as the second biggest operator, Corendon Airlines (AOCs combined).
Ryanair has 30 Nuremberg routes this season, as the map below shows. They encompass 12 countries. Not surprisingly, Spain is the leading country: there are 181,900 departing seats (35.2% of Ryanair's total) across eight routes. It is nearly twice as big as number two, Italy: 93,700 (18.1%) with seven routes. These two countries provide more than half the ULCC's Nuremberg capacity. Conversely, Bosnia and Herzegovina and Lithuania are the least served (one route apiece; each with 2.3% of seats).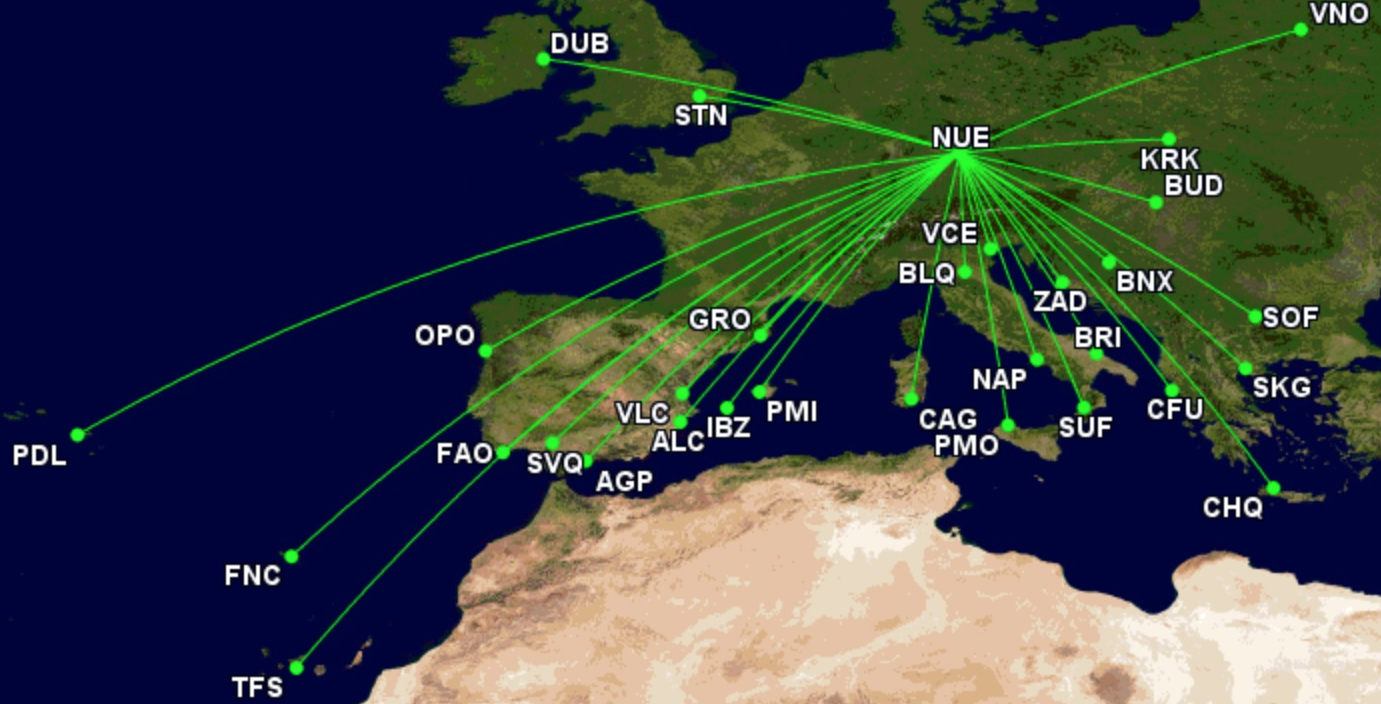 Palma is #1; just 13% of routes have competition
As the following figure shows, Palma – that German classic holiday destination – is solidly Ryanair's leading Nuremberg route. In the week beginning 1 August, the ULCC has 18-weekly departing flights, followed by Eurowings (14-weekly), Condor (7), and Corendon Airlines (4).
Palma is one of only four Nuremberg routes on which Ryanair has head-to-head competition, along with Corfu, Thessaloniki and Tenerife TFS. In the same August week, Ryanair is the leading airline by weekly flights to Thessaloniki (5 versus Aegean's 2) and Tenerife (2 versus Corendon Airlines' weekly). It has the same amount as Corendon to Corfu (2-weekly each).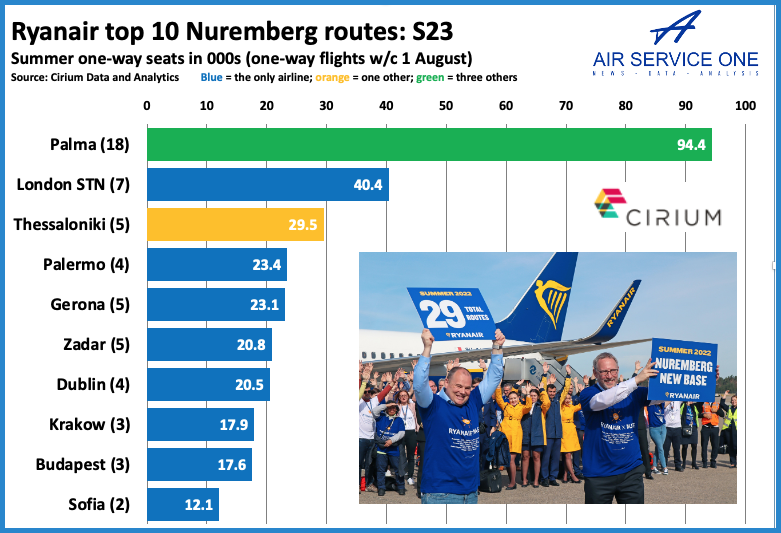 15 routes have been cut
Using Cirium to compare Ryanair's S23 network to S13-W22 reveals that it has removed 15 Nuremberg routes. In order of capacity, it no longer serves Rome CIA, Milan BGY, Manchester, Madrid, Malta, Pisa, Marrakech, Tallinn, Kaunas, Verona, Crotone, Kyiv KBP (due to the war), Athens, Copenhagen or Tel Aviv. Only Athens is served by another carrier (Aegean; started in July 2022). No airport in Rome or Milan is served from Nuremberg.