Ryanair celebrates 20 years at Newcastle after making it a base in 2022; 20 routes planned for this summer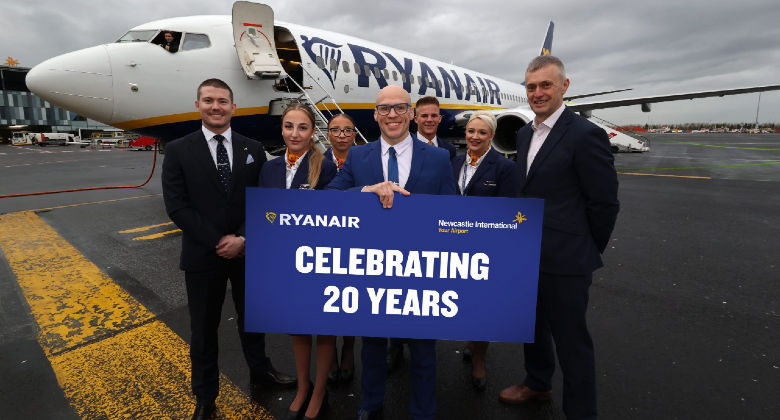 Ryanair serves 21 airports in the UK. Of these, Newcastle was its 11th busiest last year, based on Cirium schedules information data. It had 487,000 one-way seats, a 37% rise versus 2019 thanks to its Newcastle base opening in S22. It meant it had a 19% share of the airport's capacity. Only Jet2.com was bigger. And although S23 plans are subject to change and therefore cautionary, Ryanair has scheduled 611,000 seats this year – its most to date. Fittingly, it comes as the ULCC celebrates its 20th anniversary at Newcastle, with its first route from Dublin in January 2003.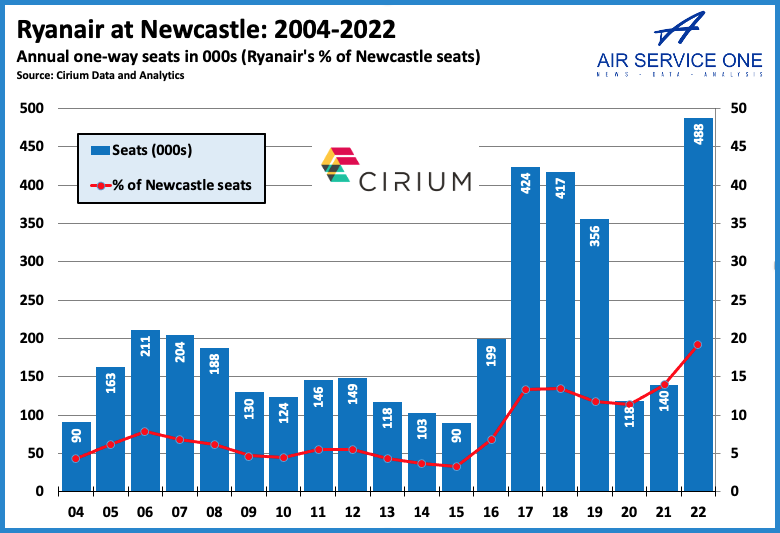 21 Newcastle routes, with 12 added in 2022-23
Ryanair had 21 Newcastle routes in 2022 to nine countries, of which 13 had direct competition, mainly against Jet2.com. Ryanair had a particularly strong emphasis on traditional sun-and-spade markets, with a smattering of VFR and city destinations. Spain alone accounted for 43% of capacity. Ireland was its second biggest market, then Poland, Portugal, Italy, Latvia, Croatia, Cyprus and Greece.
With the end of Menorca, Ryanair expects 20 routes in 2023. Cork ends on 24 March two days before Shannon begins. Cork, Ireland's second biggest city, only started in October. It was previously served by Jet2.com (2005-2014) and Aer Lingus Regional (2014-2018).
Cork was one of 11 Newcastle routes added by Ryanair in 2022, with only one due to start this year. Of the additions, two were served by Ryanair before: Milan BGY for a few years until April 2008, and Shannon in W08.
29 March 2022: Fuerteventura (2-weekly)
29 March 2022: Menorca (3) (ended in October)
30 March 2022: Milan BGY (2)
30 March 2022: Paphos (2)
30 March 2022: Ibiza (3)
30 March 2022: Zadar (2)
31 March 2022: Gran Canaria (2)
1 April 2022: Chania (2)
1 April 2022: Riga (2)
30 October 2022: Cork (2) (ends in March)
1 November 2022: Barcelona (2)
26 March 2023: Shannon (3)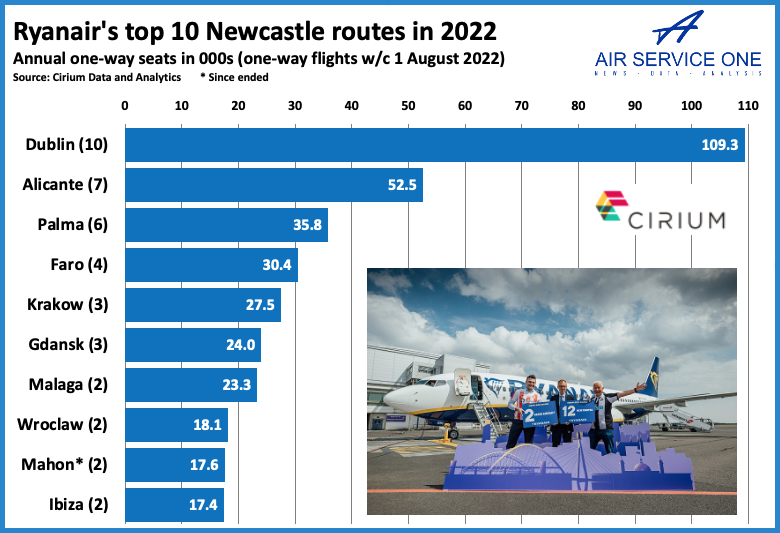 Seven routes are no longer served
Despite Ryanair's two decades at Newcastle, relatively few routes have been removed, suggesting strong underlying network performance but also that it didn't grow much until 2017. It has ended Oslo TRF (2005-2007), Girona (2007-2014, 2017-2019), Oslo RYG (2010-2012), Warsaw WMI (2016-2019), Madrid (2017-2018), Mahon (2022) and Cork (end announced; 2022/2023).