Ryanair faces easyJet on just 173 of 2,400+ June routes; most extensive competition is at Manchester
Historically, (U)LCCs avoided much direct competition with one another, preferring instead to create brand-new routes. To do otherwise, the logic went, could risk excessively low fares and unprofitability, even with their low costs – unless a particular market was worth the fight. This might be to protect a geographic stronghold, such as easyJet launching Ireland flights. The battle with Ryanair did not last long.
Generally, (U)LCCs have relative geographic strengths and/or serve other airports for the same city. Obviously, there is direct competition, especially if it is unavoidable from a lack of airport choice. Competition has tended to rise as carriers grow, mature and adapt their models. Ryanair and easyJet is no exception.
Ryanair versus easyJet
According to Cirium schedules information data, Ryanair has 2,411 routes in June. Some 238 are domestic, mainly in Italy and Spain, but also in France, Greece, Ireland, Poland, Portugal, Sweden and the UK. The remaining 2,173 are international. In comparison, easyJet has 905 routes: 108 domestic (in the UK, France, Italy and Portugal) and 797 international.
Ryanair competes with easyJet on 173 airport pairs in June
Examining the pair's schedules using Cirium reveals that they compete directly on 173 airport pairs this June. In other words, 7.2% of Ryanair's routes face easyJet, about which it is probably not overly concerned given easyJet's higher costs (albeit higher fares). Ryanair is more exposed to easyJet than to fellow ULCC Wizz Air (141 airport pairs). But the latter has risen from just 42 in June 2019, against 123 for easyJet. It probably will not be too long until Wizz Air is the larger competitor.
Ryanair and easyJet face each other on 19 domestic airport pairs. More than half of these (11) are in Italy, which has been a key focal point for Ryanair's expansion since the pandemic hit. But they also compete directly in Portugal (two routes), France (two) and the UK (four). Ryanair is against easyJet on Belfast BFS-Edinburgh, Manchester and London STN, and Edinburgh-London STN.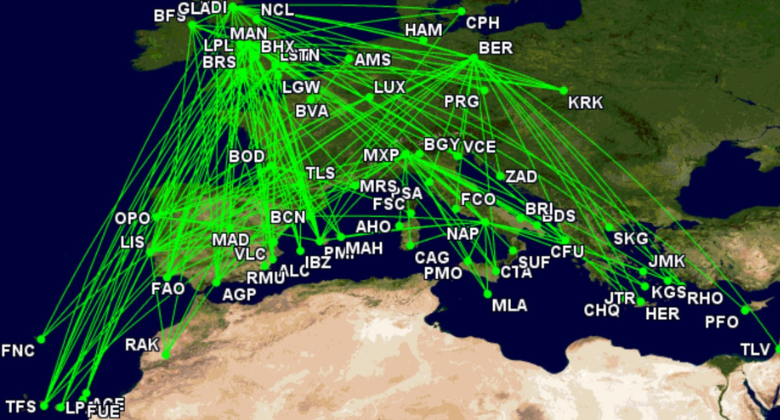 Direct competition at 66+ airports; Manchester is #1
This June, Ryanair serves 227 airports in Europe, North Africa and the Middle East, of which 66 (29.0%) face easyJet. With 30 airport pairs, they battle most at Manchester and on 38.5% of Ryanair's routes from the airport. While Liverpool was historically a lower-cost alternative in England's Northwest, both carriers have grown quickly at Manchester; now it is Ryanair's seventh most-served airport and easyJet's sixth. They especially challenge one another in often relatively large outbound markets to tourist hotspots in southern Europe.
As the figure below shows, 59.4% of Ryanair's Milan MXP routes see easyJet, the highest proportion of any of the top 15 airports. The pair are on 19 airport pairs, with the Italian domestic market accounting for eight. The other 11 are Barcelona, Corfu, Heraklion, Kos, Malaga, Malta, Manchester, Palma, Porto, Santorini and Tenerife TFS. In contrast, just 10.1% of Ryanair's 79 Alicante routes see easyJet, all in the UK: Belfast BFS, Bristol, Edinburgh, Glasgow, Liverpool, London LGW, London LTN and Manchester.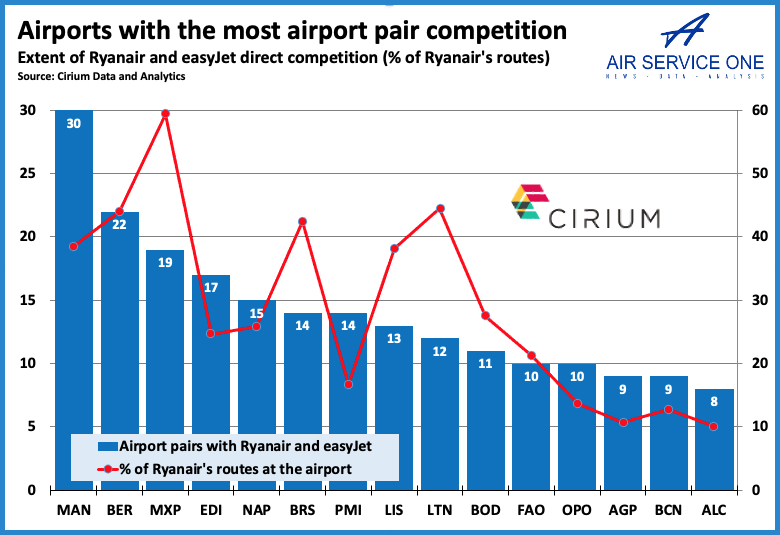 Ryanair is #1 on 82 of the 173 airport pairs
The 173  have 19,275 two-way Ryanair/easyJet flights in June. With just over half (53.6%), easyJet has the most service on them generally. This is expected given its tendency to have higher frequencies to gain higher yields. Analysis of each airport pair tells that Ryanair has more June flights on 82 of them (47.4%). These include 19 of the 30 from Manchester, such as Ibiza: Ryanair's 43 monthly departures are against easyJet's 13. However, in the top 10 largest markets, shown below, easyJet is first on eight, which are mainly domestic. Of course, size is, in itself, rarely the main goal.