Ryanair has 130 Dublin routes in S23 and only 43% have competition; almost 50 airports no longer served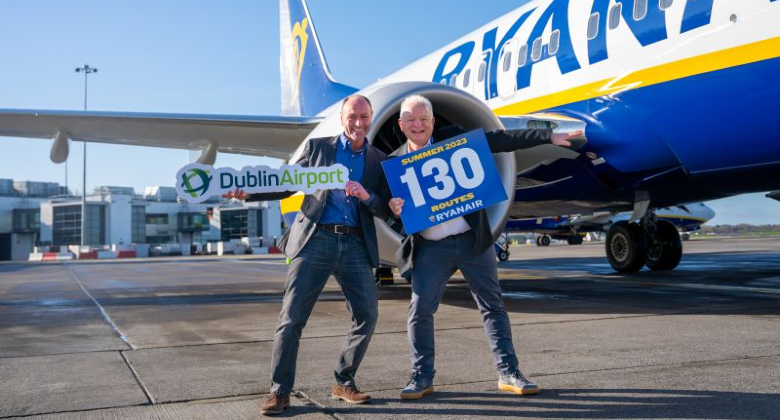 Ryanair will fly to 232 airports this summer, of which Dublin is the second most served (after London STN). According to Cirium schedules information data, it has almost six million one-way seats from the Irish capital, a considerable 20% increase versus S19 and 9% year-on-year. This expansion means that the ULCC has over half (53%) of the airport's short-haul capacity. With 33 based aircraft, Ryanair has 130 Dublin routes in S23 – its most to date. Some 56 (43%) of its routes have direct competition.
130 summer routes
Ryanair has more routes from Dublin to Spain than to any other country. With 21 destinations, Spain's network breadth surpasses that of Italy (16), the UK (15), France (13), and Poland (11). These five nations account for over half of the ULCC's Dublin routes. In contrast, it serves one airport in nine countries, including Ireland. Replacing Aer Lingus Regional, it launched the 260-kilometre route from Dublin to Kerry on 28 July 2021.
Ryanair was formed in the 1980s to bring price competition to the UK-Ireland market. With 37% of Dublin's capacity, it is unsurprising that the UK remains its backbone. Despite being so considerable in size, the market is fast growing, with available seats up by 15% in S23 versus S19 (see the figure later in the article). Ryanair's Dublin-UK capacity is well ahead of other major country markets: Spain (with 17%), Italy (8%), France (6%), and Portugal (5%). Some 10 of Ryanair's top 15 routes are to the UK, as shown in the figure below.
Ryanair serves 28 countries; #1 to 24
Ryanair's 130 summer routes are to 28 countries, of which only Morocco is not in Europe. Ryanair is the sole airline serving Cyprus, Malta, Morocco, Poland, Romania and Slovakia. The ULCC has the highest capacity to 18 of the 22 countries with other carriers. They even include the Netherlands; served since 2015, Amsterdam is the ULCC's top non-UK destination from the Irish capital. However, Ryanair is the second-biggest operator between Dublin and Germany (behind Aer Lingus), Sweden (SAS) and Turkey (Turkish Airlines), and it is third to Switzerland (after Aer Lingus and SWISS).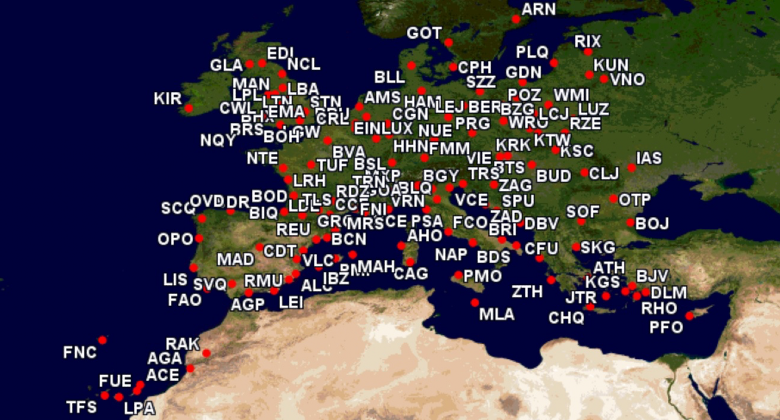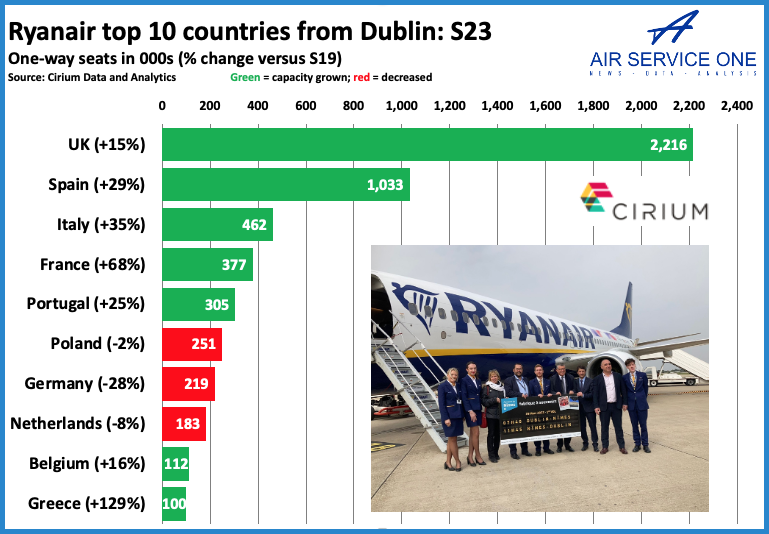 19 routes have been added
Ryanair will begin eight Dublin routes this summer, adding to the 11 that launched last year and which still remain. Dublin-Trieste will start on 29 March, the first time the airport pair has ever had non-stop flights, according to Cirium.
27 March 2022: Santiago de Compostela (4-weekly)
29 March 2022: Nimes (2)
30 March 2022: Nuremburg (3)
30 March 2022: Funchal (2)
30 October 2022: Castellon (2)
30 October 2022: Genoa (2)
30 October 2022: Rovaniemi (3)
1 November 2022: Cluj-Napoca (2)
2 November 2022: Asturias (2)
2 November 2022: Leipzig (2)
5 November 2022: Klagenfurt (2)
26 March 2023: Iasi (2)
26 March 2023: Newquay (3)
26 March 2023: Stockholm ARN (3)
29 March 2023: Trieste (2)
1 April 2023: Zakynthos (1)
2 May 2023: Brindisi (2)
2 May 2023: Kos (2)
3 May 2023: Burgas (2)
Some 47 routes have been cut
Comparing Ryanair's Dublin S23 network to that since 2004 indicates that it no longer serves 47 airports, based on having at least 1,000 one-way seats. These include Sibiu, Suceava and Tallinn, which end in March 2023. Multiple examples exist of airports simply replaced by another nearby, such as Prestwick with Glasgow, Stockholm NYO with Arlanda and Venice TSF with Marco Polo, while other airports have closed or no longer accept commercial flights. Despite launching Nuremburg and Leipzig last year, Ryanair has cut more airports in Germany (10) than in any other country:
Croatia: Pula
Estonia: Tallinn
Finland: Tampere
France: Brest, Poitiers
Germany: Berlin SXF, Bremen, Dusseldorf, Frankfurt, Friedrichshafen, Karlsruhe, Lubeck, Munich, Stuttgart, Weeze
Greece: Mykonos
Ireland: Cork, Shannon
Italy: Comiso, Cuneo, Forli, Rome CIA, Trapani, Venice TSF
Montenegro: Podgorica
Netherlands: Maastricht
Norway: Oslo RYG, Oslo TRF
Poland: Warsaw WAW
Romania: Sibiu, Suceava
Spain: Murcia MJV, Tenerife TFN, Vigo, Vitoria
Sweden: Gothenburg GSE, Malmo, Stockholm NYO, Stockholm VST
Ukraine: Kyiv KBP (will hopefully return)
UK: Aberdeen, Blackpool, Doncaster, Glasgow PIK, Humberside, London SEN, Teesside