Ryanair has 16% of intra-European market; planning for 300m annual passengers by 2034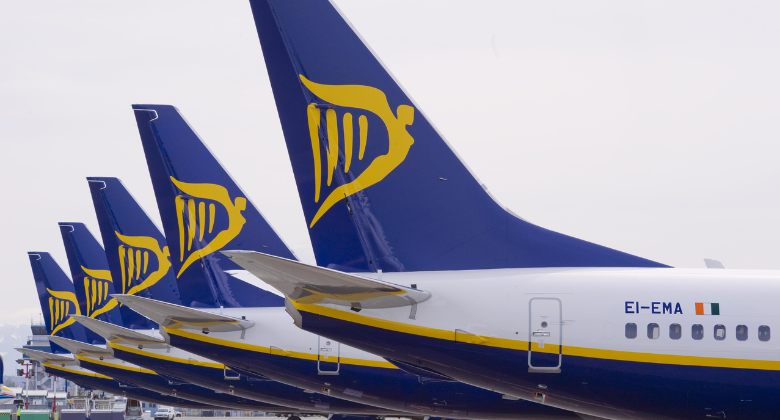 Ryanair expects to carry almost 170 million passengers in its current financial year making it Europe's biggest airline. According to its own results presentation in January, it operates from over 230 airports (of which 91 are bases) across 36 countries with a fleet of over 520 aircraft. In total the ULCC will be offering service on almost 2,500 routes this summer. In early May it announced a new order for 300 Boeing 737 MAX 10 aircraft (150 firm and 150 options) with the first deliveries planned for 2027. These aircraft are set to be equipped with 228 seats.
One in six intra-European seats
According to analysis of Cirium schedules data for August 2023, Ryanair will account for 16% of all intra-European seat capacity, or roughly one in every six seats. This compares with 12% (or one in every eight seats) in August 2019. Ryanair has clearly emerged from the pandemic an even stronger and more dominant carrier than it was before. While other European carriers have yet to fully recovery their seat capacity this summer, Ryanair is offering 28% more seats in August than it did four years earlier.
Before the pandemic Ryanair's biggest country market was Spain, followed by Italy and the UK. Thanks to growth of over 50%, the Italian market now leads the way. Germany, which had ranked fourth in the summer of 2019 has slipped to sixth, behind both Ireland and France. It is also the only country market where Ryanair has significantly cut capacity compared with 2019.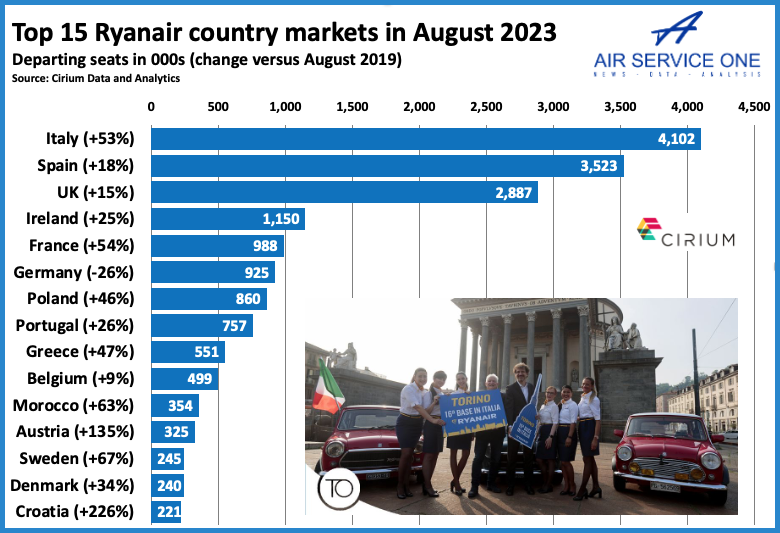 Thanks to its Vienna base, Ryanair has more than doubled capacity in Austria versus 2019. Even more impressive is the airline's growth in Croatia, where seat capacity more than trebled. Zadar is Ryanair's busiest airport in Croatia, but it also now serves the capital Zagreb year round, having opened a base there in July 2021. Among smaller country markets, Ryanair has grown significantly in percentage terms in Israel (+109%), Bulgaria (+89%), Cyprus (+72%) and Latvia (+68%).
Stansted still #1 Ryanair airport
Looking at Ryanair's busiest airports, four stand out as being significantly bigger than all others. London Stansted leads the way with almost 1,400 weekly departures in August, followed by Dublin (just over 1,000), Milan Bergamo (just over 800) and Palma de Mallorca (almost 700). In percentage terms, among the top 50 airports the fastest growing are Venice Marco Polo (+432%), Zadar (+218%), Turin (+159%), Vienna (+151%), Naples (+106%), Gdansk (+96%), Rome Fiumicino (+95%), Marseille (+85%) and Bari (+80%). Airports now served that were not welcoming Ryanair flights in August 2019 include Asturias, Funchal, Helsinki, Iasi, Stockholm Arlanda, Warsaw Chopin and Zagreb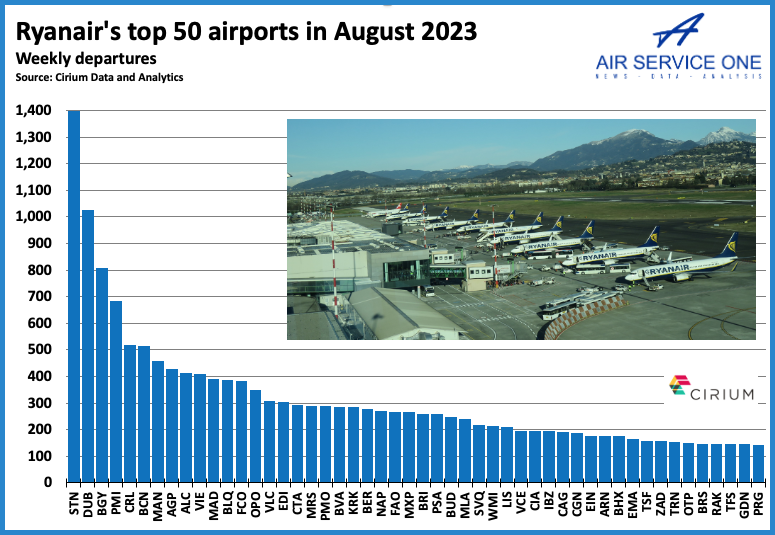 Among the top 50 airports only one has seen a significant reduction in flights. Weekly departures at Rome Ciampino are down 35% in August. More than compensating for this, the airline has almost doubled weekly flights from Rome Fiumicino. Airports no longer served, that were served in August 2019, include Brest, Düsseldorf, Frankfurt, London Southend, Munich, Stockholm Skavsta and Stuttgart. Two airports in Ukraine, Kiev and Lviv, are also currently not served.