Ryanair has 75 Vienna routes this summer but 58 have direct competition; had over 90 routes in S22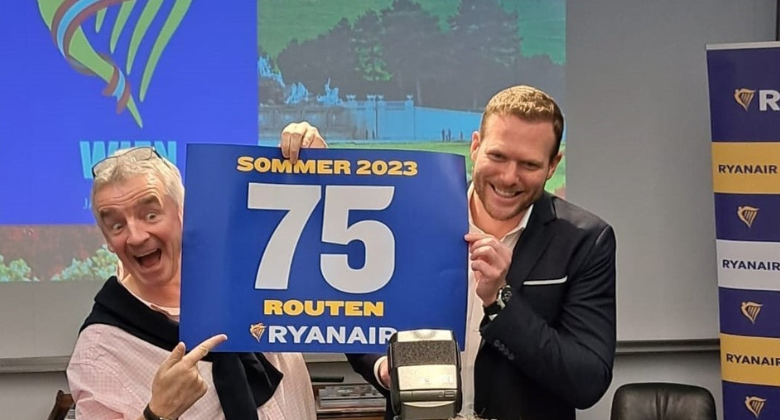 Thanks to its Lauda subsidiary, Ryanair is Vienna's second-biggest operator. This isn't a new development: it has been number two since 2021, three years after the full acquisition of A320-operating Lauda. However, Ryanair's share of Vienna capacity has grown significantly. According to Cirium schedules information data, it ended 2022 with 6.1 million two-way seats and a fifth of the airport's total, up from just 7% in 2019. Ryanair was under half the size of Austrian Airlines but three times bigger than Wizz Air. It has benefited from the huge reduction of Eurowings. Ryanair has now said that it wishes to have at least a quarter of Vienna's capacity, which seems eminently achievable.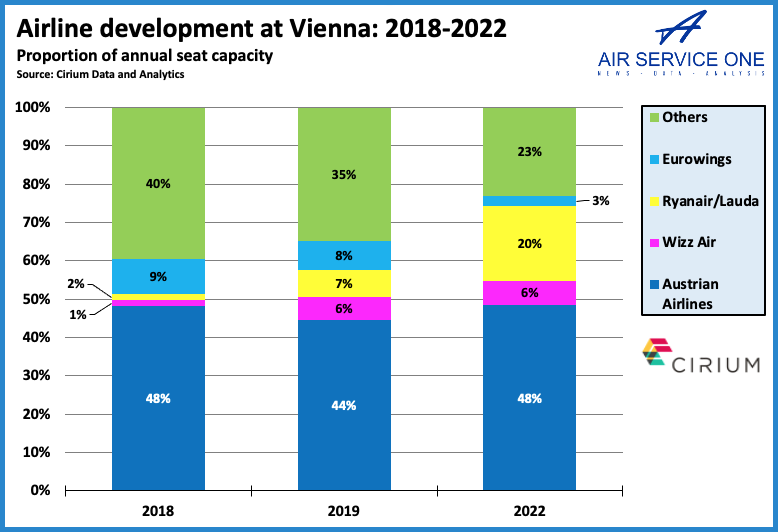 Ryanair has 75 Vienna routes this summer
With 19 based aircraft, primarily but not exclusively using Lauda's A320s, plus non-based flying, Ryanair expects 75 Vienna routes this summer. However, while being promoted by the ULCC as growth, its Vienna network planned as of the end of January has reduced from 91 routes in S22.
Its S23 routes are bookable, but they still may change and should be treated with caution. Examining Cirium data for Q2 (April-June) tells us that it expects to serve 73 airports in Europe and two in the Middle East (Amman and Tel Aviv). The 75 routes encompass 26 countries. While Greece has nearly a fifth of the routes (14), the low frequencies, not helped by being the shoulder months, means the country has only 9% of seats.
With 12 routes each, it is then Italy and Spain; they are responsible for 42% of its Q2 capacity. In fact, half of its busiest 10 routes are in the two countries: Palma de Mallorca (very much number one), Barcelona, Rome FCO, Milan BGY, and Venice VCE. Despite the obvious strong links between Austria and Germany, Ryanair has just one German route this summer: Cologne Bonn. Bremen and Dortmund end soon, while Münster and Stuttgart finished in 2020.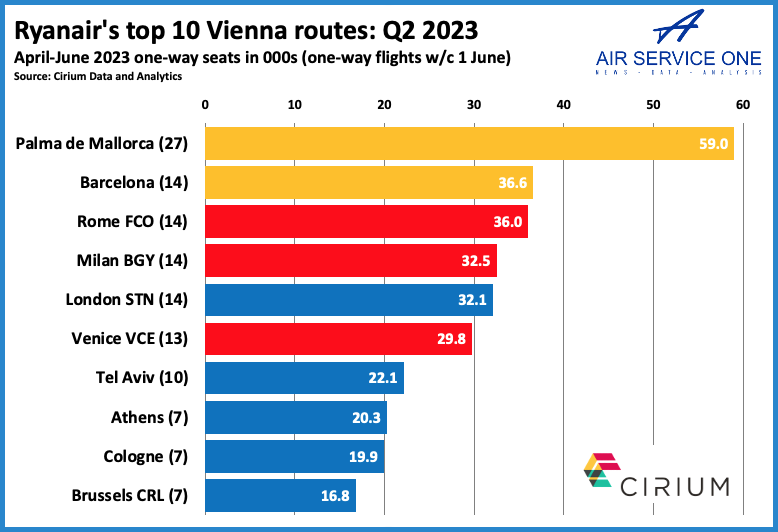 32 routes have gone or will be soon
Analysis of Cirium schedules since 2019, when Lauda was fully in Ryanair hands, reveals that 108 airports have welcomed the ULCC from Vienna. Including routes that cease at the end of W22 (indicated with an *), it no longer serves (or no longer will serve) the following. Note that Lanzarote is believed to become winter-only rather than year-round, so isn't included below:
Finland: Lappeenranta
France: Bordeaux
Germany: Bremen*, Dortmund*, Munster, Stuttgart
Ireland: Shannon
Italy: Alghero, Brindisi, Genoa*, Pisa*, Rome CIA
Jordan: Aqaba*
Lebanon: Beirut
Morocco: Agadir*, Marrakech
Norway: Oslo TRF*
Poland: Gdansk*
Romania: Sibiu*, Suceava
Slovakia: Kosice
Spain: Menorca, Zaragoza*
Sweden: Stockholm NYO
Turkey: Antalya, Bodrum, Dalaman
Ukraine: Kherson, Kyiv KBP
UK: Birmingham, Bristol*, Liverpool*
77% of summer routes have direct competition
For Ryanair, Vienna is clearly a different set up to other airports in its network: 58 of its 75 routes (77%) have direct competition involving numerous carriers. Not surprisingly, it competes most extensively against Austrian Airlines (48 routes), including thin Billund, and then Wizz Air on 16. It faces three or more competitors to Barcelona, Heraklion and Tel Aviv.