Ryanair has served 39 airports from Bournemouth; 18 routes planned for S23 with two based aircraft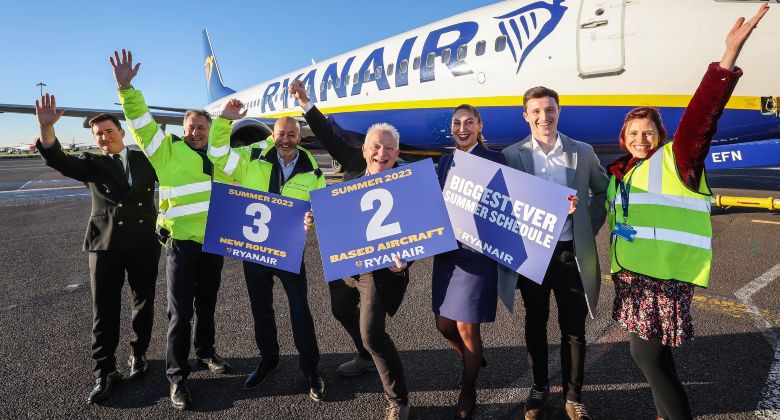 Bournemouth Airport, on the UK's south coast, has been one of Ryanair's smaller bases since it opened in April 2008. With a runway of almost 2,300 metres the airport has an operational advantage over its near neighbour, Southampton Airport, which lies 40 kilometres to Bournemouth's east. Southampton's runway is currently only just over 1,700 metres. However, last August it received final approval to proceed with an extension.
Almost 40 routes tried since Dublin service began in 1996
Ryanair's first Bournemouth route was to its home base in Dublin. This launched in May 1996. Domestic service to Glasgow PIK began in February 2003 with the first Spanish route, to Girona, beginning in October of that year. In total, by the end of 2022, Ryanair had operated flights to 39 different destinations, at one time or other from Bournemouth. The most recent addition was Venice VCE. This 2-weekly service began just before Christmas on 20 December 2022.
This summer, Ryanair will be basing two aircraft at Bournemouth. While it is promoting the fact that there will be three new routes for summer 2023, the Venice VCE route has already launched and will continue into the summer. The other two 'new' routes, to Carcassonne (2009, 2012-2014) and Edinburgh (2008-2010) have both been previously operated by Ryanair from Bournemouth. In total, Ryanair will be serving 18 destinations this summer from Bournemouth (weekly frequency in August 2023 in brackets):
Croatia: Zadar (2)
France: Bergerac (2), Carcassonne (2)
Hungary: Budapest (2)
Ireland: Dublin (3)
Italy: Venice VCE (2)
Malta: Malta (2)
Poland: Krakow (2), Wroclaw (2)
Portugal: Faro (5)
Spain: Alicante (6), Girona (6), Gran Canaria (1), Malaga (6), Murcia (3), Palma de Mallorca (9), Tenerife TFS (2)
UK: Edinburgh (3)
In addition, Lanzarote is served only in winter making a total of 19 routes that are currently on sale.
Traffic peaked over a decade ago
Bournemouth welcomed just over one million passengers in 2007 and 2008. In 2019, the airport handled just over 800,000 passengers. Last summer passenger numbers were close to 2019 levels, even exceeding them in July and August, according to CAA statistics.
Apart from Ryanair, the other main carrier at the airport is leisure airline TUI Airways. Last summer, according to Cirium data, it served a total of 11 destinations in Cyprus, Greece and Spain with Palma de Mallorca the most served destination
In winter, TUI Airways also serves Gran Canaria and Dalaman in Turkey. Finally, easyJet has been offering winter-only flights from its base in Geneva since W05/06. During the summer of 2021 it also briefly offered domestic flights from Belfast BFS, Edinburgh and Liverpool.