Ryanair is the Canary Islands biggest foreign operator; Tenerife TFS and Lanzarote bases to reopen in S23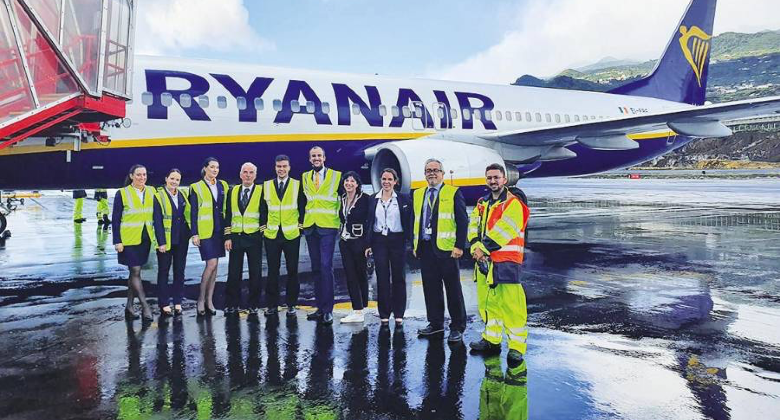 Ryanair has confirmed that its Tenerife TFS and Lanzarote bases will reopen at the start of S23. Both opened in 2011 and closed in early 2020 as a result of the pandemic, although flights continued using non-stationed aircraft. It also had a base at Las Palmas, Gran Canaria, but whether that will reopen is so far unclear.
Ryanair in the Canary Islands
Analysis of Cirium schedules data information indicates that Ryanair first started flying to the Canary Islands in 2006, with flights from Dublin to Fuerteventura and Tenerife TFN. Tenerife TFS – for the tourist areas of the island – joined its network in 2007, followed two years later by Gran Canaria and Lanzarote. La Palma came in 2022, with summer-seasonal domestic routes to Barcelona, Madrid and Seville.
In 2022, Ryanair has 4.1 million departing seats from the Canary Islands, which is 12% more than its previous record in 2018. Aside from Binter Canarias, the island-hopping regional operator, Ryanair had more capacity to the islands than any other airline. It provided 11% of domestic Spain seats and 21% of international seats this year.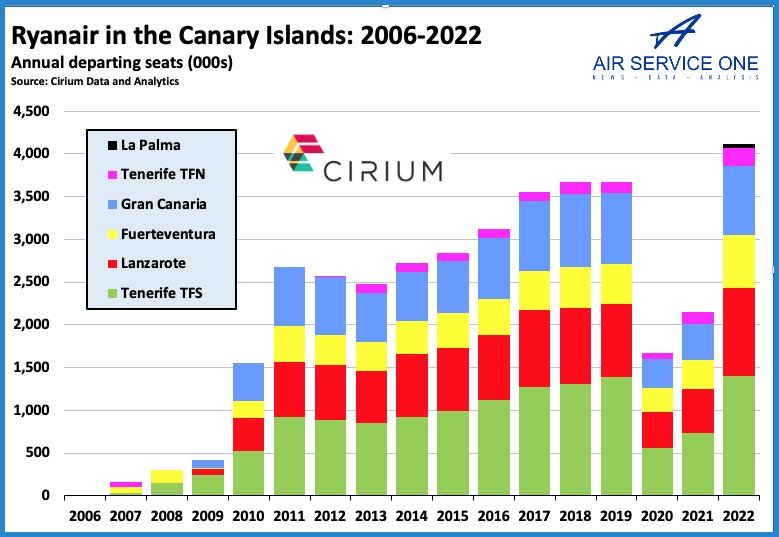 Six airports are served
Ryanair serves six Canary Island airports with 149 routes in 2022. It is the leading foreign airline at all six. It has a quarter of all seats at Tenerife TFS and Lanzarote, helped by the ULCC's Lanzarote seats passing one million for the first time, but it is far less dominant at Gran Canaria (11%). Tenerife TFS was its foremost airport:
Tenerife TFS: 34% of Ryanair's Canary Island seats in 2022; 46 routes
Lanzarote: 25%; 41 routes
Gran Canarias: 19%; 37 routes
Fuerteventura: 15%; 28 routes
Tenerife TFN: 5%; 6 routes
La Palma: 1%; 3 routes
Excluding La Palma, only Ryanair's Gran Canaria capacity didn't grow in 2022 versus 2017. The others were all increased by 96,000-142,000 seats. This may explain Ryanair's apparent reluctance to commit to reopening its Gran Canaria base.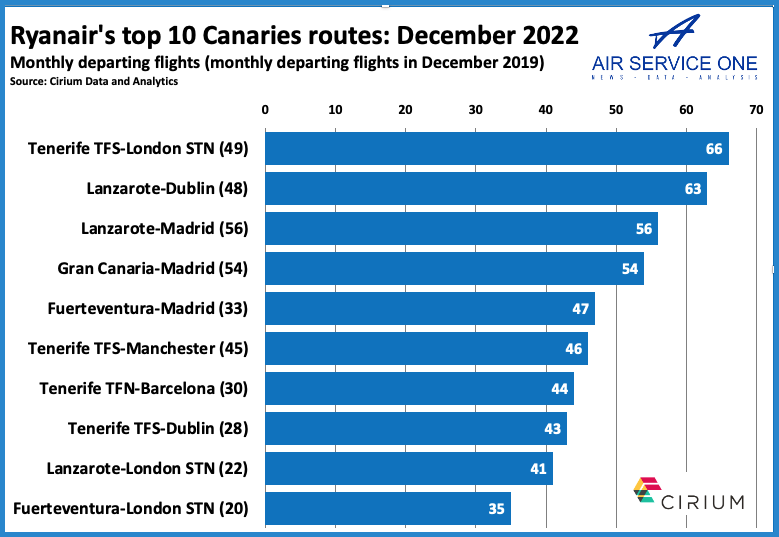 10 new routes
The following routes have started or will begin in the next few months. Two were served before: Lanzarote-Paris BVA until 2016 and Knock until 2020. Elsewhere, Venice VCE effectively replaces Venice TSF to Lanzarote. The figures in bracket denote weekly frequency.
30 October 2022: Tenerife TFS-Nuremburg (2)
30 October 2022: Lanzarote-Cologne (2)
30 October 2022: Lanzarote-Budapest (1)
1 November 2022: Tenerife TFS-Bordeaux (2)
4 November 2022: Lanzarote-Paris BVA (1)
5 November 2022: Lanzarote-Memmingen (1)
20 December 2022: Lanzarote-Venice VCE (2)
28 December 2022: Fuerteventura-Venice VCE (2)
28 March 2023: Lanzarote-Knock (1)
30 March 2023: Tenerife TFS-Eindhoven (2)