Ryanair nears 25 years at Pisa; has 36 routes this winter including new Stockholm connection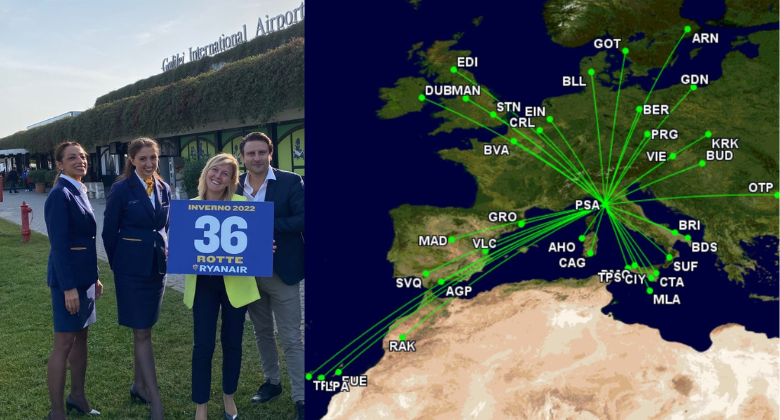 Almost a quarter of a century has passed since Ryanair began to serve Pisa in 1998. And now, in winter 2022, the pan-European ULCC continues to remain heavily dominant at the airport, located in the world-famous region of Tuscany about 85 kilometres from Florence.
According to data experts Cirium, Ryanair is responsible for over seven in every ten seats (71%) at Pisa this off-season, with seven based 737-800s and 737 MAX 8 200s. Other than the during coronavirus-impacted years, that is its greatest share for a long time.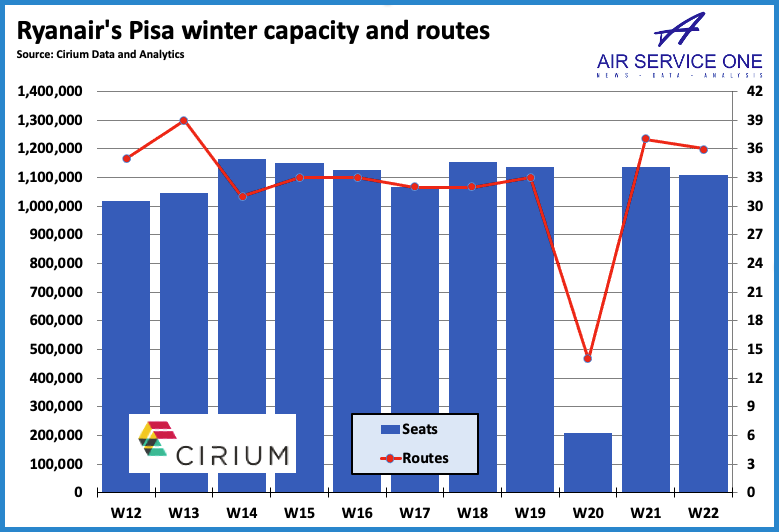 1.1 million Ryanair seats this winter
Ryanair will serve 29 airports across Italy this season, of which Pisa ranks tenth by capacity. Across the airline's whole network, Pisa is 33rd. It is down by four places over winter 2019, largely thanks to Ryanair's flat capacity development. Ryanair has 1.1 million winter seats. This actually slightly fewer than it was offering in W14 and W15.
While the absence of growth is surprising, it is somewhat reassuring too: it suggests that Ryanair's underlying performance is strong. So too does its network consistency: some 70% of Pisa routes operated a decade ago are still operated now.
54 summer routes, 36 winter routes
The number of Ryanair routes from Pisa has barely changed in recent years. This summer there were 54 routes during the peak summer period and 36 routes across 17 countries this winter. In total, Ryanair has offered flights from Pisa to almost 100 airports in the last 25 years.
Italy is by far its leading country market in winter, with a smidgen over half a million seats involving nine destinations (Alghero, Bari, Brindisi, Cagliari, Catania, Comiso, Lamezia Terme, Palmero and Trapani). Spain is next with 182,000 winter seats and eight airports (Fuerteventura, Girona, Gran Canaria, Madrid, Malaga, Sevilla, Tenerife  TFS and Valencia), followed by the UK with 106,000 and three airports (Edinburgh, Manchester and London STN). The UK is, of course, largely about London Stansted (74,000 seats). According to Cirium, it was previously Ryanair's number one Pisa route until winter 2018, after which it was overtaken by Italian destinations. It is now third, behind Palermo (115,000) and Catania (114,000).
Welcome, Stockholm Arlanda!
On 1st November, Ryanair will begin Pisa from Stockholm ARN. It effectively replaces its defunct Stockholm NYO service (2007-2021) as it no longer serves the airport. Importantly, it'll be the first time that Pisa-Arlanda has had winter flights. Ryanair won't have any direct competition on its 2-weekly Arlanda service this winter, but it will compete directly with Norwegian (2-weekly) next summer. When writing, it seems that SAS, which operated the route during the peak season from 2014 to 2022, won't be back next year.
Apart from Stockholm, Ryanair's most recent new routes from Pisa were to Bucharest (October 2019), Manchester (July 2020),  Skiathos (July 2021), Agadir, Lviv and Vienna (all November 2021) and Bordeaux (June 2022).