Ryanair now has 60% of UK-Ireland market; Emerald Airlines starts UK routes for Aer Lingus Regional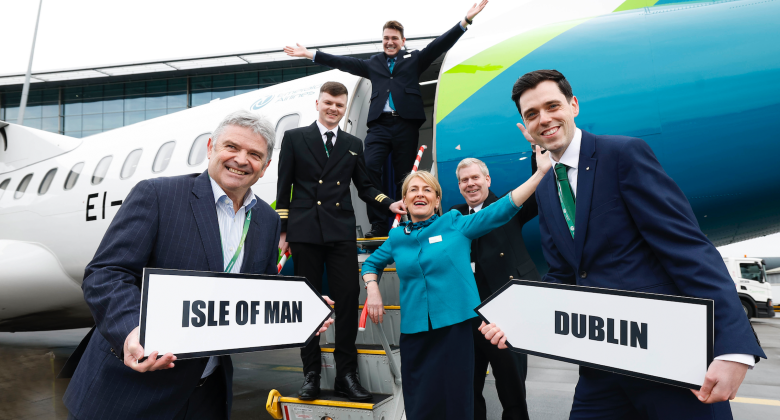 This week sees the start of new Irish regional carrier Emerald Airlines (IA5TA code EA) operating a number of routes between Dublin and destinations in the UK on behalf or Aer Lingus (IATA code EI). As
previously noted
, on some of these routes it will replace Aer Lingus mainline, on some it will complement Aer Lingus's mainline service and other routes will be served for the first time since Stobart Air (which had previously operated several UK routes on behalf of Aer Lingus) collapsed in June 2021. Prior to the start of the pandemic, there were just over eight million seats annually each way between the UK and Ireland. Ryanair accounted for around 51% of the market, with Aer Lingus on 36% and British Airways on 7%. Based on current schedule data for 2022, Ryanair has increased its market share to 62% while Aer Lingus's share has fallen to 29%. With over seven million seats currently on sale in 2022 the market is only down 13% compared with 2019. However, the market's busiest year was 2008 when there were nearly nine million seats each way.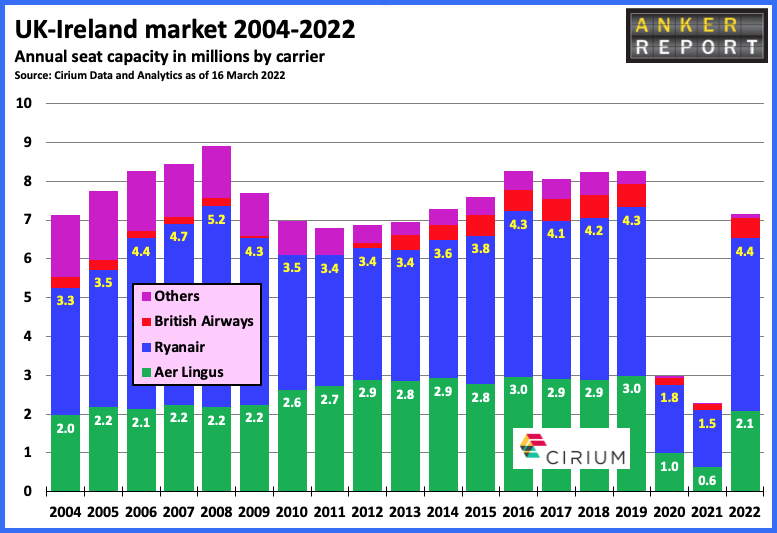 The top nine routes between the UK and Ireland all involve Dublin. Among the top 20 routes, 13 involve Dublin, four involve Cork, two involve Shannon and one is to Knock. Aer Lingus and Ryanair compete head-to-head on eight of the 20 routes, while Ryanair has a monopoly on eight further routes. Aer Lingus has a monopoly on two routes, while BA CityFlyer is the only carrier connecting London LCY with Dublin.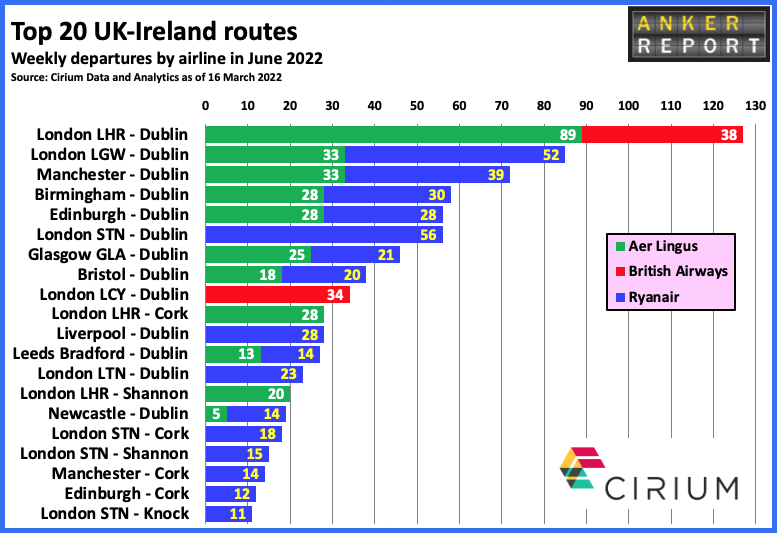 51 routes between UK and Ireland
In total, there are set to be 51 routes connecting airports in the UK with airports in Ireland in 2022. This compares with 59 in 2019, a net loss of eight. Three routes have been added while 11 have been lost. According to Cirium data, the routes served in 2022 but not served in 2019 are London LTN to Shannon, Manchester to Kerry and Teesside to Dublin. All three are operated by Ryanair this year. The dropped routes include five from Cork (to Bristol, Cardiff, Glasgow GLA, Newquay and Southampton), three from Dublin (to Carlisle, Doncaster/Sheffield and London SEN), two from Shannon (to Bristol and East Midlands) and one from Donegal (to Glasgow).
Six carriers offering flights in 2022
Apart from the three carriers already mentioned, there are three additional carriers in the market. Loganair operates service from Aberdeen, Inverness and Teesside to Dublin, Blue Islands connects Jersey with Dublin, while Eastern Airways offers non-stop service between Southampton and Dublin. This latter route will also be served weekly by BA CityFlyer starting in mid-May. Since 2004, other airlines that have operated between the UK and Ireland include Aer Arann, Air France, bmibaby, British Midland, easyJet (in 2005 and 2006), Flybe and Jet2.com. Going back a few more years and Go, the Stansted-based LCC from British Airways, briefly served Dublin from both Edinburgh and Glasgow.