Ryanair now offering 1 in 7 European seats; flights up 9% in Q2 v 2022 as 10 airports added, six dropped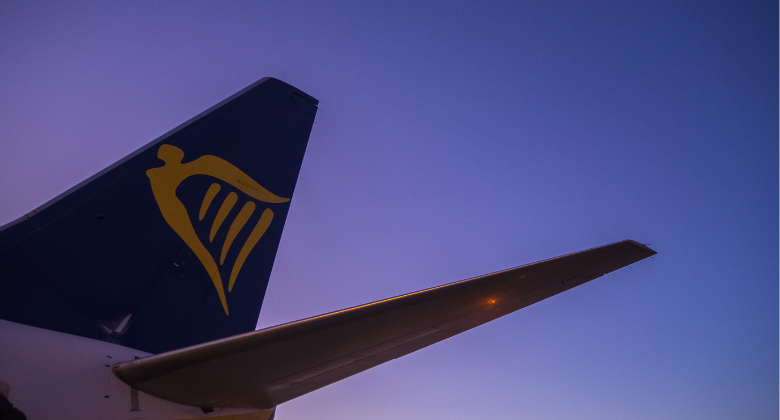 Ryanair continues to grow its market share of European air travel. In the second quarter of this year, analysis of Cirium schedules data indicates that it will account for 14.6% of all scheduled seats from European airports. That is an increase of over three percentage points versus 2019 Q2. In this analysis we take a closer look at where in particular Ryanair has been growing versus last year, and where it has cut back services.
Italy pulling away from Spain and UK
Between 2004 and 2008 Ryanair operated more than twice as many flights from the UK as from any of its other country markets. However, following the global economic recession of 2008, Ryanair expanded rapidly in Italy and Spain and by 2010 both of these country markets were seeing almost as many flights as the UK. The following year both countries overtook the UK. In 2014 Italy passed Spain to become the airline's leading country market, a position it has held ever since.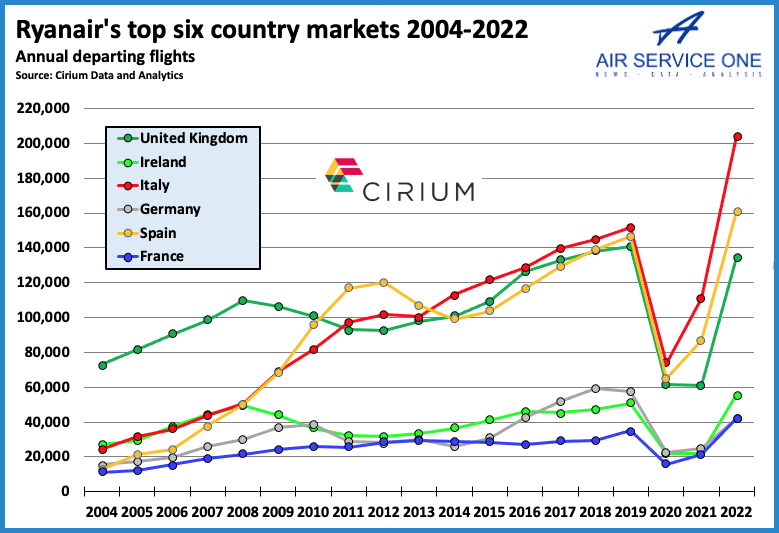 After cuts in the Spanish market in 2013 and 2014, the UK and Spanish markets remained close in size. However, since the resumption of services after the pandemic, Spain is now in a clear second place, ahead of the UK. The airline's home market of Ireland still ranks fourth, though Germany was bigger between 2017 and 2019. Last year was a record year for Ryanair in France with over 40,000 flights for the first time.
Flights up almost 9% in 2023 Q2 versus 2022
Cirium data indicates that Ryanair's flights are expected to be up almost 9% in the second quarter of 2023 compared with the same period in 2022. All of the airline's top 13 country markets are showing an increase in flights ranging from just under 1% in Belgium to over 22% in Austria.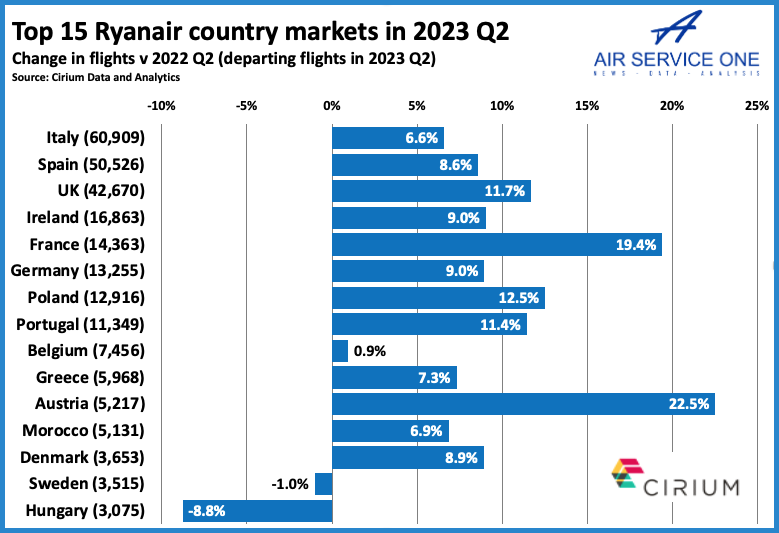 However, some countries have seen a decline in flights. Apart from Sweden (down 1%) and Hungary (down 9%) the carrier has also reduced services in the Netherlands (down 1%), Lithuania and Serbia (both down 7%), Jordan and Romania (both down 11%), Latvia (down 16%), Finland (down 24%) and Estonia (down 36%).
Other country markets showing significant growth are Malta (607 more flights, +25%), Croatia (387 more flights, +19%), Bulgaria (225 more flights, +12%), Czech Republic (437 more flights, +27%), Slovakia (119 more flights, +13%) and Bosnia & Herzegovina (147 more flights, +79%).
In all, Ryanair is operating in 36 countries in Q2, the same as last year. Apart from Europe, it also serves Morocco in Africa, as well as Israel and Jordan in the Middle East. Its smallest country market is now Turkiye (last year it was Switzerland). It serves Bodrum and Dalaman from Dublin, while Dalaman is also served from Bratislava. All three routes are operated 2-weekly between April and June.
Stansted welcomes most additional flights
Looking at an airport level, Ryanair's biggest base at London STN is also seeing the biggest increase in the number of flights, from 16,602 to 17,847. The additional 1,245 flights represents an increase of almost 8%. The return of service to Belfast BFS sees that airport rank second for additional flights, followed by Milan BGY, Malaga and Vienna. Among the top 10 fastest-growing airports for flights, four are seeing additional flights equating to growth of at least 20%. These are Edinburgh, Malaga, Marseille and Vienna.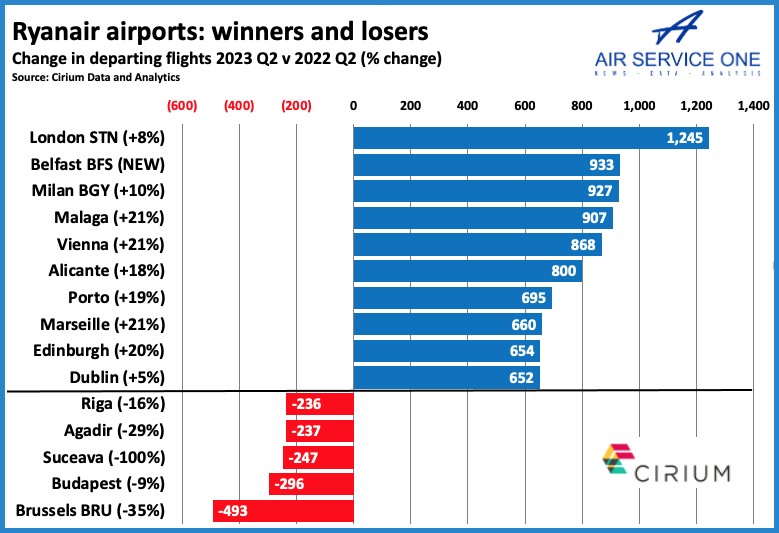 At the other end of the rankings, the airports that have seen the biggest reduction in flights are Riga, Agadir, Suceava, Budapest and Brussels BRU. In the case of Suceava it is the result of Ryanair suspending all operations at the Romanian airport. The cuts in Brussels BRU flights represents a reduction of 35%. However, because Brussels CRL is seeing an increase of 563 flights, the Belgian market overall is still seeing growth.
10 airports added, six dropped
Comparing 2023 Q2 with 2022 Q2 reveals that Ryanair is serving 10 airports that it did not during the same period last year. However, of these only three are genuinely new airports for the airline. Flights to Tuzla in Bosnia & Herzegovina began last November while Iasi in Romania and Paderborn/Lippstadt in Germany will welcome their first ever Ryanair flights at the end of March.
Asturias: Flights resumed in November 2022 to five airports. Previously served in 2012/2013.
Belfast BFS: Flights resume at the end of March to 15 airports. Last served October 2021.
Forli: Flights resumed in September 2022 to Katowice and Palermo. Previously served in 2009.
Iasi: New airport. Flights start in March 2023 to Brussels CRL, Dublin, Milan BGY and Paris BVA.
Klagenfurt: Flights resumed in November 2022 to three airports. Previously served in 2013.
Leipzig: Flights resumed in November 2022 to Dublin and London STN. Previously served in 2019.
Paderborn/Lippstadt: New airport. Flights start in March 2023 to Alicante, Malaga and Palma de Mallorca.
Strasbourg: Flights resumed in November 2022 to Porto. Previously served until February 2020.
Tuzla: New airport. Flights started in November 2022 to Memmingen, Stockholm ARN and Vienna.
Warsaw WAW: Flights resume in March 2023 to Alicante, Brussels CRL, Palma de Mallorca, Paphos and Vienna. Previously served until January 2019.
Six airports served in 2022 Q2 are not being served a year later. Four of these are in Romania (Oradea, Sibiu, Suceava and Timisoara) as well as Haugesund in Norway and La Palma in Spain. Haugesund flights to Alicante and Malaga ended last October. Flights to La Palma, which Ryanair only began serving in March 2022, also ended last October. There were three routes to Barcelona, Madrid and Santiago de Compostela.
Air Service One currently estimates that Ryanair is looking to launch around 160 new routes this summer. This is in addition to over 100 new routes the airline launched in W22/23, the majority of which will also continue to operate this summer. Our definition of 'new' also allows for routes that were dropped before 2019 and are being resumed. Routes operating in 2019 before the pandemic struck and only now resuming are not considered new routes. However, it should be noted that Ryanair has also dropped well over 100 routes between last summer and this summer. However, in some cases the carrier has merely moved a service between airports in the same city, for example in Rome and Venice.