Ryanair plans biggest ever schedule from Dublin this summer with 120 routes and 33 based aircraft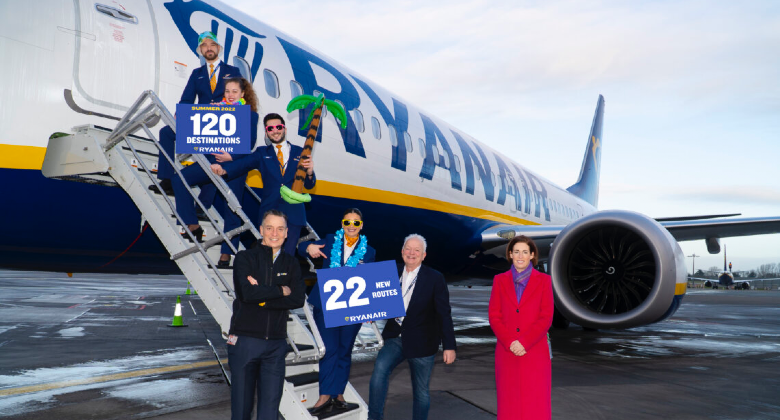 Ryanair recently announced that it would be offering its largest ever summer schedule from its home base at Dublin in Ireland. This will comprise 121 routes (as of 24 January) with over 930 weekly departures currently scheduled for August 2022. That compares with 100 routes and 885 weekly departures in August 2019 based on analysis of Cirium data. This is where the figure of '22 new routes' comes from, as Ryanair is comparing summer 2022 with summer 2019. Ryanair acknowledges that this growth has been facilitated by the DAA's Traffic Recovery Support Scheme (TRSS) which has been implemented for this summer. To service this record amount of flying, a 33rd aircraft will be based at the airport.
Ryanair's capacity at Dublin doubled between 2005 and 2008, when it reached over 6.7 million seats. However, the global recession of 2008/09 hit Ireland hard and it would not be until 2016 that Ryanair's capacity in Dublin exceeded the value from 2008. In the subsequent three years capacity has increased only modestly, with Ryanair accounting for 40% of Dublin's annual seat capacity. During the last two years this has increased to 50% as Aer Lingus and other carriers serving the Irish capital have chosen not to add back as much capacity as Ryanair has.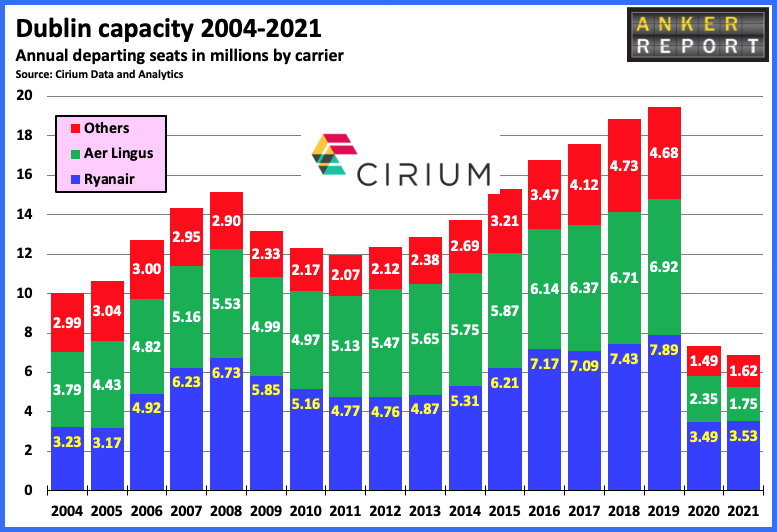 Spanish routes set to dominate this summer
Looking at the leading routes planned by Ryanair from Dublin in August, reveals that Spanish routes dominate when it comes to ASKs (Available Seat Kilometres) which gives a better indication of which routes are the main source of the airline's revenue. Of the top 15 routes, eight are in Spain with two each in Italy, Portugal and the UK. The other top 15 route is Amsterdam.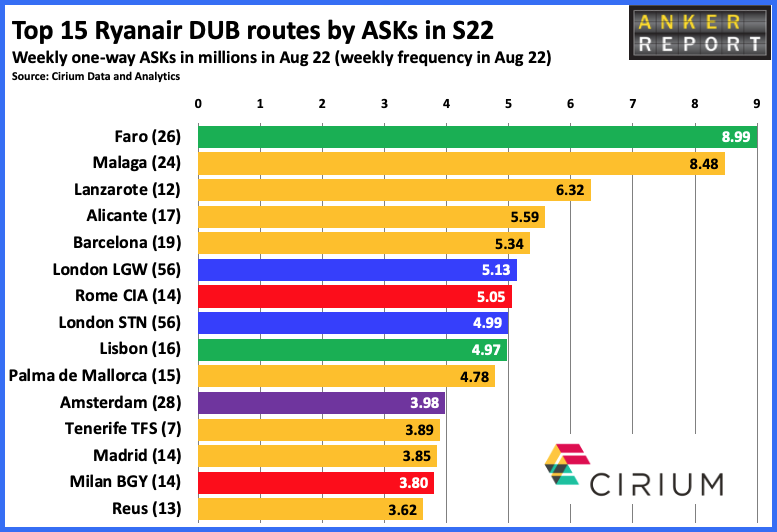 UK still #1 for flights
Measured by flights, the UK is still Ryanair's leading country market from Dublin. A total of 14 destinations are served this summer, the same as in August 2019, though Cardiff has replaced London SEN. In Spain, the number of routes offered has risen from 17 to 18 with the addition of Menorca in 2020.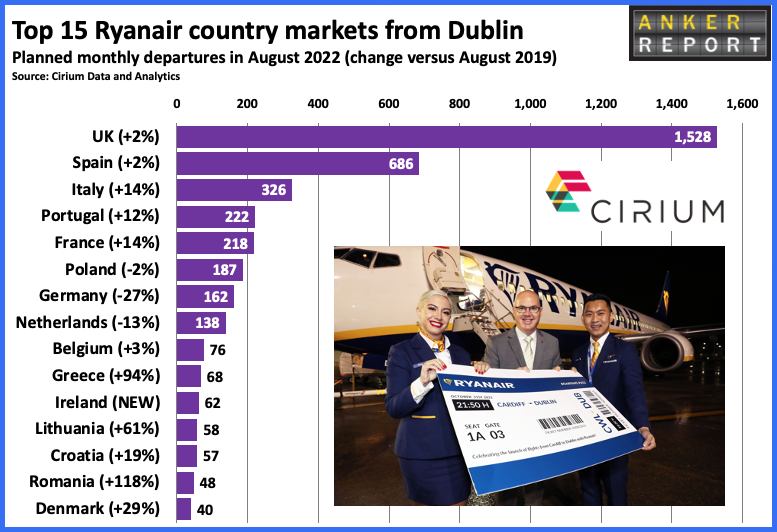 Greece and Romania have seen the biggest percentage increase in the number of flights. With the addition of Corfu (2020), Rhodes (2021) and Santorini (2020), Ryanair now serves six destinations in Greece. In Romania, Sibiu (2021) and Suceava (2022) have been added to the airline's existing Bucharest service which launched back in 2014.
Only four genuine new routes this summer
Ryanair's proactive approach to network planning means that while the airline is regularly adding new routes it is also suspending routes. Since 2008 the airline has added and dropped the following routes at Dublin. In total, Ryanair has operated over 160 routes from Dublin, of which around 120 are operating this summer.
2008:

Added

– Bologna, Brest, Cuneo, Kerry, Palma de Mallorca, Rodez, Santander, Tours, Zadar
2008:

Dropped

– Malmö, Pula, Stockholm VST, Tenerife TFN, Vitoria
2009:

Added

– Gran Canaria, Lanzarote, Memmingen
2009:

Dropped

– Blackpool, Forli, Shannon, Warsaw WAW
2010:

Added

– Barcelona, Oslo RYG, Tallinn
2010:

Dropped

– Basel, Billund, Bremen, Cuneo, Doncaster Sheffield, Friedrichshafen, Gothenburg GSE, Tampere, Teesside, Weeze
2011:

Added

– Ibiza, Venice VCE, Vilnius
2011:

Dropped

– Almeria, Bournemouth, Brest, Budapest, Hamburg LBC, Karlsruhe/Baden-Baden, Oslo TRF, Prague
2012:

Added

– Budapest, Lublin, Maastricht, Palermo, Verona VRN, Warsaw WMI
2012:

Dropped

– Aberdeen, Bologna, Cork, Kerry, Trapani, Venice VCE, Zadar
2013:

Added

– Bologna, Bremen, Warsaw WAW, Zadar
2013:

Dropped

– Verona VRN
2014:

Added

– Almeria, Bari, Basel, Brussels BRU, Bucharest OTP, Chania, Cologne Bonn, Comiso, Glasgow GLA, Lisbon, Marrakech, Prague
2014:

Dropped

– Maastricht, Stockholm NYO, Warsaw WAW
2015:

Added

– Amsterdam, Cardiff, Copenhagen
2015:

Dropped

– Glasgow PIK, Marseille
2016:

Added

– Athens, Hamburg, Sofia, Vigo
2016:

Dropped

– Alghero
2017:

Added

– Munich, Naples, Stuttgart
2017:

Dropped

– Oslo RYG
2018: Added – Dalaman, Frankfurt FRA, Luxembourg, Paphos
2018:

Dropped

– Comiso
2019:

Added

– Billund, Bodrum, Bordeaux, Bournemouth, Cagliari, Dubrovnik, Gothenburg, Kiev KBP, London SEN, Milan MXP, Murcia RMU, Split, Tarbes/Lourdes, Thessaloniki, Toulouse
2019:

Dropped

– Bremen, Frankfurt HHN
2020:

Added

– Corfu, Düsseldorf, Marseille, Menorca, Mykonos, Palanga, Podgorica, Santorini, Venice VCE, Verona VRN, Vienna
2020:

Dropped

– Murcia MJV, Rodez, Stuttgart, Vigo
2021:

Added

– Agadir, Cardiff, Kerry, Kosice, Plovdiv, Rhodes, Sibiu, Zagreb
2021:

Dropped

– Dubrovnik, Düsseldorf, London SEN, Munich, Murcia RMU, Mykonos, Podgorica, Tours, Venice VCE
2022:

Added

– Alghero, Dubrovnik, Frankfurt HHN, Funchal*, Murcia RMU, Nimes*, Nuremberg*, Rodez, Suceava*, Tours
2022:

Dropped

– None!**
* Genuinely new routes in 2022, not previously served from Dublin. ** Flights to Frankfurt FRA will be suspended from the end of March. However, that means the route has still been served for some of 2022, so the route will not be considered dropped until 2023 when no flights are operated.
This summer, Ryanair is serving 10 airports from Dublin that it did not serve at all in 2021. However, of these only four have never been served before by the carrier; Funchal on the Portuguese island of Madeira, Nimes in France, Nuremberg in Germany and Suceava in Romania. Alghero was last served in 2015, Dubrovnik in 2020, Hahn in 2018, Murcia RMU in 2020, Rodez in 2019 and Tours in 2020.