Ryanair, Portugal and Antalya among winners this winter in Europe
Europe's air travel market continues to face numerous challenges as we head into the W22/23 season, which began at the end of October and continues through to the end of March. Cost of living increases, energy supply concerns driven by Russia's invasion of Ukraine, staff shortages, increasing Covid cases and environmental pressures are just some of the issues that may dampen demand in the coming months.
Capacity recovery to reach 90% this winter?
During 2022 the scheduled capacity recovery rate climbed from around 66% in the first couple of months of the year to over 80% in April. From June through to October it has been relatively stable at between 85% and 90%. Looking ahead, analysis of the latest schedule data provided by the airlines to Cirium, shows the recovery rate exceeding 90% between December 2022 and March 2023. However, evidence from the summer suggests that these schedules may be overstated and that airlines tend to cut flights or make cancellations.
An analysis of Q2 data for 2023 shows that capacity is currently at below 90% recovery levels compared with 2019. A closer look at individual airlines shows that, for example, Ryanair's schedule data appears to be incomplete with capacity down 3% in June versus 2019. This may also be the case for other airlines, so reading too much into these figures would be unwise.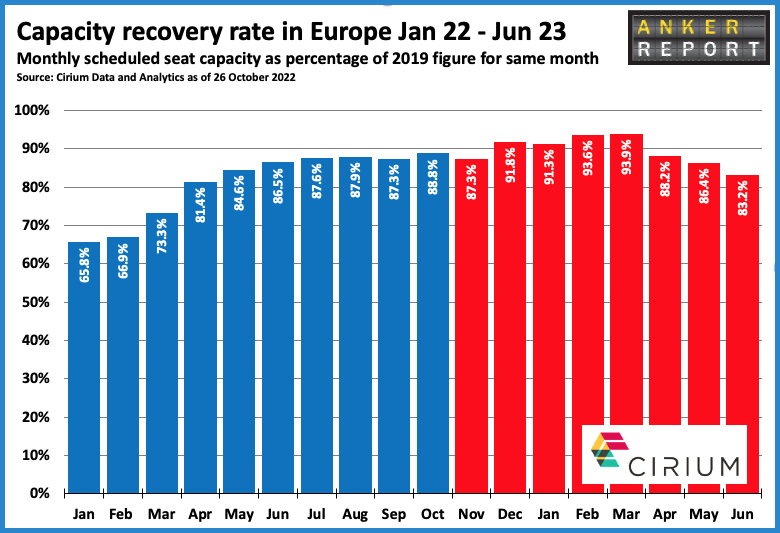 Portugal positive, Finland floundering
Looking at data just for November 2022, which should be reasonably accurate (as of the end of October), shows how the capacity recovery rate for the top 20 busiest European country markets varies from just 67% for Finland to 106% for Portugal. Across all European countries the recovery rate is 87.2%. Apart from Portugal, three other major country markets are showing capacity growth versus 2019; Greece, Ireland and Spain. While only Finland is below 70%, Austria, Germany and Sweden are all at between 70% and 80%.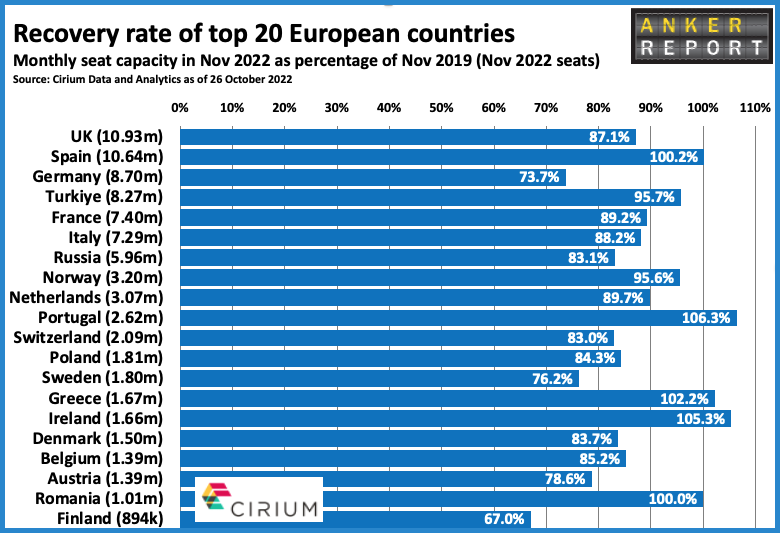 Outside of the top 20 country markets, the Czech Republic is doing even worse than Finland with capacity only at 57% of the level of November 2019. On a more positive note, North Macedonia is at 102%, Serbia is at 103%, Montenegro 106% and Iceland 107%. However, the star performers are Albania, where capacity is up 55%, and Bosnia & Herzegovina, where available seats in November are 53% higher than three years ago.
Ryanair still #1 and growing market share
Turning our attention to the leading airlines in Europe this month reveals that five of Europe's top 20 airlines are currently offering more capacity than pre-pandemic. That includes Europe's biggest airline, Ryanair, which has increased its lead over its nearest rivals since the pandemic started. With capacity up 13%, it is only beaten in percentage terms among the top 20 by Wizz Air (+36%) and Transavia (+64%). Transavia's growth is primarily driven by its French subsidiary rather than the Dutch one.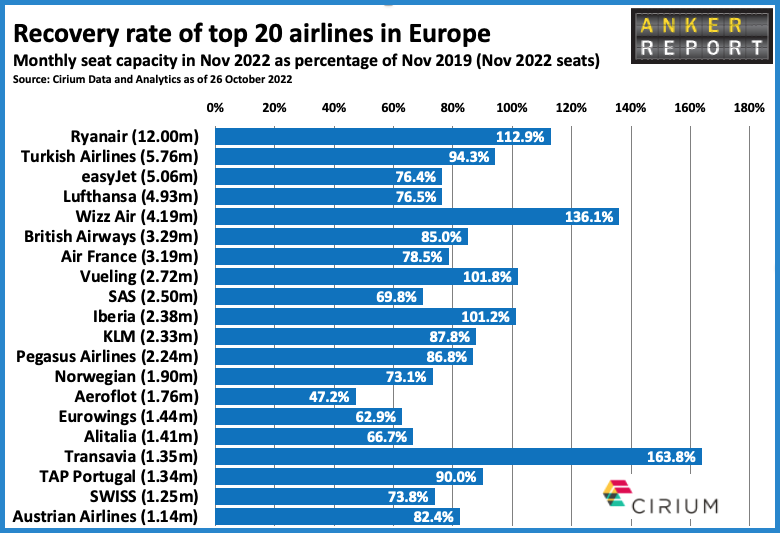 It is worth noting that despite its high-profile expansion during the pandemic, Wizz Air is still around 20% smaller this winter than easyJet, whose capacity is still down over 20% compared with W19/20. The combined capacity of easyJet and Wizz Air is still only around three-quarters the size of Ryanair.
Outside of the top 20, one of Europe's fastest-growing carriers is Corendon Airlines, which operates under three different IATA codes. The carrier has been busy this summer launching routes to warm and sunny leisure destinations (such as Greece, Portugal, Spain and Turkey) from various airports across northern Europe including some in Denmark, Germany, Switzerland and the UK.
The biggest new carrier in Europe is Norwegian's Flyr which already ranks 45th in November by seats, ahead of Air Serbia, Icelandair and Virgin Atlantic. Other new carriers include Italy's Aeroitalia, Germany's Eurowings Discover, Iceland's PLAY and Norway's Norse Atlantic Airways.
Antalya benefits from Russian flights
Rather than look at the busiest airports, it is interesting to analyse which airports have seen the biggest volume increase in seat capacity between November 2019 and November 2022. The clear winner here is Antalya, the popular tourist destination on Turkey's southern coast. Capacity here is up by over 300,000 one-way seats in November. Contributing to this is the almost trebling of capacity from Russian airports. Unlike most other European nations, Turkey has chosen not to ban flights to/from Russia and so is attracting tourists who might otherwise have been visiting other Mediterranean destinations this winter such as Cyprus, Greece or Spain.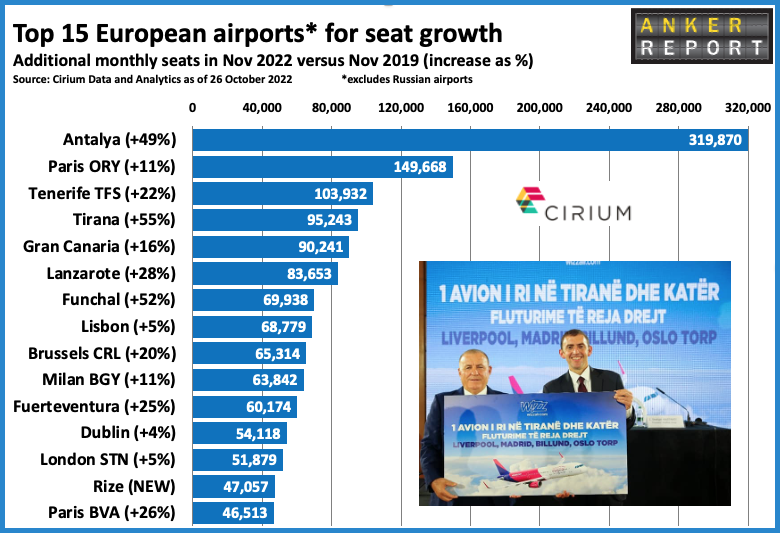 The top 15 airports for seat growth in Europe include four in Spain, two each in France, Portugal and Turkey, and one each in Albania, Belgium, Ireland, Italy and the UK. Four airports from Russia would have made the top 15. They were Sochi/Adler, Kazan, Kaliningrad and Makhachkala.
In total over 200 European airports are seeing capacity growth this month versus 2019, though that may not necessarily lead to passenger growth, depending on load factors. The airports with the biggest volume decreases versus 2019 are Moscow SVO, Frankfurt, Munich, Kiev KBP, Berlin, Paris CDG, Rome FCO, Amsterdam, London LHR, Helsinki, Vienna, London LGW, Düsseldorf and Prague.