Ryanair returns to Belfast City and Teesside; will serve 23 UK airports this summer with Spain very likely to be leading country market
In 2019, the UK ranked third among Ryanair's country markets for annual seats, offering 26.6 million departing seats, just behind Spain (27.7m) and Italy (28.7m). However, if we look at just international seat capacity then the UK (with 25.7m) jumps well ahead of Spain (20.7m) and Italy (16.3m), highlighting Ryanair's much greater presence in the domestic market of these mainland European countries.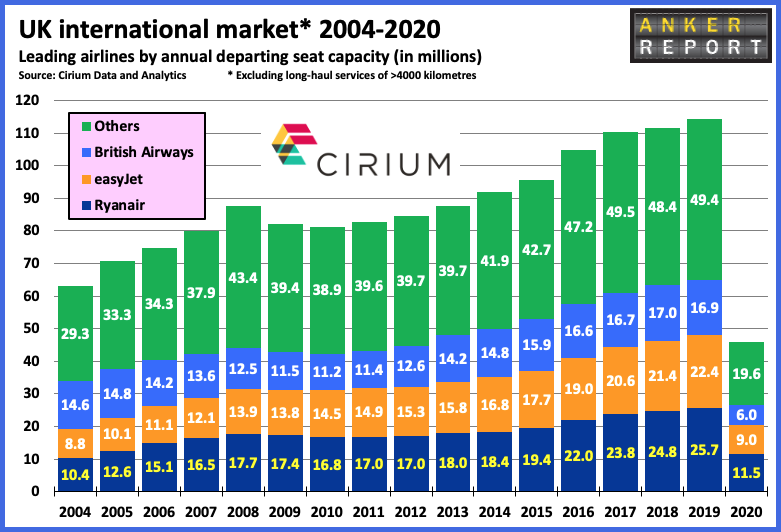 #1 airline in UK for short-haul international seats
Ryanair was the leading carrier across all UK airports for international short-haul and medium-haul seat capacity in 2019, ahead of easyJet (22.4m) and British Airways (16.9m). Fourth-ranked Jet2.com was some way behind with 7.8 million seats.
If we include long-haul routes (those over 4,000 kilometres), then British Airways does beat Ryanair, as its seat capacity climbs to 26.7m in 2019 according to Cirium Data and Analytics. If measured by ASKs (Available Seat Kilometres) then British Airways is almost three times bigger than Ryanair in the UK market.
In terms of international short- and medium-haul seats, Ryanair overtook British Airways as long ago as 2006. It maintained its lead over easyJet and the UK's flag-carrier in 2020, and seems likely to do so again in 2021, though that remains to be confirmed. 
Ryanair served 21 airports in the UK in 2019
In 2004 Ryanair was operating from 19 airports in the UK; Aberdeen, Birmingham, Blackpool (remember that?), Bournemouth, Bristol, Cardiff, City of Derry, East Midlands, Edinburgh, Glasgow PIK, Leeds Bradford, Liverpool, London LGW, London LTN, London STN, Manchester, Newcastle, Newquay and Teesside. Since then it has started operating at other UK airports:
2005: Doncaster Sheffield 2006: Humberside, Inverness 2007: Belfast BHD
2014: Glasgow GLA
2016: Belfast BFS
2019: Exeter, London SEN
However, in 2019 it was no longer operating flights from Belfast BHD, Blackpool, Doncaster Sheffield, Humberside, Inverness and Teesside.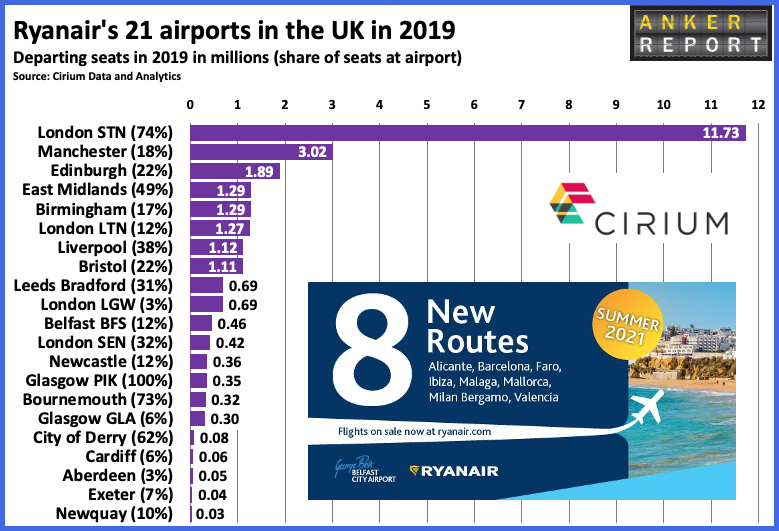 Belfast BHD and Teesside services to resume in 2021
Ryanair recently announced its return to Belfast BHD in S21, offering eight international routes; six to Spain and one each to Italy and Portugal. Given the relatively short runway length at the downtown airport in Belfast, the airline is likely to use 737-800s with Short Field Package (SFP) capability.
When Ryanair previously served Belfast BHD (between October 2007 and October 2010) it served only UK domestic destinations; Bristol, East Midlands, Glasgow PIK, Liverpool and London STN.
Another UK airport returning to Ryanair's network is Teesside (once known as Durham Tees Valley) in the north-east of England. Flights to Dublin had operated for many years but ceased in 2009, while an Alicante service continued into 2010. Now, over a decade later, Ryanair plans to operate flights, starting in June, to Alicante and Palma de Mallorca, both routes operating 2-weekly. As a result, Ryanair will now be operating from a record 23 UK airports this summer.
The busiest UK airports which it does not serve are now London LHR, London LCY, Jersey, Southampton and Doncaster Sheffield.
Spain and Ireland are leading country markets from UK
In 2019, Spain was Ryanair's leading country market from the UK with almost seven million departing seats, representing almost 30% of the UK-Spain market. Ireland, Italy, Poland and Germany round out the top five. Then come Portugal and France.
Of the top 15 country markets, Ryanair is most dominant to Ireland (52% of seats), Poland (51%) and Lithuania (also 51%). On routes to France and Germany it accounted for only 17% of seats, and only 10% of seats to Greece. Among smaller country markets, Ryanair had 56% of seats to Slovakia and 51% of seats to Latvia.