Ryanair the new route champion of Europe in S23 so far; has launched over 100 new routes in a week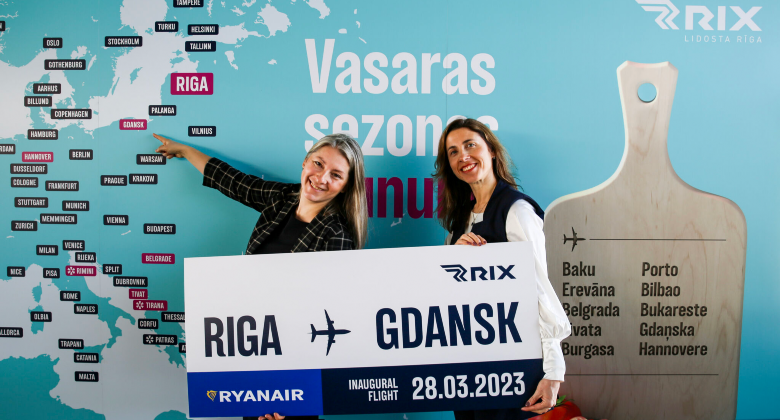 Research and analysis by Air Service One, using a variety of data sources including Cirium schedules data and Flightradar24.com, suggests that airlines have launched just under 200 new routes involving European airports during the first few days of the summer 2023 (S23) season, from Friday 24 March to Thursday 30 March. Over 100 of these have been introduced by a single airline, Ryanair.
While the Irish headquartered ULCC has so far added 104 new routes, its nearest challengers are Wizz Air (with 13 new routes) and easyJet (with 12). Over 30 airlines have launched new European routes during the last week including non-European carriers such as Aeromexico, Air Cairo, Air India and Delta. Looking further ahead, we currently have details of an additional 140 European routes that are scheduled to start before the end of April. May and June are both also expected to see well over 100 new route launches, designed to capitalise on the peak summer demand period of July, August and September.
93 airports can celebrate a new Ryanair service
We have identified 104 new Ryanair routes. This does depend on the definition of new. We consider it a new route if it has not been served since the beginning of 2019. As a result some of the airline's 'new' routes from Belfast BFS are not considered new as they were served in S21. Conversely, 20 routes previously served by Ryanair up to, but no later than, the end of 2018, are considered new for our purposes. Other facts about the airline's new routes:
Average weekly frequency of new routes is 2.72 flights per week (from 2-weekly to 10-weekly, the latter on Belfast BFS to Edinburgh).
Average sector length of new routes is 1,246 kilometres (from 233 kilometres for Belfast BFS to Edinburgh, to 2,694 kilometres for London STN to Kos in Greece).
There is direct competition on 29 of the 104 routes, with Wizz Air the only competitor on 11 routes.
The 104 new routes involve airports spread across 24 countries. The leading countries for most new routes are Italy (44), Spain (28), UK (26), Poland (21), Germany (15), France (12), Ireland (11) and Portugal (10).
A total of 93 airports have already welcomed at least one new Ryanair route in the first week of S23. The top 17 airports for new Ryanair routes are shown in the graph below.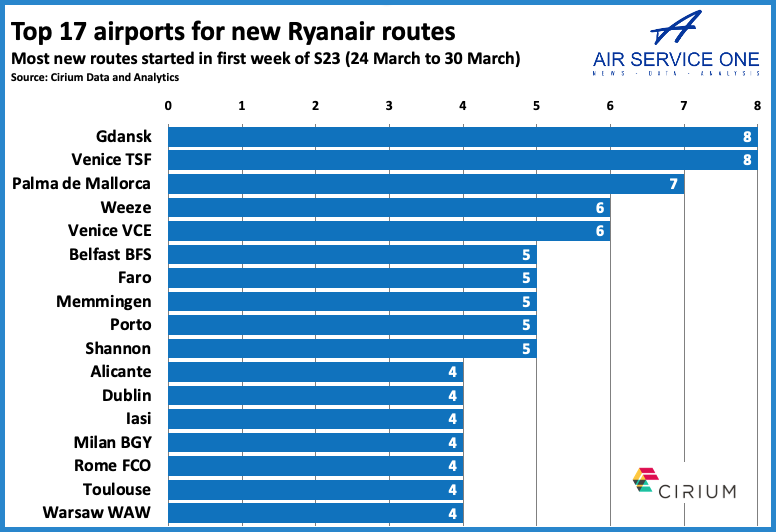 Iasi in Romania is a new airport for Ryanair, while flights to Warsaw's main airport were last operated in January 2019 when the carrier operated domestic flights to Szczecin.