Ryanair to close two aircraft Brussels Zaventem base this winter but only two of 14 routes to be dropped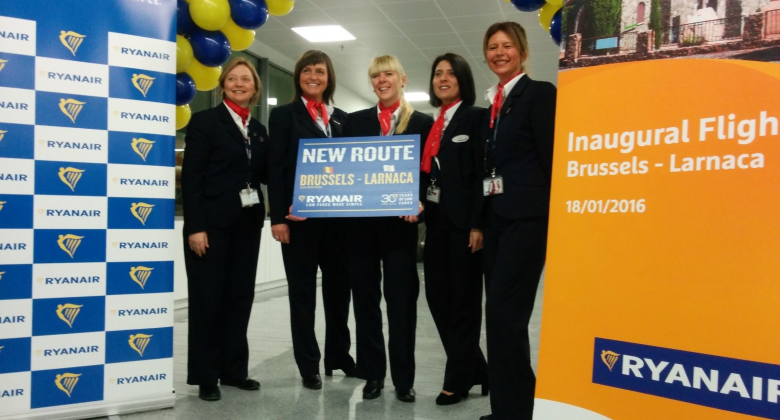 Last week Ryanair announced that it would be closing its two aircraft base at Brussels BRU, which it opened back in February 2014. As usual, the airline blamed rising costs at the airport and 'ludicrous new taxes including a €2 tax per departing passenger on EU routes and a fake "eco tax" of €10 for every passenger taking a flight less than 500km'. It is worth noting that Ryanair's shortest sector from Brussels BRU this summer is its 645-kilometre route to Berlin, while its shortest sector from Brussels CRL is its 563-kilometre route to Manchester.
While acknowledging that it would still be operating 12 routes to Zaventem on aircraft based outside of Belgium, what it failed to mention was that it was only planning to operate 14 routes this winter with its two based aircraft. The only two routes that are being dropped are Amman in Jordan and Pisa in Italy. Flights to Girona and Palma de Mallorca which operated this summer are seasonal services which were not scheduled to operate this winter anyway. As a result, there will now be 67 weekly flights this winter instead of the originally planned 98, a reduction of just over 30%.
In August, Ryanair was operating 107 weekly departures, making it the third busiest airline at Brussels BRU after Brussels Airlines (592 departures) and TUI fly Belgium (183). Rounding out the top six were Lufthansa (68), Turkish Airlines (41) and Vueling (37). Ryanair's share of flights stood at just under 7%.
Brussels BRU base opened in response to Vueling
Ryanair's decision to operate a base from Brussels BRU, announced in November 2013, was seen at the time as a response to Vueling's decision to start a base at the airport in May 2014. Vueling was already serving Brussels from four Spanish airports (Alicante, Barcelona, Malaga and Valencia) in 2013 and then revealed that it would be opening a base and adding seven more routes to Ibiza, Lisbon, Palma de Mallorca, Porto, Rome FCO, Santiago de Compostela and Venice VCE. Coincidentally when Ryanair announced its base with 10 routes, all 10 were part of Vueling's network. The only Vueling route left untouched was its Santiago de Compostela service. By summer 2017 only five of Vueling's 11 routes were still operating, which remained the case this summer.
Charleroi is sixth busiest base, Zaventem 62nd
This month, according to analysis of Cirium schedule data, Ryanair is planning 455 departures from Brussels BRU. This makes it the airline's 62nd busiest airport, just behind Billund (457 departures) and just ahead of Thessaloniki (452 departures). For comparison, its Brussels CRL base ranks sixth with 2,001 departures. Incidentally, these new taxes also apply to Ryanair's flights from Charleroi but the airline has made no mention of plans to cut its capacity from that airport.
In total, Ryanair has (so far) offered flights from Brussels BRU to 30 destinations across Europe and North Africa. These are/were (*operated in S22):
Cyprus: Larnaca
France: Grenoble
Germany: Berlin BER*, Berlin SXF, Hamburg
Ireland: Dublin*
Italy: Catania, Milan MXP*, Pisa*, Rome CIA, Rome FCO*, Venice TSF, Verona
Jordan: Amman*
Malta: Malta
Morocco: Essaouira, Marrakech*
Poland: Krakow
Portugal: Lisbon*, Porto*
Slovakia: Bratislava
Spain: Alicante*, Barcelona*, Girona*, Ibiza, Madrid*, Malaga*, Palma de Mallorca*, Seville, Valencia*