Ryanair to reopen Copenhagen base, its fourth in the Nordics, a region with just 3.1% of the ULCC's seats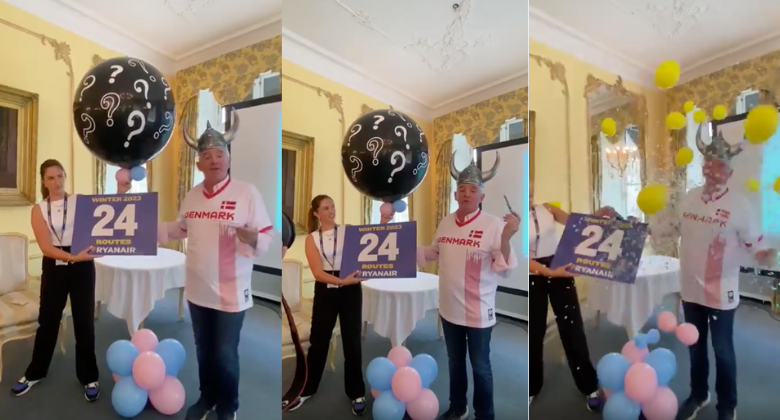 Check out the Ryanair, Copenhagen Airport base opening video HERE
Copenhagen will become Ryanair's latest base when two aircraft are stationed there this December. The ULCC will have 24 routes using both based and non-based equipment. Copenhagen will join other bases in the Nordics: Billund – also in Denmark – and Gothenburg and Stockholm ARN in Sweden. The move will cement its position as the third-largest carrier in the Danish capital after SAS and Norwegian.
A second attempt at a Copenhagen base
The ULCC is no stranger to stranger to Copenhagen. It first served the airport in March 2015 with an initial one based aircraft and four routes: Dublin, London LTN (not STN), Milan BGY and Warsaw WMI. Unusually, Copenhagen became a base from day one.
Before the airport joined its network, it used Malmö, located over the Öresund Bridge in Sweden, for the city. While Ryanair's first attempt at a Copenhagen base did not last long due to a union dispute, it continued to serve the airport using non-based equipment.
Ryanair has 24 Copenhagen routes in W23, 16 with direct competition
According to Cirium schedules information data, Ryanair plans 24 winter routes from the Danish capital. They include brand-new Paris BVA (2-weekly from 29 October) – which has never had Copenhagen flights before – while Warsaw WMI (3-weekly from 29 October) resumes after last being served in 2015. Additionally, two routes that started as summer seasonal in 2023 will now be year-round: Weeze (launched on 26 March; 2-weekly) and Faro (27 March; 2-weekly).
Some 16 of the 24 routes (two-thirds) will face at least one other carrier, a significant number. At the most extreme, Ryanair will be one of four airlines to both Malaga and Manchester, which might account for its big YOY capacity cut to them. Destinations without direct competition are Cologne, Kaunas, London STN (Ryanair's top Copenhagen route), Milan BGY, Paris BVA, Turin, Warsaw WMI and Weeze.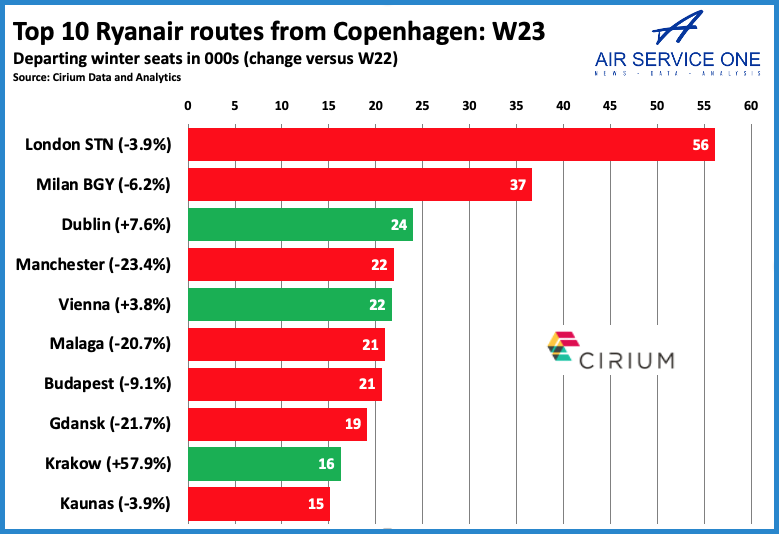 The Nordics have just 3.1% of Ryanair's W23 capacity
Ryanair serves Denmark, Finland, Norway and Sweden in the Nordics. It has never flown to Iceland. Cirium informs that the four countries collectively have 2.19 million departing seats in W23 and just 3.1% of the ULCC's total. Ryanair is the Nordics' fifth-largest short-haul operator behind SAS, Norwegian, Finnair and Wideroe.
Ryanair's 2.19 million seats is a record, particularly helped by Sweden surpassing one million seats for the first time. This is mainly from Ryanair's big growth at Stockholm ARN, which now include domestic routes. Ryanair has more seats to, from, and in Sweden than any of the other three countries. It has had a higher volume than Denmark in 14 of the 20 winters since 2004. Sweden is now Ryanair's 12th most-served country out of the 37 in its network this winter, followed by Denmark (16h), Norway (26th) and Finland (31st).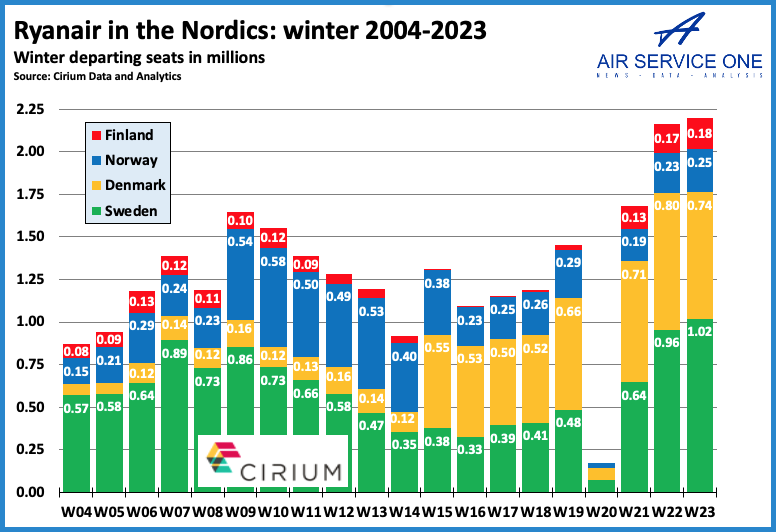 Served 18 airports across the Nordics
The ULCC's Nordics network comprises 18 airports in W23: eight in Sweden, four in Denmark, four in Finland and two in Norway. With 662,000 departing seats, Stockholm ARN is its busiest airport, followed by Copenhagen (487,000), Gothenburg (270,000), Oslo TRF (247,000) and Billund (210,000). Ryanair added ARN to its network in October 2021 due to its exit from very long-served Stockholm NYO. ARN is the airline's 34th busiest airport out of 210+ in W23.