Ryanair's cutbacks in Dublin this winter not as serious as headlines suggest; Air Service One reveals all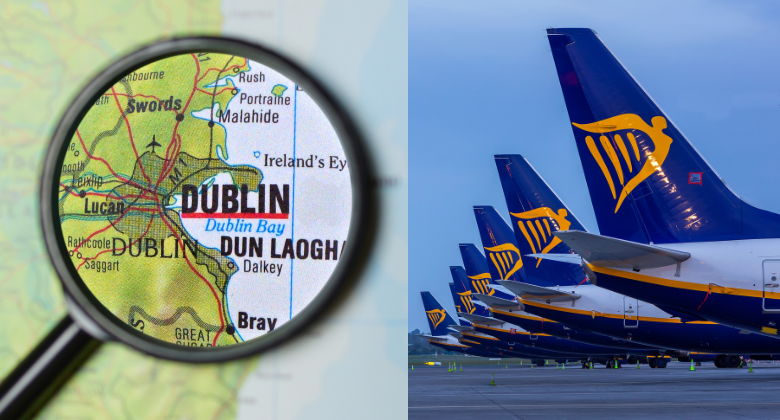 On 21 September Ryanair published a press release on its website with the headline "Dublin Airport loses 17 routes and 19 enviro friendly aircraft due to DAA 45% increase in costs". This sounds like a massive reduction in capacity at the Irish airport this winter. However, using Cirium data Air Service One has taken a closer look at the currently published schedules to reveal that the situation is not as dramatic as it may appear.
Ryanair's planned flights at Dublin down less than 1% this winter
Going back to the start of the 2023 summer season, data confirms that Ryanair operated 9.2% more departures in the period April to October compared with the same period in 2022. In particular, during the peak period of July and August, Ryanair operated 13-14% more flights. These are key periods for profit generation.
Looking ahead to the winter season, Ryanair currently plans to operate 0.7% fewer flights between November 2023 and March 2024 compared with a year earlier. In December 2023 and March 2024, it is currently planning to have more flights than in December 2022 and March 2023. It should be noted that February 2024 is a leap year and so contains an extra day.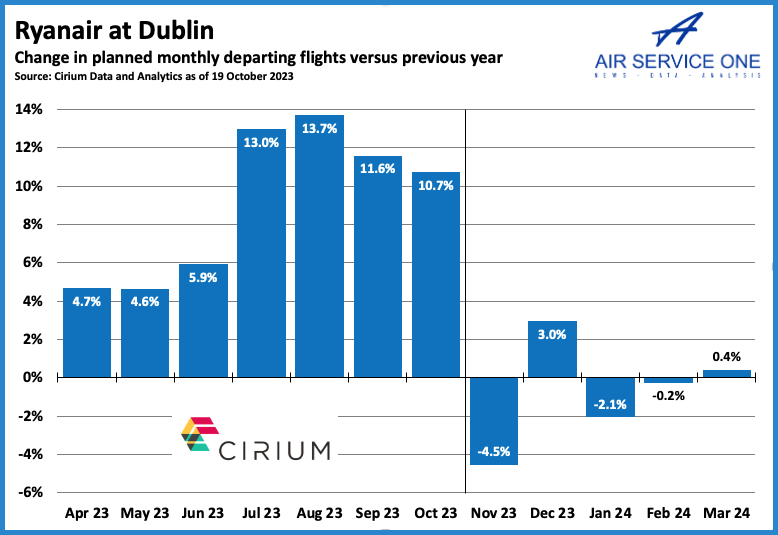 Certainly, Ryanair's summer growth is not being extended into the winter period. It is merely choosing to operate pretty much the same number of flights as it did last winter. This suggests that while the airline may be moving 19 of its newest generation 737 MAX 8-200s (which are configured with 197 seats) elsewhere, it will have to swop them for pretty much the same number of 737-800s (with 189 seats) from other parts of its network. This does mean that while the number of flights is set to be reduced by just 0.7%, the number of available seats is set to fall by around 1.7%.
18 routes dropped versus last winter, but five added
Analysis by Air Service One of Cirium data suggests that Ryanair is currently set to drop 18 (not 17) routes from Dublin this winter, that operated last winter (November 2022 to March 2023). These are (weekly frequency in February 2023):
Austria: Klagenfurt (2, did not operate in S23)
Bulgaria: Plovdiv (2, did not operate in S23)
Denmark: Billund (2)
France: Carcassonne (2, returns in S24)
Germany: Leipzig (2), Nuremberg (3)
Italy: Genoa (2), Palermo (2)
Lithuania: Palanga (2, returns in S24), Vilnius (4, returns in S24)
Poland: Szczecin (2)
Romania: Sibiu (2, did not operate in S23), Suceava (2, did not operate in S23)
Slovakia: Kosice (2)
Spain: Asturias (2), Castellon (2), Santiago de Compostela (2, returns in S24)
UK: Bournemouth (2)
These 18 routes generated 39 weekly departures, representing 4.8% of all Ryanair's Dublin departures last February. Some did not operate in S23 suggesting these were routes dropped completely rather than just dropped for winter. Other routes are already bookable for next summer. The remaining routes could still resume next summer and may be part of on-going negotiations between Ryanair and the airports involved.
While Ryanair is keen to stress how many routes it is dropping from Dublin this winter, what it omits to mention is that it will be operating five routes from Dublin this winter that were not flown last winter (weekly frequency in February 2024 in brackets):
Italy: Trieste (2, launched in March 2023)
Romania: Iasi (3, launched in March 2023)
Sweden: Gothenburg (2, was summer-only is now year-round), Stockholm ARN (3, launched in March 2023)
UK: Newquay (2, launched in March 2023)
As a result of these changes Ryanair is now serving 92 destinations from Dublin in February 2024 compared with 105 in February 2023, a net reduction of 13. However, it is worth noting that it is increasing weekly frequencies on 32 routes. This includes five additional weekly flights to Cardiff, four more weekly flights to Malaga and Paris BVA, three additional weekly flights to Brussels BRU and two more weekly flights to Alicante, Berlin, Bordeaux, Faro, Krakow, Lanzarote, Lisbon, Porto and Tenerife TFS.