Ryanair's share of intra-European capacity up to 16%; Italy passes Spain to be #1 country market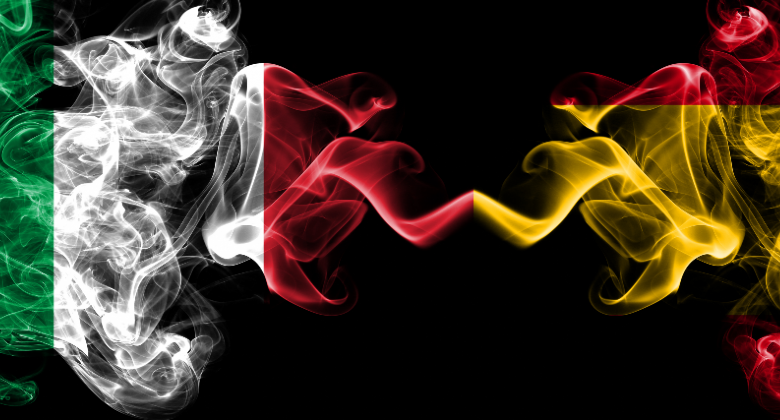 While many European airlines and airports have had to endure widespread criticism for a higher than usual level of cancellations, delays and general 'chaos', one airline has apparently bucked the trend and is getting through this summer with its reputation enhanced. Ryanair, the airline that many parts of the mainstream media love to hate, has cancelled fewer flights (as a percentage of all flights) and arguably inflicted less disruption on its passengers than any other major airline operating intra-European services. And it has done this while increasing its share of intra-European seat capacity.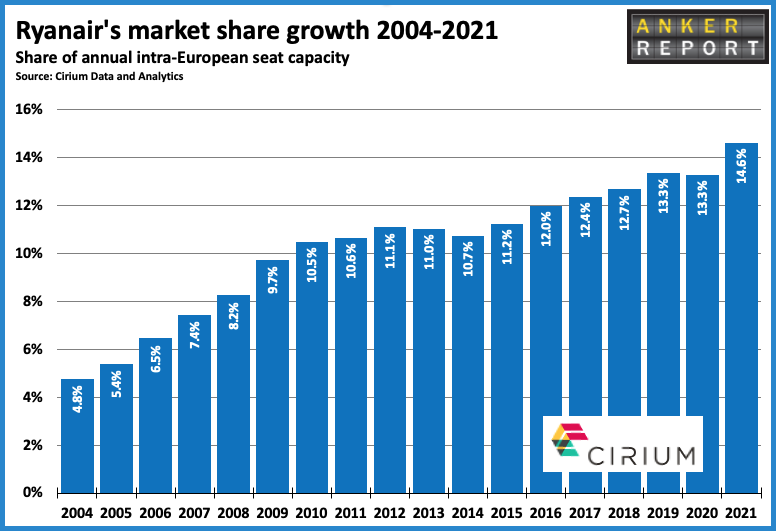 Before the pandemic struck, Ryanair's share of seats on intra-European flights had grown from 10.7% in 2014 to 13.3% in 2019, partly as a result of acquiring Austrian-based Laudamotion. With so many constantly changing rules and regulations impacting air travel services during the last three quarters of 2020, Ryanair's share of seats remained unchanged.
Ryanair now offers one in every six seats in intra-European flights
However, once vaccines began to become available, and travel restrictions eased, Ryanair resumed operations more quickly than most other airlines. As a result, in 2021 it increased its seat capacity share to 14.6%. In fact, by the end of 2021 its seat share had risen to 18% and remained at that level for the first quarter of 2022. However, as other carriers finally improved their recovery rates at the start of the summer season, Ryanair's share of the intra-European market fell back to 16%. That still means that Ryanair has gone from offering one in every eight intra-European seats in 2017, to one in every six now. That is a significant increase in market share.
Italy passes Spain to become #1 market
According to the latest Cirium schedule data, Ryanair is offering just under 15% more flights in July 2022 than it did in July 2019. This is consistent with the latest Eurocontrol data which shows Ryanair Group operating around 14.5% more flights than it did three years ago. So which countries have benefitted most from Ryanair's growth?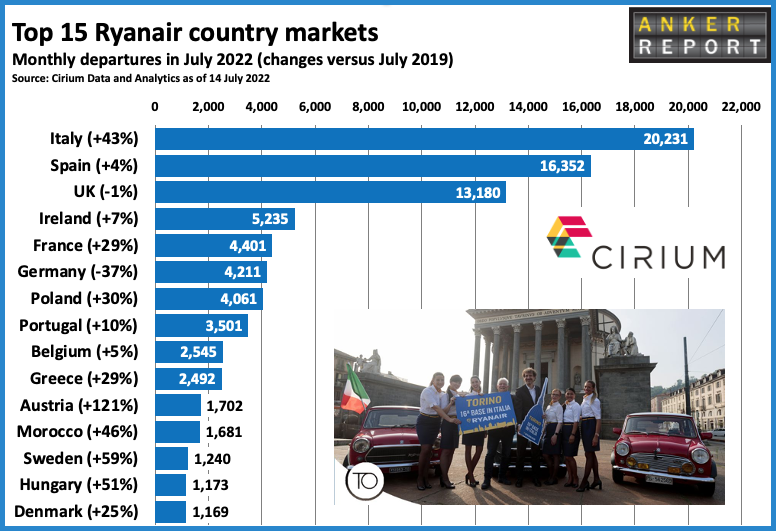 Thanks to growth of more than 40%, Italy has now become Ryanair's biggest country market. The previous biggest market, Spain, has only seen a 4% increase in flights during the last three years. Only two of the airline's top 15 markets have seen a reduction in flights. The UK is down 1%, while flights in Germany are down 37%. Ryanair no longer serves Düsseldorf, Frankfurt FRA and Stuttgart. It had inherited flights at two of these airports after acquiring Laudamotion, but it had opened the Frankfurt FRA base itself at the start of the summer 2017 season.
Countries outside the top 15 that have seen significant growth are Croatia (18th, +159%), Bulgaria (21st, +54%), Latvia (24th, +94%) and Israel (26th, +88%). No new countries have been added compared with 2019, though Ukraine services have sadly been suspended for the foreseeable future.
Almost 70% growth in Italian domestic market
Looking at the airline's leading country-pair markets, the Italian domestic market is now #1 replacing the UK-Spain market. A second domestic country-pair (Spain-Spain) ranks third and has also seen above average growth. Ryanair now offers 50% more flights and twice as many seats in the Italian domestic market as ITA Airways. Ryanair is also by far the biggest carrier when it comes to international capacity from Italy, ahead of easyJet, Wizz Air and Vueling, with ITA Airways ranked just fifth.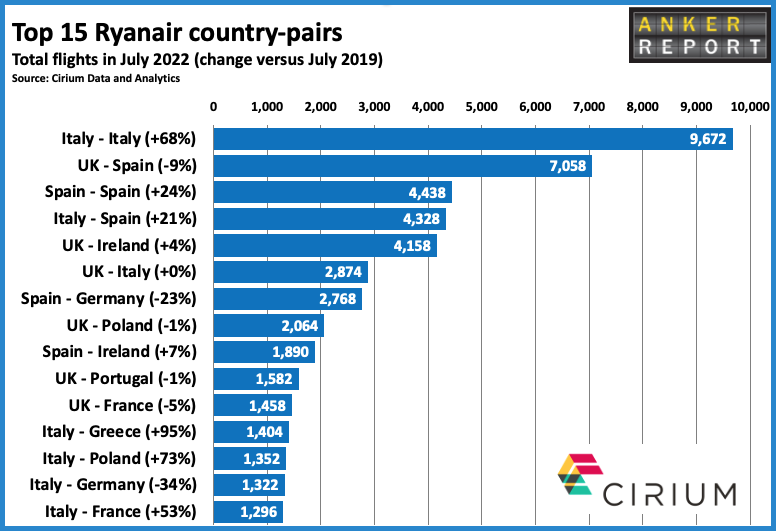 Six of the top 15 country-pair markets involve Italy, while another six involve the UK and four involve Spain. Well above average growth rates from Italy to France, Greece and Poland have also helped Italy become Ryanair's leading market.