S23 is a record-breaker for Belfast BFS; Ryanair returns with a new base; Eastern Airways begins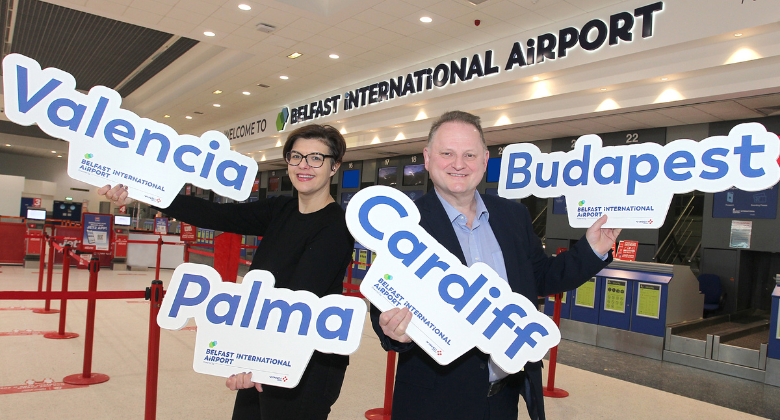 The UK's tenth busiest airport, Belfast BFS welcomed 4.8 million passengers in 2022, according to the UK Civil Aviation Authority. While that was 23% fewer than in 2019, this coming summer is set to be its biggest yet by seat capacity. Cirium schedules data indicates that the airport will have almost 2.7 million one-way seats, up by 14% versus S19 and by far its most historically.
The growth is for two primary reasons. Having last served Belfast BFS during the pandemic, Ryanair is returning to the airport. It has planned 28% more capacity than it did in S19, according to Cirium schedules data. Meanwhile, easyJet – overwhelmingly the airport's primary airline – has 17% more seats than it did in S19. Looking further ahead, Jet2.com has confirmed another based aircraft for 2024, the same year that startup Fly Atlantic says it will launch US flights in a similar setup to Iceland's PLAY.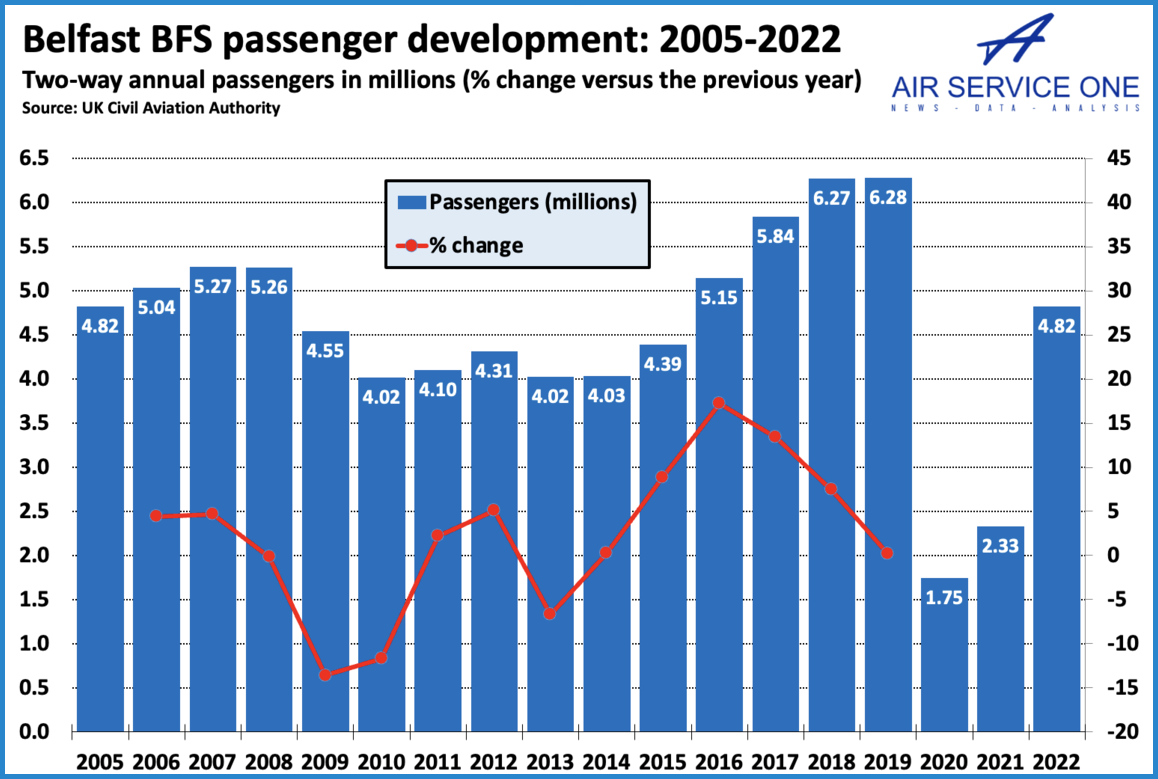 Fourth time lucky for Ryanair in Belfast?
Ryanair has a turbulent history of serving Northern Ireland's capital. The ULCC opened a base at Belfast BHD in 2007 with one aircraft; it pulled out after 37 months. In 2016, it announced a base at Belfast BFS – an airport with longer operating hours and runway, and more ground infrastructure – with up to three aircraft. It pulled out after 62 months. In 2021, it returned to Belfast BHD, but left four months later.
Ryanair returns to Belfast BFS with 16 routes
Coinciding with the UK's lower domestic air passenger duty – which reduces from £13 to £6.50 in April – Ryanair will soon be back at Belfast BFS with a base. It will launch 16 routes, as summarised below, with a typical 78 weekly flights. The reduction in APD is fundamental: some 50 of the flights (64%) are domestic. Of Ryanair's 16 routes, it'll compete directly with another airline on eight. Ryanair served nine of the 16 routes in S19 (indicated with *).
26 March: Cardiff (2-weekly)
26 March: Edinburgh (12, versus easyJet)
26 March: Faro (4, versus easyJet and Jet2.com)*
26 March: Girona (2)*
26 March: Krakow (2, versus easyJet)*
26 March: London STN (16, versus easyJet)*
26 March: Manchester (16, versus easyJet)*
26 March: Milan BGY (3)*
27 March: Budapest (2)
27 March: East Midlands (4)
27 March: Gdansk (2)*
27 March: Paris BVA (2)
28 March: Alicante (3, versus easyJet and Jet2.com)*
28 March: Malaga (3, versus easyJet, Jet2.com and TUI Airways)*
29 March: Palma (2, versus easyJet, Jet2.com and TUI Airways )
1 May: Valencia (2)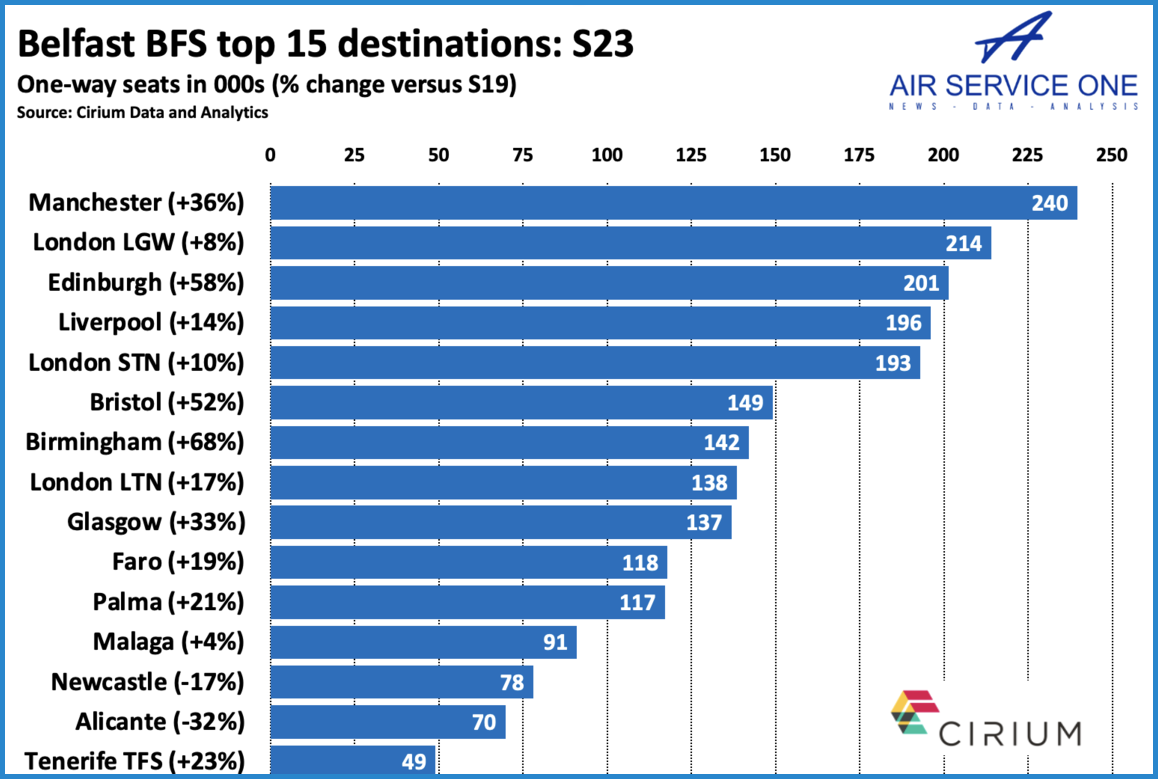 Five other routes & a new airline are coming
Belfast BFS has 50 non-stop destinations this summer, all but one of which (Orlando MLB) are within Europe. easyJet, which has three-quarters of the airport's seat capacity, has 30 routes, Jet2.com 19, Ryanair 16, and TUI Airways 12. Aside from BH Air to Burgas, the final passenger airline is also a new one: Eastern Airways. Its only route is to Southampton, the first time it has been served from Belfast BFS, at least in 20 years. It replaces the carrier's service from Belfast BHD. It is one of five new routes from Belfast's main airport this year that do not involve Ryanair:
26 March: easyJet, Antalya (2-weekly)
6 April 2023: Eastern Airways, Southampton (daily)
15 May: TUI, Heraklion (weekly)
3 June: easyJet, Rhodes (2-weekly)
22 June: TUI, Orlando MLB (four departures in S23)