S7 Airlines is Russia's leading airline in recent months; big domestic network from Domodedovo and largest carrier at Novosibirsk
According to Russian government statistics, S7 Airlines was once again Russia's leading airline in January, transporting 1.19 million passengers, down 13% compared with January 2020. The other airlines in the top five were Aeroflot (1.04 million passengers, down 60%), Pobeda (928k passengers, same as in 2020), Ural Airlines (406k passengers, down 41%) and Rossiya Airlines (391k passengers, down 31%). Pobeda and Rossiya both belong to the Aeroflot Group, making it still the biggest airline group in Russia.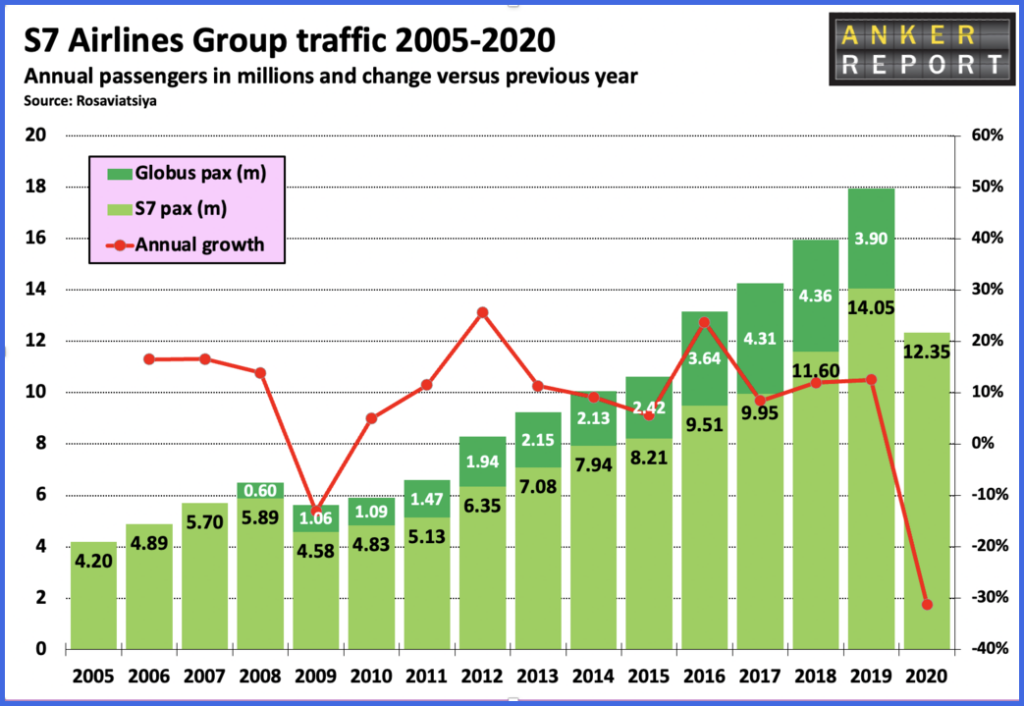 Since the COVID pandemic began, S7 Airlines has regularly been Russia's leading airline as it has far less exposure to the international market than the national carrier. Last year the S7 Airlines Group handled 12.35 million passengers (at a respectable load factor of 73%) down 31% from the almost 18 million handled in 2019, when passenger figures still differentiated between the main airline and its charter subsidiary Globus.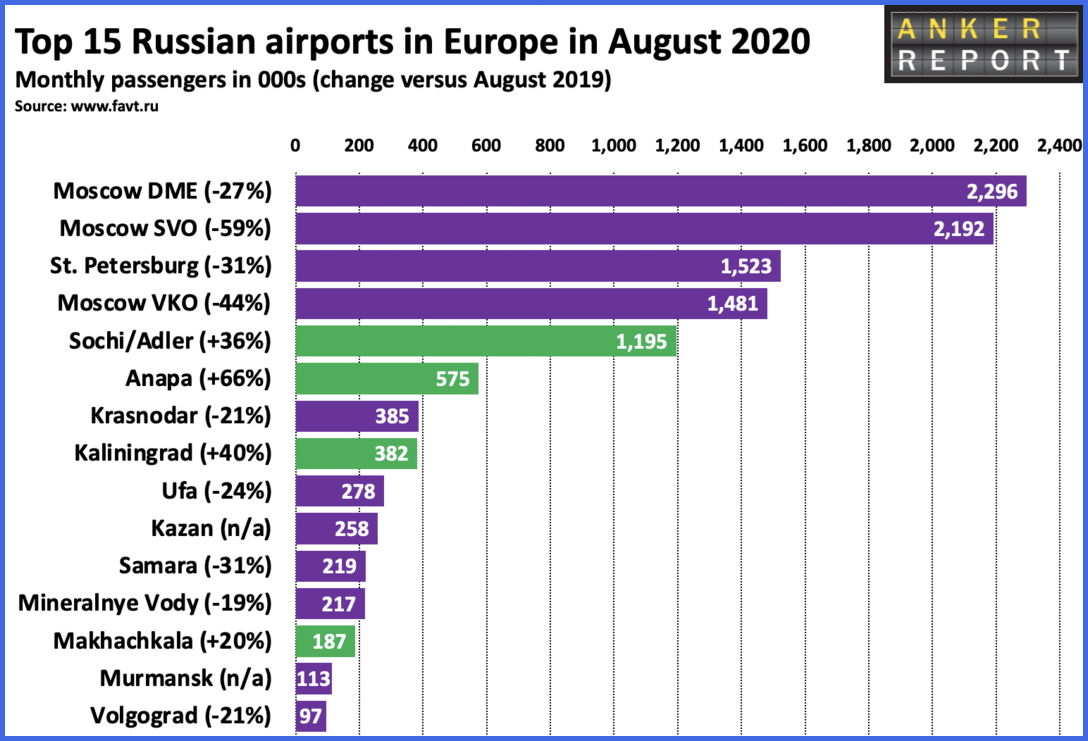 300% growth between 2005 and 2019
Originally based in Siberia, the airline was known as Sibir Airlines until 2005 when it was renamed S7 Airlines. S7 also happens to be the airline's two-letter IATA code. Despite the global recession in 2008/09, the airline's passenger numbers grew fourfold between 2005 and 2019.
In 2010 it became a member of the oneworld alliance, joining British Airways, Finnair, Iberia and Malev as European members. Malev collapsed in 2012, the same year that airberlin became a oneworld member. Sadly, that carrier ceased operations in 2017.
S7 Airlines has been the leading airline at Moscow DME for many years, though Transaero came close for a number of years a decade ago. S7 accounted for almost half of all scheduled seat capacity at Domodedovo in 2019 and almost 55% in 2020, when Ural Airlines (with just under 20%) was its closest rival.
Domestic growth at many airports in 2020
Moscow DME is by far the airline's busiest airport (with 6.2 million departing seats in 2020), ahead of Novosibirsk (with over 2.3 million seats). The airline's focus on satisfying the domestic demand for more leisure travel in 2020 resulted in significant year-on-year growth at a number of Russian airports (shown in dark green), notably Sochi/Adler (+39%), Mineralnye Vody (+32%) and most significantly, Kaliningrad (+104%).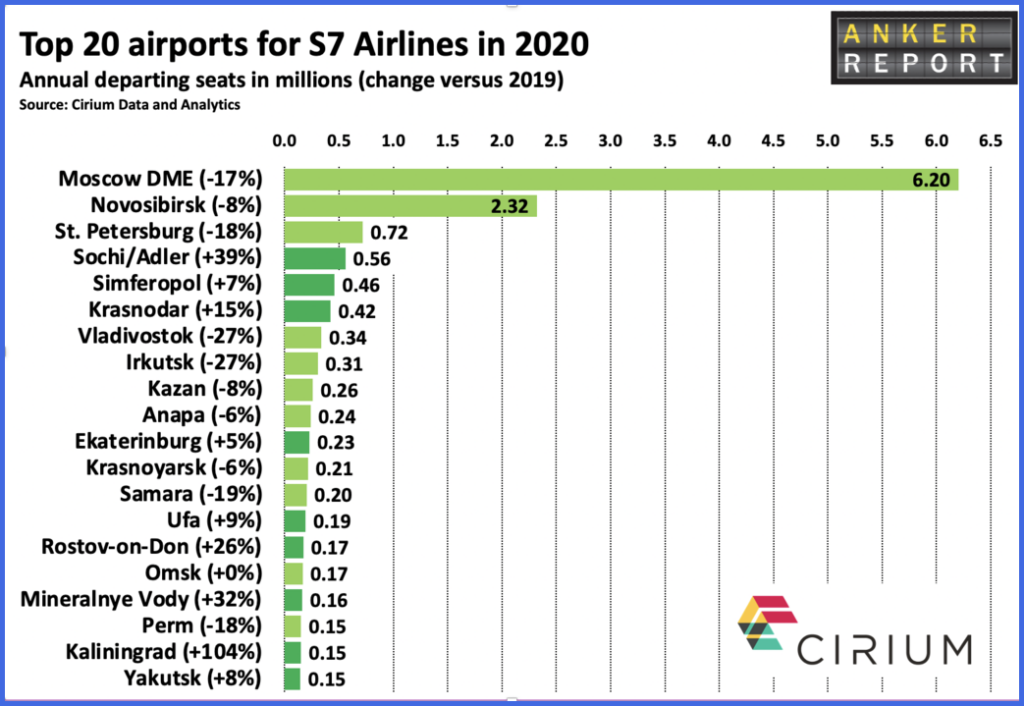 According to Cirium Data and Analytics schedule information for March 2021, the airline's busiest routes are currently Moscow DME to Sochi (64-weekly) , and Moscow DME to St. Petersburg (58-weekly). There are currently five daily flights between the airline's two bases of Moscow DME and Novosibirsk.
International services ticking over
The leading international route at present is from Domodedovo to Antalya in Turkey, operated 8-weekly. A number of destinations in western Europe (such as Alicante, Barcelona, Bari, Berlin, Larnaca, Milan, Nice, Paris, Rome, Thessaloniki and Vienna) are all currently served from Domodedovo with weekly flights.
Seasonal services to a number of other international destinations are set to resume from Moscow DME in the coming months, health restrictions permitting. These include Cagliari, Catania, Naples and Olbia in Italy; Heraklion and Rhodes in Greece; Paphos in Cyprus; Palma de Mallorca in Spain; Reykjavik in Iceland; and Bodrum in Turkey.
Maybe curiously, the airline has never served any destinations in the UK. Maybe that will change one day.