Salt Lake City International Busy Building "The New SLC"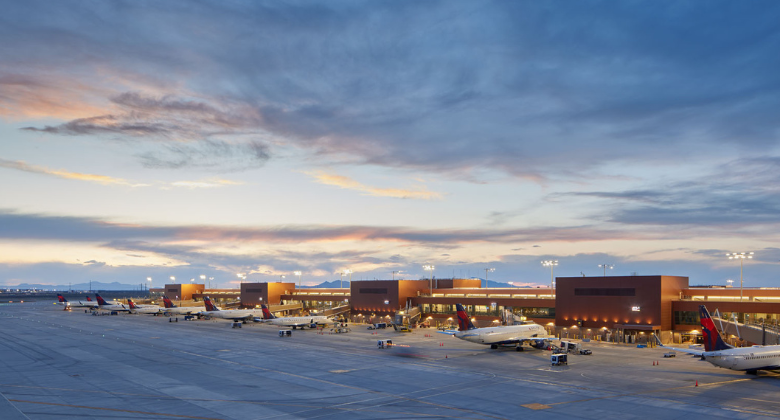 Salt Lake City International Airport (SLC) is securing its position as a premier global aviation hub by building a brand-new airport that will serve the quickly growing region for decades to come.
In 2020, Phase 1 of "The New SLC" Airport Redevelopment Program opened. The new terminal complex—foreseen in the airport's master plan for decades—finally became a reality, setting the standard for new airports across the globe. The New SLC boasts several unique achievements, such as the first U.S. large-hub airport to be built in the 21stCentury and is one of few airports to attain LEED Gold certification for its impressive sustainability efforts.
Three short years later, SLC is ready to pull the curtain on the program's next phase, completion of Concourse A-East and the opening of 22 more gates and 19 new shops and restaurants. These additions will provide significant improvements to the airport's customer experience by eliminating Delta's temporary 15-gate hardstand operation and allowing other carriers to expand.
By 2024, airport guests will be able to transit between both Concourse A and Concourse B with more ease when the new Central Tunnel – dubbed the River Tunnel – opens. An immersive and expansive art experience unlike any other will then be complete, enriching and calming guests as they begin or end their travel journey.
When the final phase of The New SLC is complete in early 2027, SLC will have nearly 100 jet-bridged-equipped gates, allowing for a significant expansion of route offerings, such as unserved destinations in Asia, Latin America and Europe. Connecting passengers to 95 worldwide destinations, like the newly-launched flight to Frankfurt, Germany, is only the beginning for SLC.
The next generation of air transportation is taking off at SLC. To learn more, visit: www.slcairport.com/thenewslc.