San Diego has 65 non-stop destinations in October; Southwest leading carrier; Las Vegas top market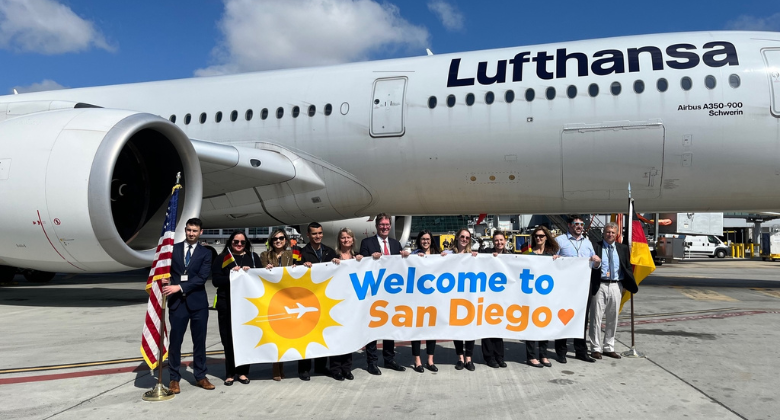 Located close to the Mexican border, San Diego welcomed 13.1 million passengers in the first seven months of this year. Based on the airport's own data, about 96% flew domestically. Total passenger volume was 5% lower than in 2019, almost the same in July (4.9%). The recovery will be helped by multiple new and returning routes this year. They build on the launch of Lufthansa from Munich in March 2022 (which replaced Frankfurt), while British Airways will double London LHR to a record 2-daily next summer.
Served by 17 passengers airlines in October
San Diego's carriers – including Air Canada, British Airways, Japan Airlines and Lufthansa – have 1,899 weekly departing flights in October, according to Cirium schedules data. However, JSX pulls out early in the month to operate from nearby Carlsbad instead. While Frontier and Spirit have grown well, ULCCs – including Allegiant – have just 5% of San Diego's flights.
With 713 weekly departures, Southwest is, not surprisingly, by far San Diego's most dominant carrier. It is responsible for about 38% of the total and is about twice the size of Alaska Airlines. The airport is Southwest's 14th most-served across its whole network and its second largest in California after Oakland; Los Angeles ranks 17th network-wide.
Southwest has 28 San Diego routes in October, of which intra-California service – to Oakland, San Francisco, San Jose and Sacramento – accounts for nearly four in ten flights. Its claim to fame is, perhaps, that San Diego-Las Vegas has more weekly flights (87) than any other route in its entire system. Given Southwest's strong dominance, it is the least recovered of carriers on an absolute basis (but not %). This is particularly from intra-state frequencies being nearly a fifth lower than they were as business travel recovers against a more reasonable 5% decline on non-state services.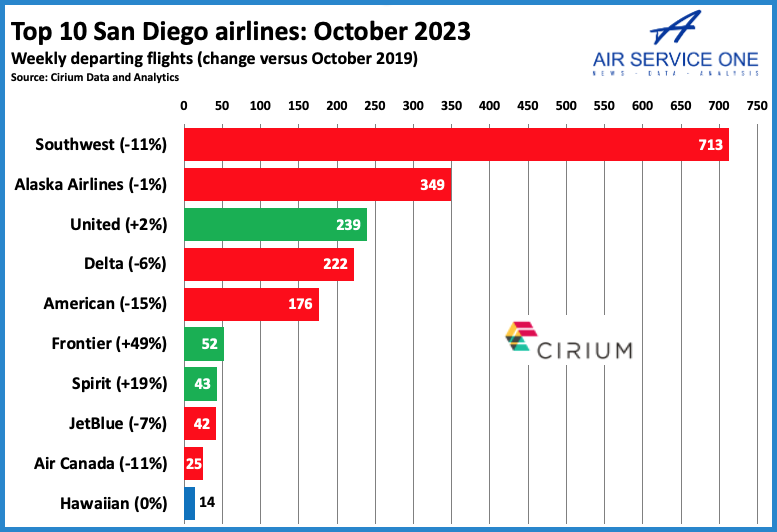 65 non-stop destinations; Las Vegas is first
San Diego's 65-strong network in October comprises 56 domestic destinations in 27 states. Obviously, California is number one and has a quarter of all flights (domestic and international). At the other extreme is Indiana, with Indianapolis served weekly by Southwest. Internationally, San Diego is linked with Calgary, London LHR, Montreal, Munich, Los Cabos, Puerto Vallarta, Tokyo NRT, Toronto and Vancouver this month.
With 136-weekly flights, the short 415-kilometre link to Las Vegas – San Diego's second shortest destination after hub-driven Los Angeles – is the most-served market. Four airlines operate (excluding JSX), more than to any other destination. There is Southwest (81-weekly), Spirit (29), Frontier (14) and Delta (12). Despite being the largest market, it is also one of the fastest growing.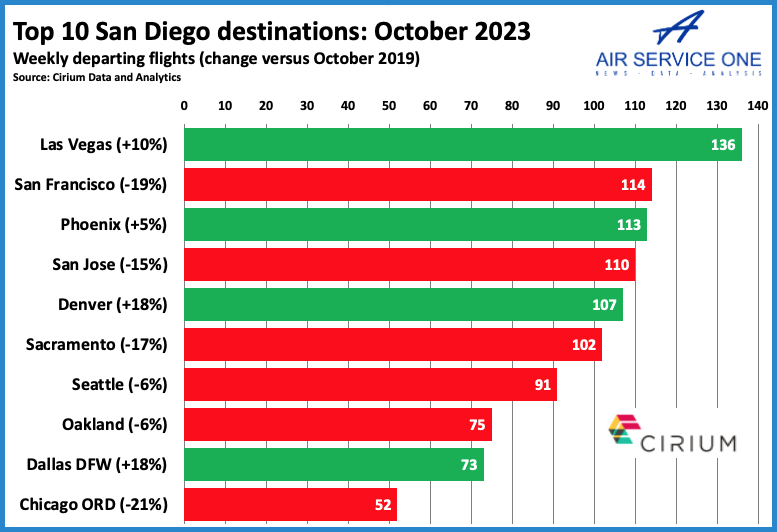 Seven brand-new routes in 2023
The following have never been operated by the stated carrier before. They are, of course, supplemented by various returning routes. It seems that Ixtapa/Zihuatanejo has not had San Diego flights by any operator before. Frequencies are based on October unless stated. The two carriers replace Allegiant to Eugene, which ended in August.
11 May: Atlanta by Frontier (resumes mid-November; daily)
7 June: San Jose (CA) by Spirit (daily)
15 June: Eugene by Alaska Airlines (daily)
15 June: Washington IAD by Alaska Airlines (daily)
19 August: Eugene by Southwest (weekly)
5 October: Tampa by Alaska Airlines (daily)
23 December: Ixtapa/Zihuatanejo by Alaska Airlines (weekly)