San Jose welcomes Spirit; Southwest is very much #1 airline; San Diego overtakes Los Angeles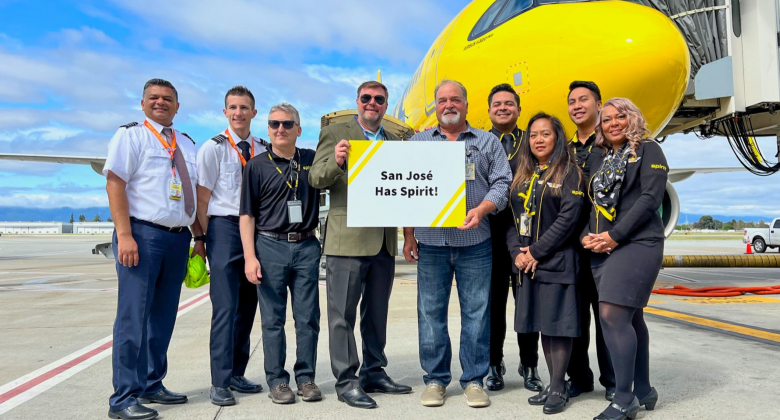 Spirit inaugurated San Jose service on 7 June, becoming the ULCC's seventh airport across California. It has 28-weekly departures across three routes: Las Vegas (2-daily), Dallas DFW (daily) and San Diego (daily). Spirit became San Jose's second new airline in six months, following the 12 December 2022 launch of ZIPAIR, a wholly owned subsidiary of Japan Airlines, from Tokyo NRT (3-weekly, now 5-weekly). A long-served market, ZIPAIR availed of the gap left by the exit of All Nippon in March 2020.
Southwest is San Jose's leading operator
Cirium schedules information informs that San Jose has 1,123 weekly one-way passenger flights in the middle of August. That is 74.1% of what it had in the same seven days in 2019. California's fifth busiest airport, San Jose is served by 11 passenger carriers, of which Southwest has more than six in ten flights (61.2%).
Southwest is among San Jose's best recovered airlines, with flights at 93.1% of what they were. Only Mexico's Volaris, with a 20-weekly operation, has more (111.1%). American – which years ago had a full hub at San Jose – is the least recovered. August weekly flights are at just 40.4%, with Chicago ORD no longer served and much lower frequencies to Dallas DFW, Los Angeles and Phoenix.
Comparing airlines in 2019 to now shows that Aeromexico, Air Canada, All Nippon, California Pacific (defunct), Frontier and Hainan no longer serve the airport. The exit of the four international operators, offset by the arrival of ZIPAIR and the continuation of British Airways and Alaska Airways service, means that international flights have fallen from 71-weekly to 41 in this August week. However, BA ends London LHR in October, reducing San Jose's long-haul network to one, down from three in October 2019.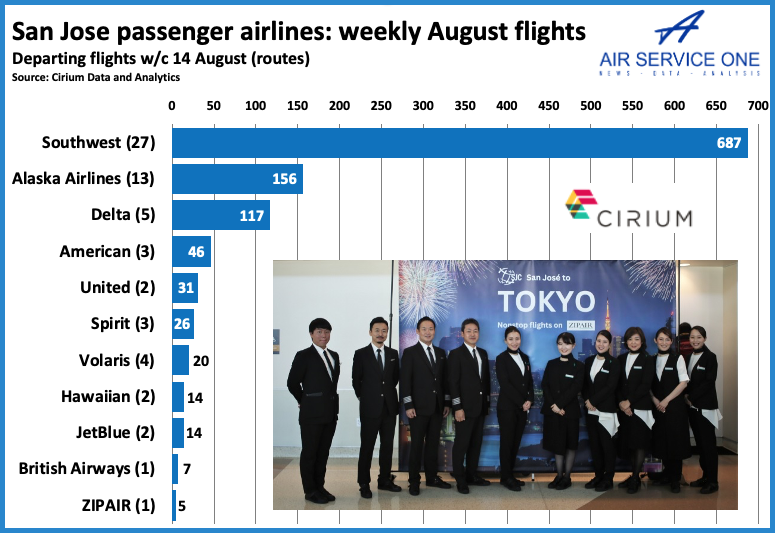 San Diego overtakes Los Angeles as the top market
San Jose has 41 non-stop destinations in August, 33 domestic and eight international. The latter comprises Guadalajara, Leon, London LHR, Los Cabos, Morella, Puerto Vallarta, Tokyo NRT and Zacatecas.
With 118 weekly one-way August flights, San Diego is San Jose's leading airport pair. Served by Southwest (92-weekly), Alaska Airlines (19) and Spirit (daily), it is the first time that the 670km market has three carriers. Between 2010-2015, it only had Southwest. Nonetheless, San Diego's August services are at only 89.4% of 2019. In contrast, Los Angeles – traditionally the leading market – is now second. Its recovery is much slower (56.2%), presumably because of the persisting lower business demand and less need for ultra-high frequencies.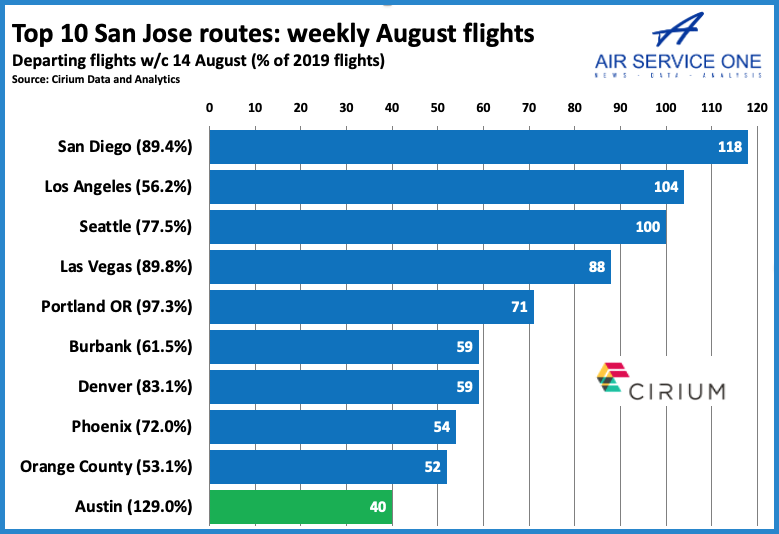 San Jose is recovering, but slowly
San Jose had 11.33 million passengers in 2022, 72.3% of what it had in 2019. In the first four months of 2023, the airport's figures shows that it welcomed 3.67 million, 79.2% of 2019 traffic. It is recovering, but slowly.