SAS is Europe's 8th largest airline; Copenhagen has passed Stockholm as top airport; US routes coming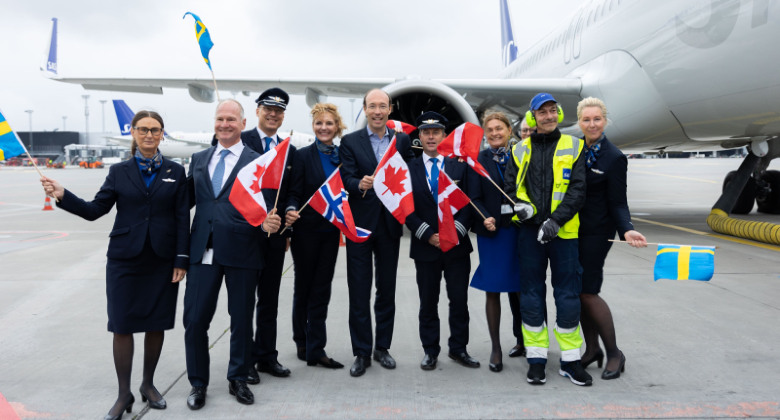 An airline undergoing much transformation, SAS is Europe's eighth largest operator by flights in 1H 2023, based on Cirium schedules information. It is the leading airline serving Sweden and Denmark but is inevitably second to mainly domestic operator Widerøe in Norway. This regional carrier is synonymous with Dash 8s and short, multi-stop domestic services in terrific scenery. However, SAS ranks number one in all three nations by available seats.
Norway is SAS's leading country
In the examined six months, Norway is SAS's number one country. Some 36% of the carrier's flights are to, from, and within the nation. Its very extensive domestic operation helps, which accounts for three quarters of its services there. Some 27 domestic routes are served involving 17 airports. No wonder half of SAS's top 10 route are within Norway.
With about a quarter of flights, Sweden is SAS's second largest country, followed by Denmark with a fifth. While much smaller Denmark unavoidably ranks third, Copenhagen is SAS's primary long-haul airport and has more international routes in 1H (79) than Stockholm Arlanda (63) and Oslo (53). Since the pandemic started, Copenhagen has overtaken Stockholm ARN to become SAS's leading airport.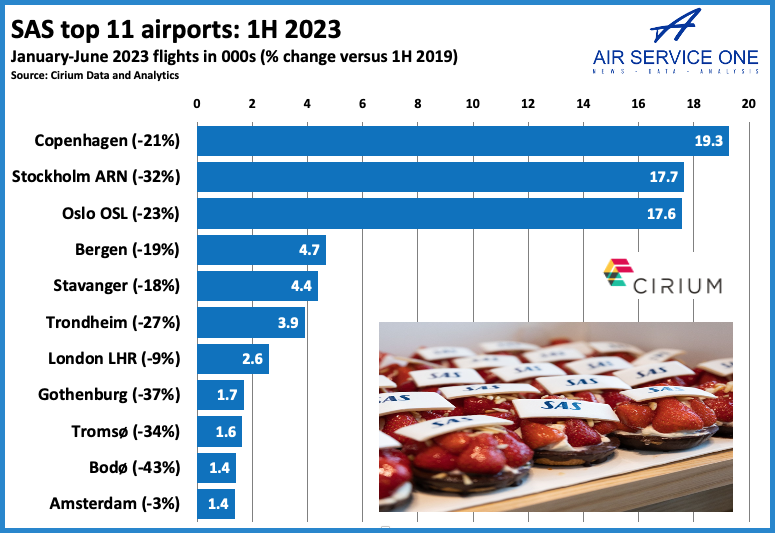 Sweden's recovery lags the most
SAS has recovered marginally better in Norway (22% fewer flights than 1H 2019) than Denmark (-24%) and Sweden (-32%). Indeed, Cirium signifies that Sweden has lost 12,081 SAS flights. Its share of the country has fallen by three percentage points to 30%, a level seen about a decade ago.
Around half of SAS's Swedish flight reductions come from its domestic operation. It now has 13 domestic routes (down from 16). While that isn't dramatic, they're generally served far less often than previously. The country's air travel taxes haven't helped. Curiously, that didn't prevent Ryanair from launching intra-Swedish flights in late 2021; it now has five.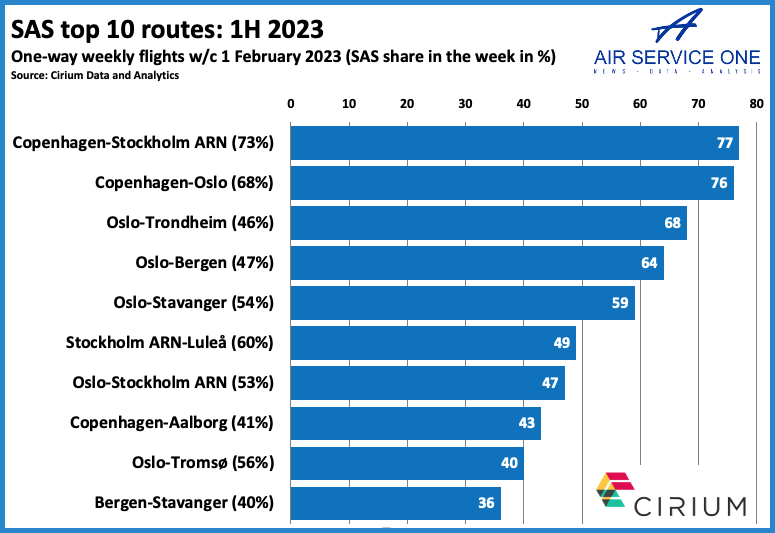 Three North American routes are among the new additions
SAS is expected to launch 16 new routes in 2023, none of which have been served in the previous decade if at all. The most significant is Copenhagen-JFK, Gothenburg-Newark and Aalborg-Newark; they build on Copenhagen and Arlanda to Toronto, which started last summer. The five US/Canada additions use A321LRs, which have quickly become crucial for SAS to North America.
8 January 2023: Gothenburg-Tenerife TFS (1-weekly)
9 February 2023: Copenhagen-New York JFK (7)
11 February 2023: Gothenburg-Salzburg (1)
12 February 2023: Copenhagen-Ostersund (1)
26 March 2023: Copenhagen-Haugesund (6)
26 March 2023: Haugesund-Trondheim (6)
27 April 2023: Aalborg-Newark (3)
28 April 2023: Gothenburg-Newark (3)
29 June 2023: Stockholm ARN-Antalya (1)
29 June 2023: Copenhagen-Antalya (1)
1 July 2023: Oslo-Catania (2)
1 July 2023: Copenhagen-Zadar (1)
2 July 2023: Oslo-Florence (3)
3 July 2023: Stockholm ARN-Montpellier (2)
6 July 2023: Oslo-Stuttgart (2)
1 September 2023: Copenhagen-Porto (2)