Scotland-North America has 14 non-stop routes this summer; Edinburgh share has risen to over 80%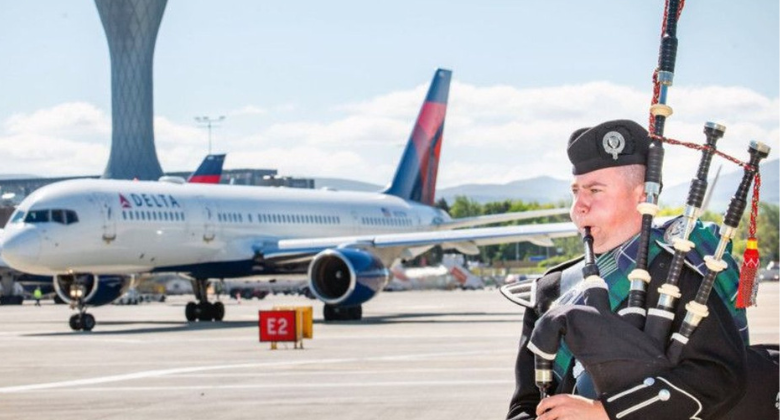 Over half of all passengers flying between Scotland and North America flew indirectly last year, a proportion common in most years. It will not be much different this summer, with Cirium schedules information data indicating that available non-stop seats are still a quarter lower than they were at their peak in S17. In a reversal of roles for Scotland's North America gateway, the decline is fully because of Glasgow, while Edinburgh's significance – and capacity – has grown substantially.
Edinburgh: from 30% to 81% of the market in 10 years
In S13, Edinburgh had only four North America routes: Air Canada to Toronto, United Airlines to Newark, and Thomson (as it then was; now TUI) to Cancun and Orlando SFB. That summer, Edinburgh had just 64,000 one-way seats and 30% of the whole Scotland-North America non-stop market. It was very much in the hands of Glasgow.
A decade on, Edinburgh has 296,000 seats in S23 and 81% of the market, according to Cirium. In comparison to the previous peak (S17), capacity has risen by 29%. Edinburgh now has six airlines and 11 routes, as summarised below:
Air Canada: Toronto
Delta: Atlanta (starts 26 May), Boston and New York JFK
TUI: Cancun (ends in July; back in 2024), Orlando MLB (ends in July; back in 2024)
United Airlines: Chicago ORD, Newark and Washington IAD
Virgin Atlantic: Orlando MCO
WestJet: Calgary (starts 18 May)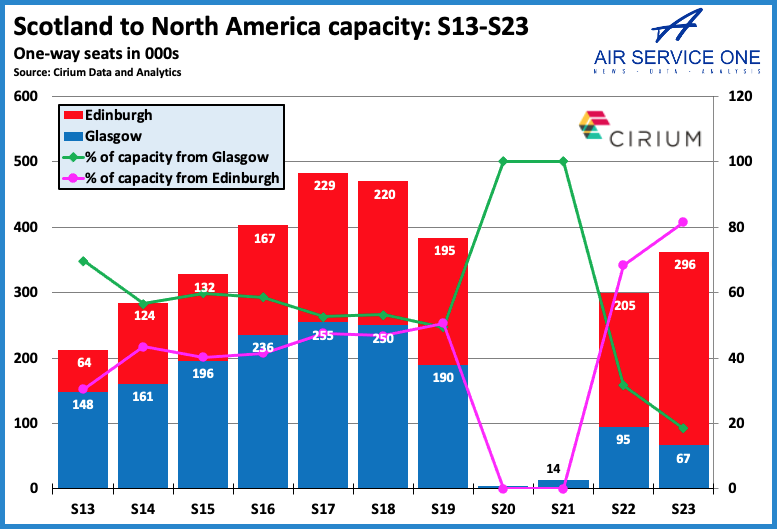 Edinburgh's additions
Edinburgh has seen numerous changes recently. While Air Canada rouge operated to both Glasgow and Edinburgh from Toronto until 2019, Air Canada mainline consolidated operations at Edinburgh in 2022. Fellow Canadian carrier WestJet launched Glasgow from Halifax in 2015. It introduced Edinburgh from Toronto last year, and for a time served both Scottish airports. Then it also consolidated at Edinburgh, ended Toronto as part of its refocus on Calgary and will launch Calgary – never served from Edinburgh before – this summer.
Virgin Atlantic shifted Orlando MCO from Glasgow – which it operated from 2007 to 2019 – to Edinburgh, with the first flight from the capital in March 2022. It was the first time that Edinburgh had Orlando MCO flights. TUI introduced Orlando MLB last year, having last served Orlando SFB in 2019.
American ended Philadelphia-Glasgow in 2018 and moved it to Edinburgh the following year, but it ceased at the end of the summer. Delta last served Atlanta-Edinburgh in 2007, a route returning in S23 after a 16-year absence. Elsewhere, United has increased Newark flights to double daily between the end of May and the end of September, a frequency last offered in S17. It replaces JFK as Edinburgh's most served route.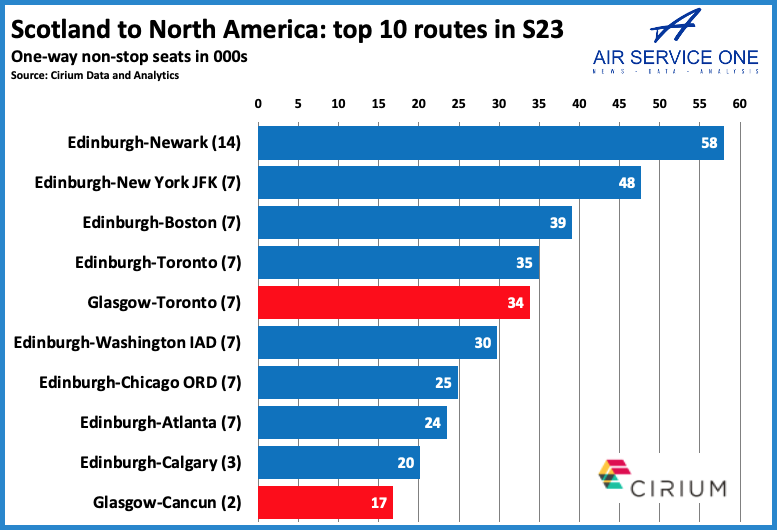 Glasgow now has just 19% of capacity
Analysis of Cirium data tells that Glasgow had 70% of Scotland-North America capacity in S13. One-way seats increased to a high of 255,000 in S17, when Glasgow had 10 routes and nine airlines. It was a season in which Glasgow had 53% of North America capacity and Edinburgh 47%. Due to the aforementioned changes, Glasgow has just 67,000 S23 seats and a 19% share. Its network is as follows:
Air Transat: Toronto YYZ
TUI: Cancun, Orlando MLB
In June, when all 14 Scotland to North America routes are operating, there will be a total of 75 weekly flights in each direction operated by seven airlines. US and Canadian carriers dominate with United offering 28 weekly flights, Delta 21, TUI Airways eight, Air Canada seven, Air Transat six, WestJet three and Virgin Atlantic two. Just 10 of the 75 weekly flights will be operated by UK carriers and none by British Airways.
Edinburgh has lost multiple routes
Edinburgh no longer has flights to Hamilton (Flyglobespan; 2007-2008), Hartford (Norwegian; 2017-2018), Orlando SFB (TUI; for years until 2019), Philadelphia (American; last served in 2019), Providence (Norwegian; 2017-2018), and New York SWF (2017-2019).
Over the decades, Scotland's transatlantic flights have shifted from Prestwick to Glasgow to Edinburgh. Far more than 'just' a Ryanair airport, Prestwick had a distinguished history as a long-haul airport – which it remains to this day with freighters. In passenger terms, the former RAF airport's transatlantic flights date to the mid-1940s. Decades later, Northwest ended Boston-Prestwick in 1990, while Laker Airways had a handful of DC-10 flights to Orlando in 1996/1997, marking the end of an era and the start of another.