Senegal welcomes three new European routes in November as tourism grows; Paris is top route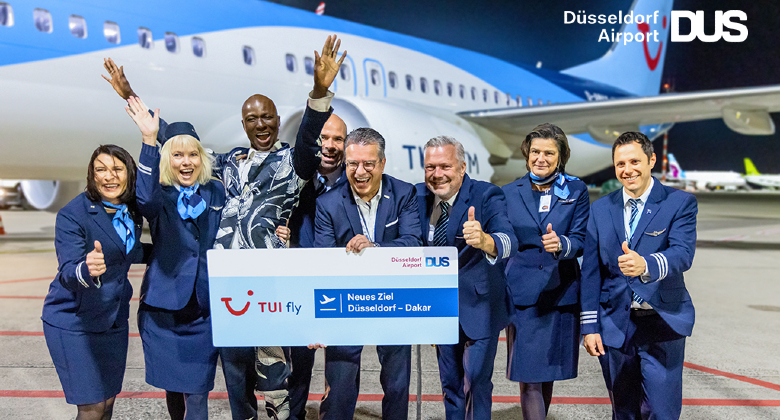 This winter, 49 African countries have non-stop or one-stop flights to European airports, based on Cirium schedules data information. When non-sub-Saharan states are removed, South Africa has more Europe capacity than any other.
In seventh place is Senegal, with 651,000 two-way Europe seats, more than Nigeria. Senegal's European capacity has risen by 10% versus W19, helped by the arrival of TUI fly Deutschland, TUI Airways and multiple others – Senegal's hot winter weather offering an alternative for tourists to popular Gambia and Cape Verde.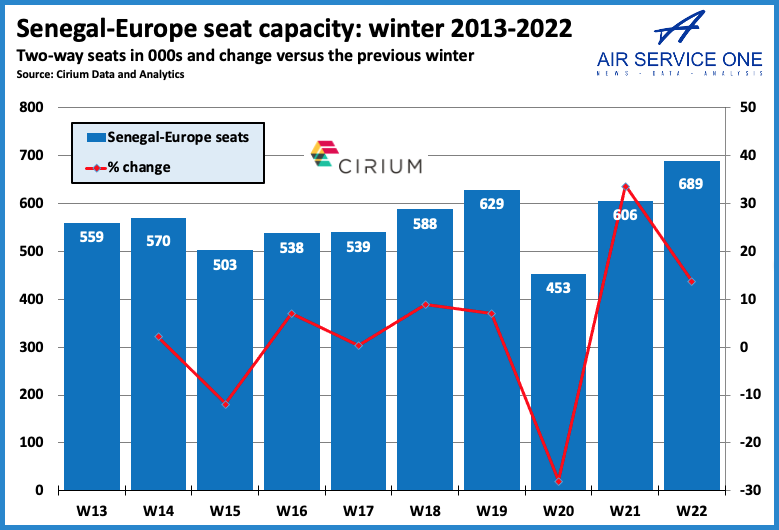 Düsseldorf and London LGW to Dakar
On 3 November, TUI fly Deutschland started a triangular service, routing Düsseldorf-Sal-Dakar-Düsseldorf 2-weekly. While Frankfurt has had regular Dakar service before (by Condor, last served in 2007), it is the first time for Düsseldorf.
Four days later, on 7 November, TUI Airways launched London LGW-Dakar with a weekly service, with the last flight being on 22 May. TUI said that Senegal is "an exciting new winter sun destination… appealing to customers seeking value-for-money, all-inclusive resources and guaranteed sunshine." Although it did not begin, Air Senegal was to start Dakar to London STN in 2020, which would have enabled connections to other West African countries.
Lyon-Dakar and others
They say three is a trend. On 5 November, Transavia France started Lyon-Dakar, currently weekly but soon 2-weekly. Mainly aiming at Senegalese VFR traffic, it is the second airline serving this particular market, joining Air Senegal's 2-weekly Dakar-Marseille-Lyon-Dakar service.
Cirium reveals that Dakar also welcomed these new routes earlier in 2022:
Bratislava: Smartwings (April)
Milan BGY: AlbaStar (May)
Luxembourg: Luxair (April)
Nantes: Transavia France (May)
Verona: Neos (June; summer only)
Senegal to 10 European countries
In order of seat capacity, Dakar has winter flights to France, Spain, Belgium, Portugal, Italy, Turkey, Germany, Slovakia, Luxembourg and the UK. Because Senegal is a Francophone country, four French airports are connected:  Lyon, Marseille, Nantes and Paris CDG. Until 2019, Paris ORY was served frequently; in the past 20 years, it had Air Senegal International, CORSAIR, and Transavia France.
With a third of Dakar's seats, Paris CDG is inevitably the leading route this winter. It is served 2-daily to 3-daily by Air France (777-300ER) and Air Senegal (A330-300/A330-900).