Seven of Italy's top 20 airports busier than in 2019; Ryanair and Wizz Air growing rapidly as ITA launches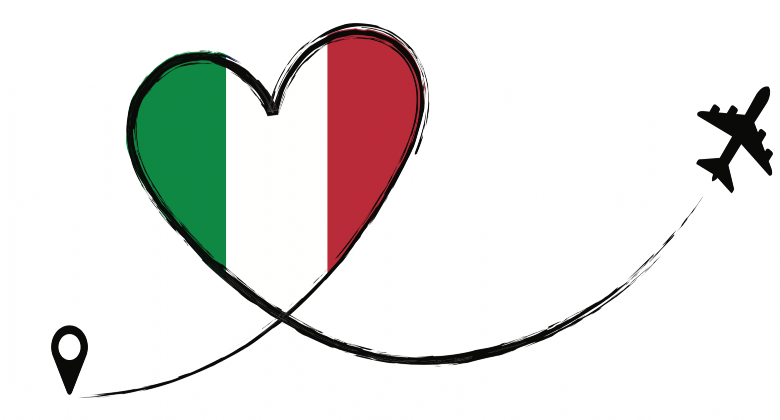 According to figures recently published by Assaeroporti, Italy's airports welcomed over 164 million passengers in 2022. That is more than twice as many as were handled in 2021 and, more impressively, only 15% fewer than the 193 million achieved in 2019. In September and October, the number of passengers passing through the country's airports was down only 5% compared with 2019.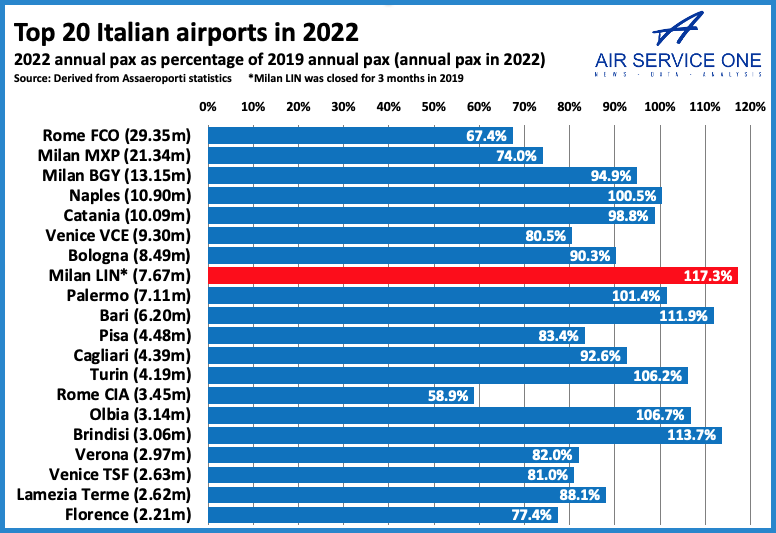 While traffic for the whole of 2022 at Italy's two biggest airports at Rome FCO and Milan MXP was still down 33% and 26% respectively, seven of the country's top 20 airports have reported demand above 2019 levels. Leading the way is Milan LIN with growth of 17%. However, this is not a truly representative figure as the airport was closed for three months during the base year of 2019 for runway works.
More impressive is the double-digit percentage growth (versus 2019) achieved by both Bari (+12%) and Brindisi (+14%) airports. Olbia and Turin both managed growth of 6%, while Naples and Palermo both saw small traffic increases versus 2019.
Outside of the top 20 airports, four other smaller airports also reported double-digit growth versus 2019. These were Trapani (+117%), Cuneo (+78%), Perugia (+69%) and Alghero (+10%).
Ryanair three times bigger than nearest rival
Analysis of Cirium schedules data shows that planned airline seat capacity departing from Italian airports was down 10% in 2022 versus 2019. Ryanair, Alitalia/ITA Airways and easyJet remained the top three airlines. However, Ryanair, which was only around 27% bigger than Alitalia in 2019, is now three times bigger than ITA Airways in terms of available seats. Apart from Ryanair, which grew its Italian capacity by over 30%, the only other top 12 airlines reporting seat growth were Wizz Air and Volotea. Wizz Air more then tripled its departing seat capacity and is rapidly closing in on easyJet to potentially become Italy's third biggest airline.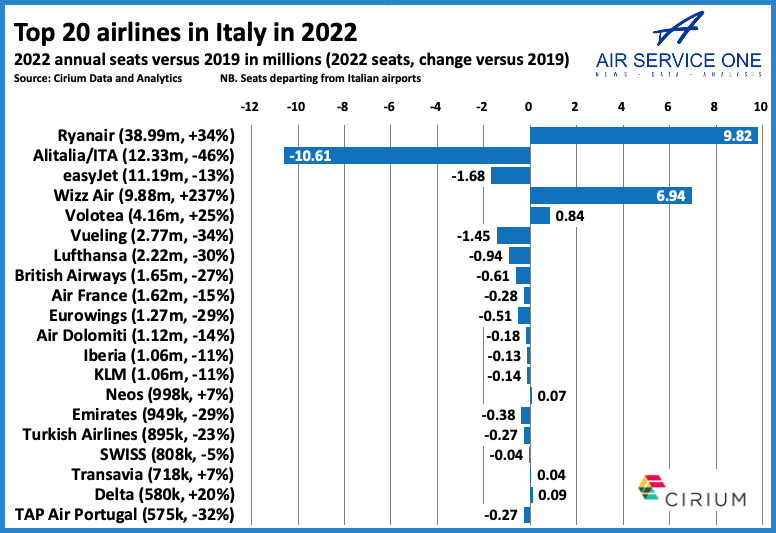 Volotea (+25%) has overtaken Vueling (-34%) to become Italy's fifth ranked airline. New airlines in the Italian market, not present in 2019 include Aeroitalia, Binter Canarias, Flyr, flynas, Gulf Air, PLAY, Qantas and Sky Express. Airlines no longer present in the Italian market include Air Italy, Blue Panorama, Ernest Airlines, Flybe and Thai Airways. Although they did operate Italian flights in 2022, another airline no longer serving the Italian market (or any other for that matter) is Blue Air of Romania.
Available seats still down in Q1 but up in Q2
Scheduled data submitted so far for 2023 shows that seat capacity at Italian airports is still set to be around 8% lower than in 2019 during the first quarter of the year, with flights down around 14%. Looking ahead to the second quarter of the year (April to June), currently shows seat capacity up 2% versus 2019, with flights down 6%.