Shannon is Ireland's best recovered airport; United returned from Chicago; Ryanair had 67% of Q3 seats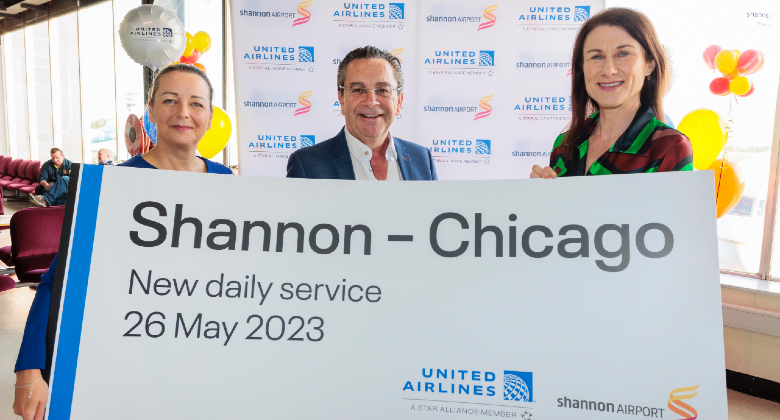 Shannon welcomed a record 1.34 million passengers in January-August 2023, up by about 14% versus 2019 and 5% over its previous peak in 2018. Comparing the recovery versus 2019 shows other Irish airports have bounced back slower: Cork's traffic was +5.6%, Knock +1.9% and Dublin +1.2%. Shannon made history in several months so far this year, including August. It was because of strong growth by Ryanair and United Airlines. It will be further helped by the return of Delta Air Lines from New York JFK in 2024 after a five-year absence.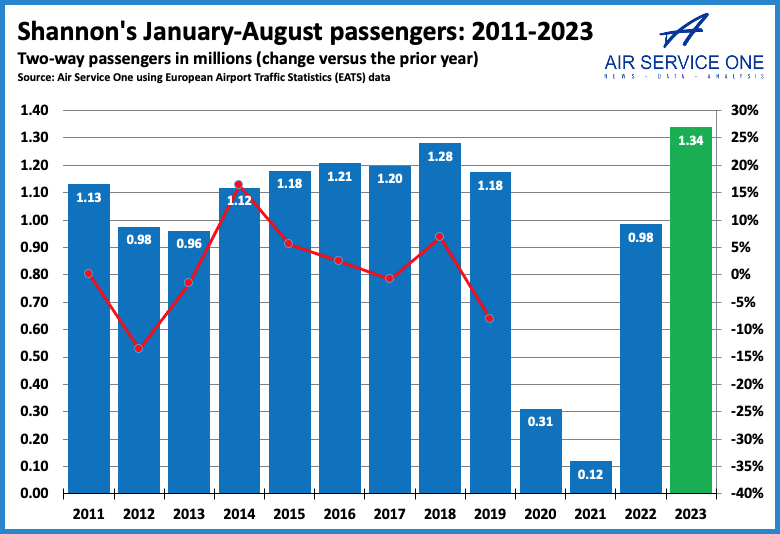 Seven new and returning routes this year
Analysis of Cirium data shows that Shannon has gained or regained the following routes. Chief among them was the return of United Airlines from Chicago ORD, back after last being served in 2017. It was one of four transatlantic routes from Shannon this summer. Frequencies are based on August unless a route started later.
26 March: Liverpool, Ryanair (3-weekly); last served by the carrier in 2018
26 March: Naples, Ryanair (2-weekly)
26 March: Newcastle, Ryanair (3-weekly); last served by the carrier in 2009; ending
26 March: Porto, Ryanair (2-weekly)
27 March: Beziers, Ryanair (2-weekly)
26 May: Chicago ORD, United Airlines (daily); last served by the carrier in 2017
22 September: Paris CDG, Aer Lingus (2-weekly); last served by the carrier in 2020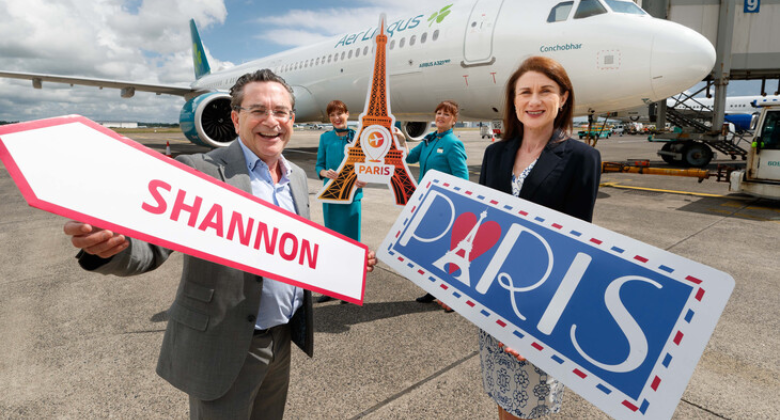 Ryanair had 67.0% of capacity in Q3 2023
Using Cirium schedules information to examine the peak simmer months of July-September 2023 (Q3) shows that four carriers operated, as shown below. Obviously, Ryanair was heavily dominant, with more than two-thirds of capacity. It grew a huge 70.0% versus Q3 2019, which pushed its dominance up by more than 20 percentage points.
Analysis of Cirium data shows that Q3 2023 was the ULCC's 15th best quarter at the airport in the past two decades, with its record in 2008. Its much greater share of capacity was also driven by the slower recovery of others and American Airlines, Delta Air Lines and Lufthansa no longer serving the airport (they did in Q3 2019).
Ryanair: 236,800 departing seats (+70.0% versus Q3 2019)
Aer Lingus: 80,400 (-23.4%)
United Airlines: 31,300 (+101.5%)
TUI: 3,600 (-13.4%)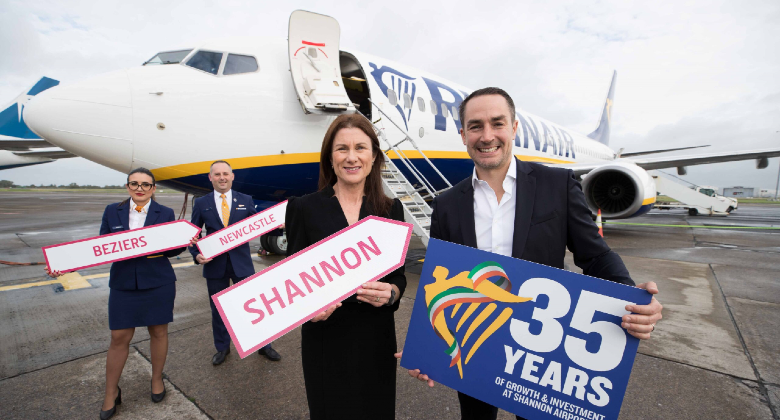 Four North America destinations on top 10 list
Shannon had non-stop flights to 33 destinations in Q3. With nearly one in two available seats (46.3%), the airport's capacity was primarily to the UK, as would be expected, with eight airports served.
Eight destinations in Spain were also served, although the holiday hotspot ranked third by capacity after the US due to more flights and bigger equipment. Thanks to the return of Chicago ORD, all four served US destinations made it onto the top 10 list. Almost one fifth of Shannon's capacity was across the North Atlantic.
As has been the case for many years, London LHR was Shannon's leading destination. Served by Aer Lingus with 20-weekly flights, it provides vital connectivity over LHR to the wider world. It is one of three London airports served from Shannon, with the UK capital accounting for almost a third of July-September capacity.