Silver Airways has 268 weekly August flights and 42 routes; introduces five new routes this year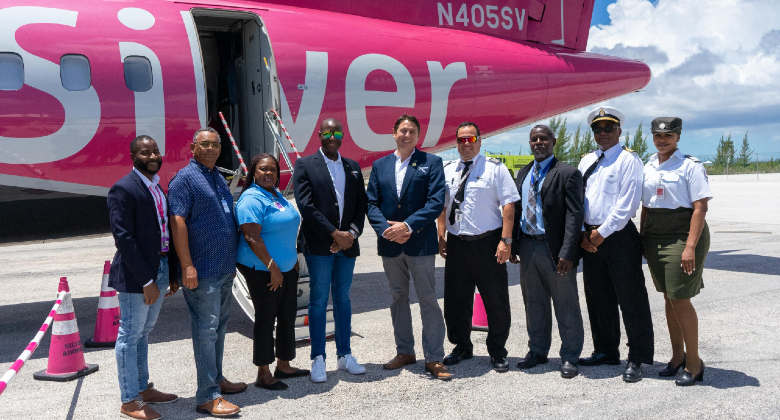 Silver Airways is unusual in the USA as it only operates turboprops. According to Planespotters.net, it has 18, comprising 10 ATR 72s (some in freight configuration for Amazon) and eight ATR 42s. They replace the Saab 340, of which it had a total of 28, providing more capacity, more usable range and lower seat-km costs per leg.
268 weekly August flights
Cirium schedules data indicates that Silver Airways has 268 weekly one-way flights in August. Some 186 are domestic, mainly within and to/from Florida. They also include services between the US territories of Puerto Rico and the US Virgin islands and within the US Virgin Islands, all of which are considered as domestic. Additionally, it has 82 weekly international flights, both from Florida and Puerto Rico.
The regional carrier serves 31 airports in August, with the top 10 shown below. Five were not served in that month in 2019. These include San Juan, which became part of Silver Airways' network following its acquisition of Seabourne Airlines.
Despite Fort Lauderdale flights being about half of what they were, the South Florida airport remains Silver Airways' most served. It has 14 routes, more than from any other airport. The carrier is Fort Lauderdale's seventh-largest carrier by flights but only operates about one in 260 services. Still, it has bigger presence by this metric than ULCCs Allegiant and Frontier.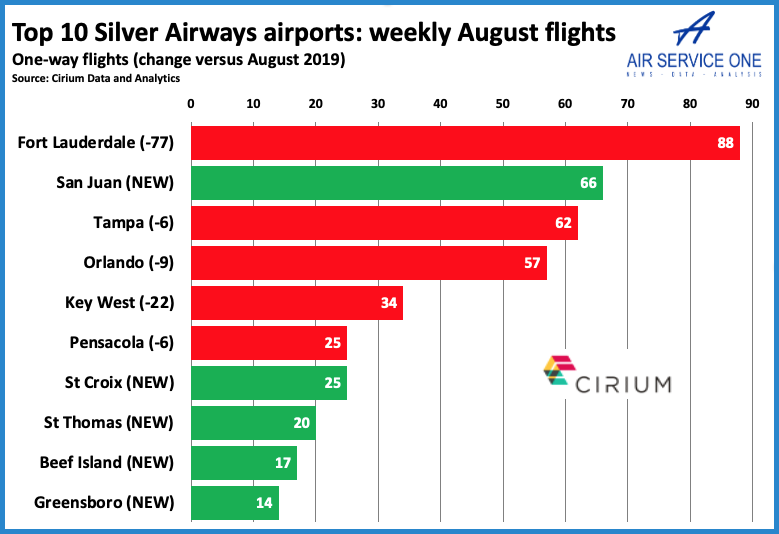 42 August routes
Silver Airways' 268 weekly flights involve 42 August routes: 26 domestic and 16 international. Its entire network covers an average of 415 kilometres. At just 70km, St Thomas-St Croix – an intra-US Virgin Islands route – is the shortest, while at 860km, Huntsville to Orlando MCO is the longest. However, this will be replaced by an even longer route later this year (see later in the article).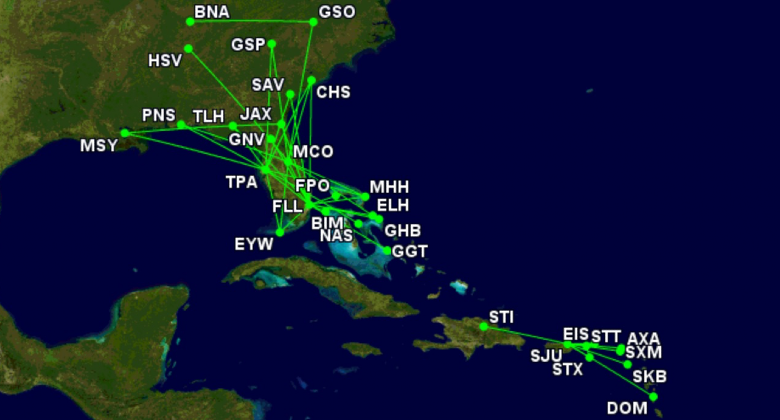 St Thomas to St Croix is number one
The carrier's routes have an average of 7-weekly flights (not necessarily daily), with the highest being 18-weekly. This is from San Juan to St Croix, which Silver Airways has served since September 2019. In the past few years, the market had Cape Air, JetBlue and Seabourne Airlines. Now it only has Silver Airways. Cirium tells that weekly flights have dropped from 66 in August 2019 to 18 now, although seats have fallen far less due to larger equipment.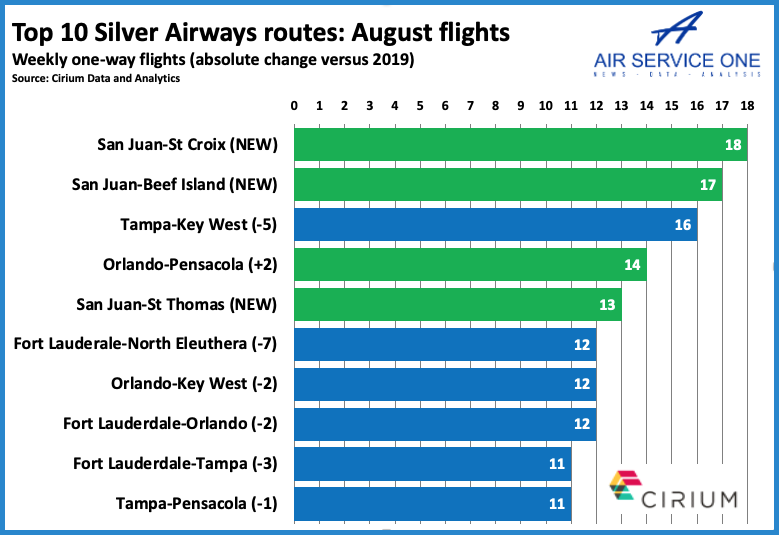 Five new routes this year – including a new longest
They are as follows and have not been operated by the carrier before. Among them is Tampa to Greensboro. At 935km, it is more than double the distance of Silver Airways' average route length and becomes the USA's longest ATR airport pair. Blocked at 2h 40m with the ATR, it will only operate on Saturdays. It was last served by Spirit in 2019 using the A320.
2 September 2023: Tampa to Greensboro (weekly)
21 August 2023: Fort Lauderdale to Gainesville (daily)
25 July 2023: Orlando MCO to Greensboro (daily)
25 July 2023: Nashville to Greensboro (daily)
6 January 2023: Tampa to New Orleans (2-weekly)