Six of Spain's top 20 airports already back to 2019 levels in 2022; Ryanair increases lead over Vueling
According to figures published by Aena, Spain's airports welcomed almost 244 million passengers in 2022. That is only 12% fewer than the 275 million achieved in 2019. More impressively, in the last quarter of 2022, passenger numbers were down just 3% compared with the same period three years earlier.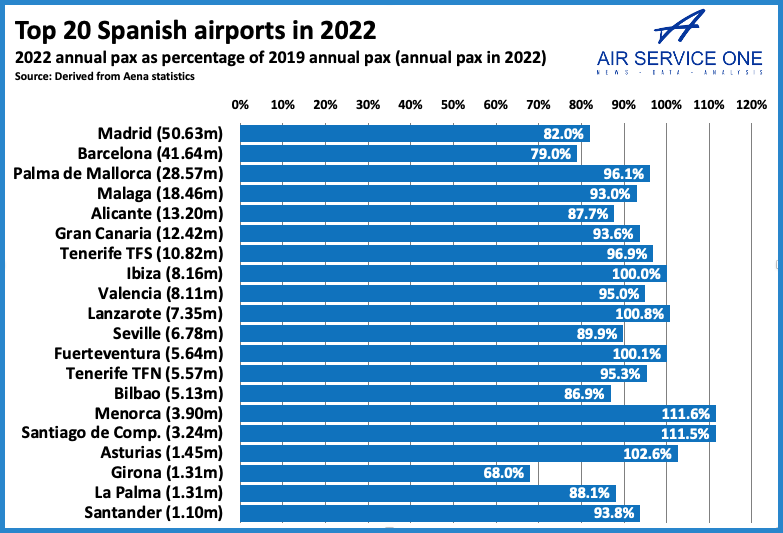 While traffic for the whole of 2022 at Spain's two biggest airports at Madrid and Barcelona was still down 18% and 21% respectively, six of the country's top 20 airports have reported demand above 2019 levels. Leading the way were Menorca and Santiago de Compostela. Both airports recorded double digit growth versus 2019. The four other airports to reach or just exceed 2019 levels of demand were Asturias, Fuerteventura, Ibiza and Lanzarote. Only two of the six airports to get back to pre-pandemic levels were on the Spanish mainland.
Outside of the top 20 airports, three other smaller airports also reported double-digit growth versus 2019. These were Vitoria (+35%), Zaragoza (+34%) and San Sebastian (+20%).
Ryanair extends lead over Vueling
Analysis of Cirium schedules data shows that planned airline seat capacity in Spain was down 8% in 2022 versus 2019. Ryanair, Vueling and Iberia remained the top three airlines. However, Ryanair, which was only marginally bigger than Vueling in 2019, is now some 25% larger in terms of available seats. Six of the top 10 airlines reported capacity growth, including Eurowings, Jet.com and Transavia.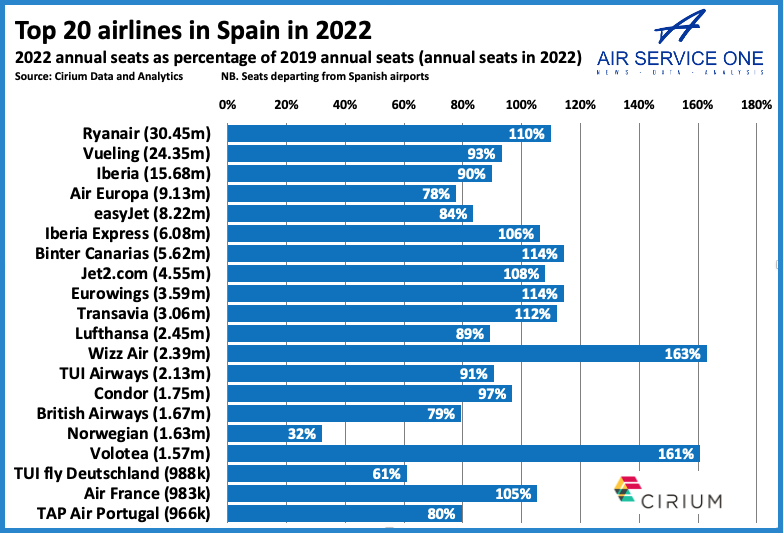 Two carriers in the top 20 reported capacity growth of more than 60% compared with 2019; Wizz Air and Volotea. In total, around 100 airlines operated, on average, at least one flight per week from Spanish airports in 2022. New airlines in the market last year included Eurowings Discover, Flyr and PLAY.
Seats available up in Q1 and Q2 versus 2019
Scheduled data submitted so far for 2023 shows that seat capacity at Spanish airports is set to be 0.4% higher than in 2019 during the first quarter of the year, with flights down around 2%. Looking ahead to the second quarter of the year (April to June), currently shows seat capacity up 1.1% versus 2019, with flights down 0.4%.