SkyUp Airlines plans to operate over 100 routes this summer from airports in Ukraine with fleet of 11 737s; first UK route set for June
Ukraine's SkyUp Airlines (IATA code PQ) was founded in June 2017 and operated its first flight in May 2018. It is closely linked to the local tour operator Join UP! which was founded in 2002. Initially operating mostly charter flights, the airline has since developed an extensive network from its main base in Kiev. Originally the carrier operated from Kiev IEV but moved its operations to Kiev KBP in June 2019.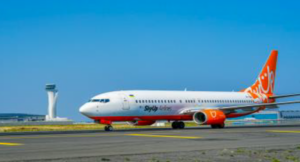 Fleet of 11 Boeing 737s
The airline's fleet of 11 737s consists of a mix of three 215-seat -900ERs, six 189-seat -800s and two 149-seat -700s. An additional -900 (ex-Jet Airways) is expected to join the fleet before the end of 2021.
Notably, one of the -700s is painted in a scheme to promote the successful football team Shakhtar Donetsk, which has won the Ukrainian Premier League 13 times in the last 20 years and is therefore seen regularly playing in the UEFA Champions League tournament. However, due to the border conflict with Russia in the east of Ukraine, the team has been playing its home matches at other venues since 2014; first in Lviv, then in Kharkiv and since May 2020 in Kiev.
Over 100 routes currently planned for S21
According to the airline it operated 12,198 flights in 2019 and carried 1.71 million passengers (making 140 passengers per flight). Last year saw traffic at Kiev KBP fall by 66% to 5.16 million, so it is safe to assume that the airline's traffic also fell significantly. Despite the on-going uncertainty around travel restrictions in and around Europe, the airline's website shows that the carrier is planning to operate at least 100 routes this summer.
The table below shows the routes currently available on the airline's website. This is a very dynamic situation as during the analysis of the carrier Gdansk was removed as one of the available destinations. Many of these are set to launch at some point this summer, though several routes have seen their start dates pushed back on more than one occasion.
Around half the planned routes are from Kiev, with the remaining routes spread across four other airports in Ukraine. Just three destinations appear to be served non-stop from all five Ukrainian airports: Batumi in Georgia, Tivat in Montenegro and Istanbul.
German operations and others on hold
News reports had indicated that SkyUp Airlines planned to start operations to a number of destinations in Germany this summer, but these appear currently to be on hold. Other potential destinations mentioned, that are also not yet bookable include Amman in Jordan, Copenhagen, Milan MXP and Stockholm. The airline's first service to the UK (London LTN) is set to launch on 24 June with 3-weekly flights.