Slotwise Consulting – helping clients overcome strategic challenges post-COVID-19
Sarah Whitlam, Director of Slotwise Consulting and former Head of Network Development, Heathrow Airport, brings over 10 years of experience in strategy and schedule optimisation to airlines, airports and industry bodies.
As airlines and airports gather to plan W21 schedules, a number of pandemic-related challenges remain.
Firstly, the slot regime remains unclear. The Worldwide Airport Slot Board (WASB) recommendation and the European Commission (EC) framework are two potential options, but regulators are still likely to decide a mix of approaches according to local pandemic containment & vaccine roll-out. Airlines are left having to plan for a 'normal' season and cut out vast swathes of the schedule at a later date. Whilst this leaves room for much-needed flexibility, timely regulatory decisions are vital to ensure airlines are not penalised for playing by the rules, and airports have time to reallocate capacity.
It would be naive to think that the pandemic means the end of slot challenges. Whilst demand has undoubtedly been minimal, incumbent issues regarding slot policy, coordination and long-standing airport capacity constraints are still very much present.
Neither should we assume that slot constraints will not be an issue in the short-term. As airlines build back schedules, peak frequencies will reappear first. Airlines that have operated non-historic slots during these peak periods could face having to retime to a less commercially-optimum time or pull out of an airport altogether.
Equally, we see airports reducing declared capacity due to COVID-19 health requirements. Once borders reopen and passenger confidence returns, will airports be able to handle the volumes they once did? Technology will play a part, but airports may still need to declare reduced capacity. What will this mean for airlines wanting to rebuild historic schedules or pivot networks to different destinations?
The last 18 months have been literally unimaginable. But the pandemic will end. As the vaccination roll-out develops, we need to start thinking about a return to normal planning processes and timeframes.
Alleviation will have to evolve to address the changing status of the pandemic and differing stakeholder needs. Full WASG requirements will not return overnight, but the journey has already started. Stakeholders should be thinking about how to balance slot regulations with commercial reality, not just for W21 but 2022 and beyond.
Demand profiles will have changed. Capacity constraints may exist where they previously didn't.  Airlines are flying slots to which they have no historic rights, but do have long-term aspirations. If airlines and airports want to come out of the pandemic flying commercially-optimal schedules, they need a slot strategy that will enable them to do that.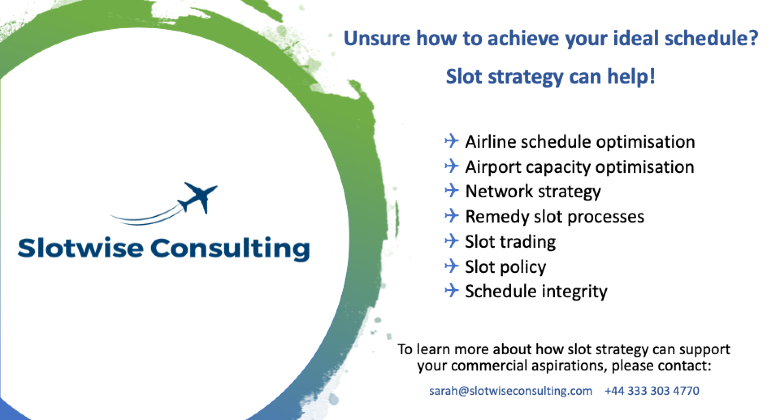 This article has been delivered to you from the 148th IATA Slot Conference, taking place on June 15-17th online. Air Service One extends its gratitude for being selected as an official media partner.